Live Pre-Test: Scout Overview + Troubleshooting
The Live Pre-Test, required for participation in a Live desktop mission, ensures that your system is equipped and ready for a Live call. In order to schedule or be scheduled for a session, you'll need to successfully pass your pre-test, so it's important you do so as soon as possible after receiving your mission invitation! Click below to learn more about how to complete your pre-test:
In the event you encounter issues while trying to pass your pre-test, we've included troubleshooting for all of the system checks below:
Locating the pre-test
Your pre-test is contained within your Live session link, so no need to locate a separate link! All you'll need to do is open up your session link and run through the prompts. Your session link can be found in these places:
Your original invitation email
By logging into app.dscout.com with the email address your invitation was sent to. If you've accepted your invitation, the mission will appear in the "In Progress" tab. If you haven't accepted your invitation, the mission will appear in your "Invites" tab. Simply tap on your mission to arrive at your session link!
Invitation email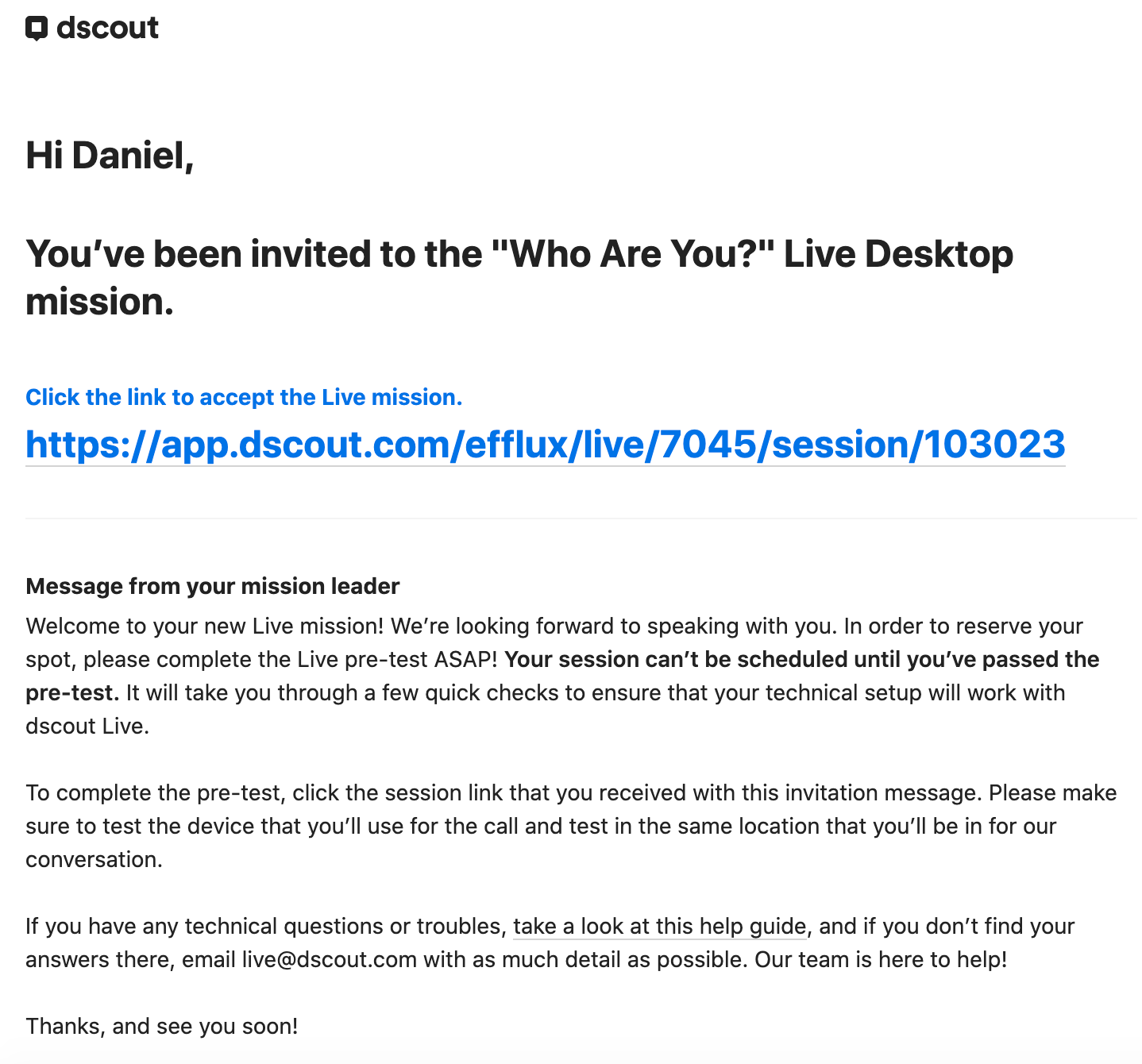 In Progress tab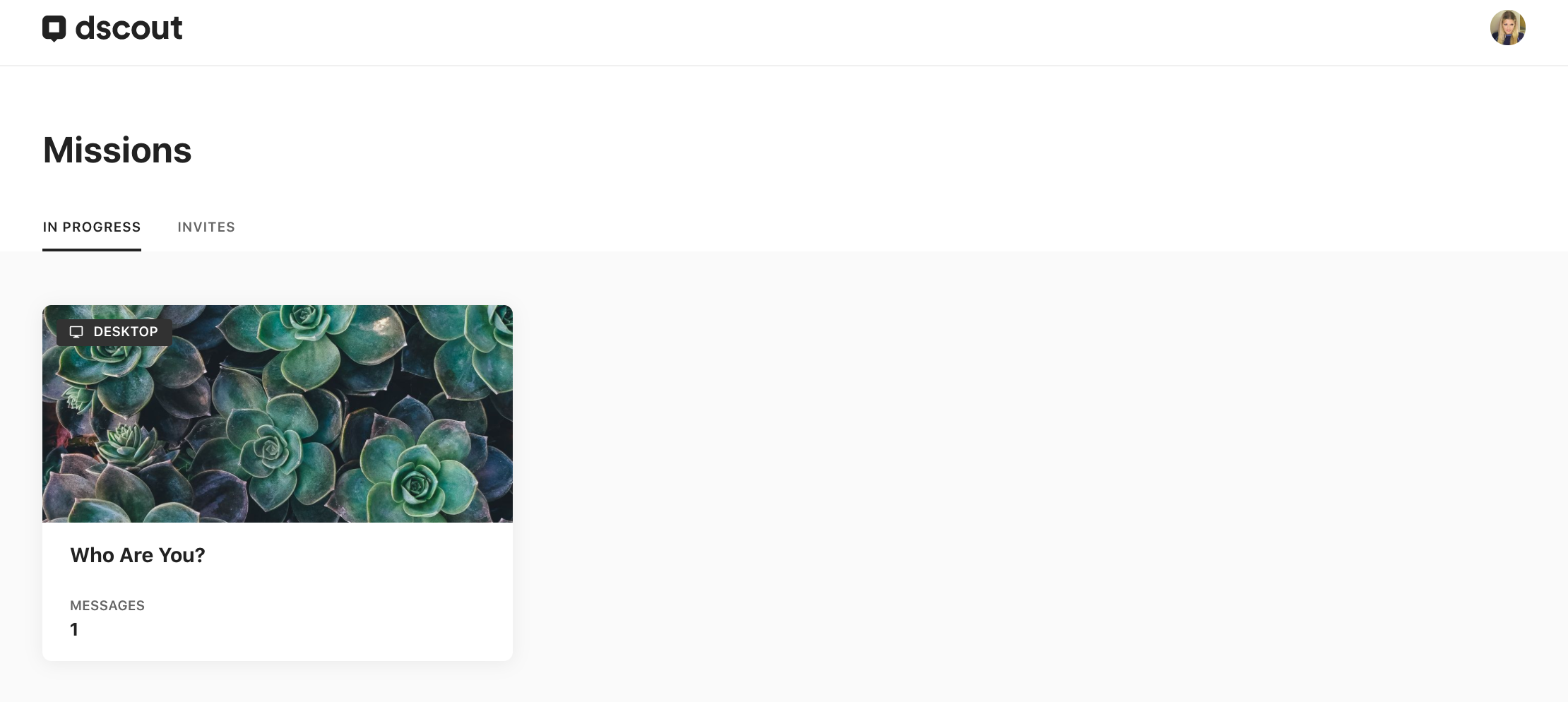 Invites tab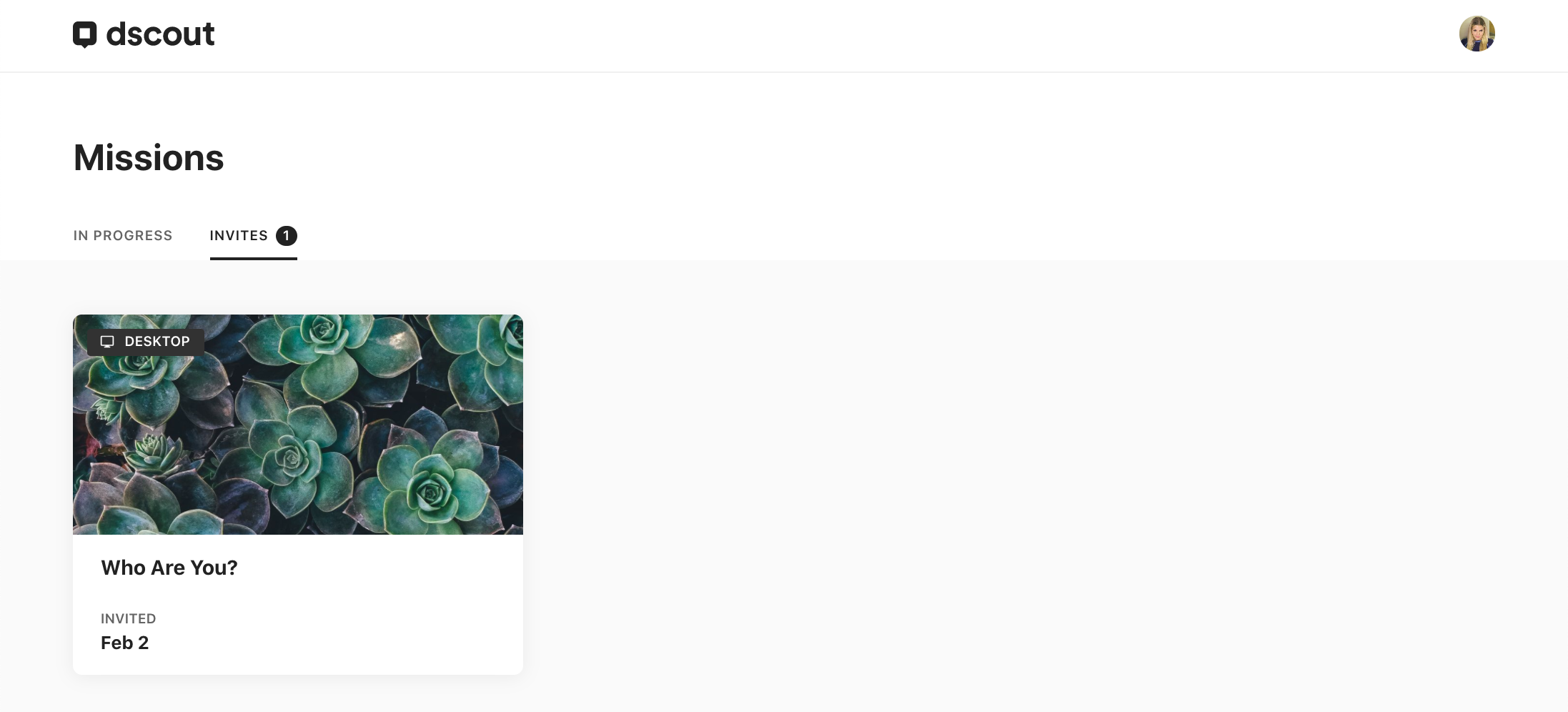 Completing the pre-test
Navigate to your session link (instructions above for locating your link!) using a Google Chrome browser.
Tap on the button at the bottom of the page that says "Set Up Device." (If you haven't accepted your invitation, you will first see a button that says "Accept Mission.")
This will take you to a page where your camera, microphone, speakers, and connection will be tested for compatibility. Be sure to grant camera and microphone permissions when prompted!
After passing the tests, tap "Complete setup" at the bottom of the page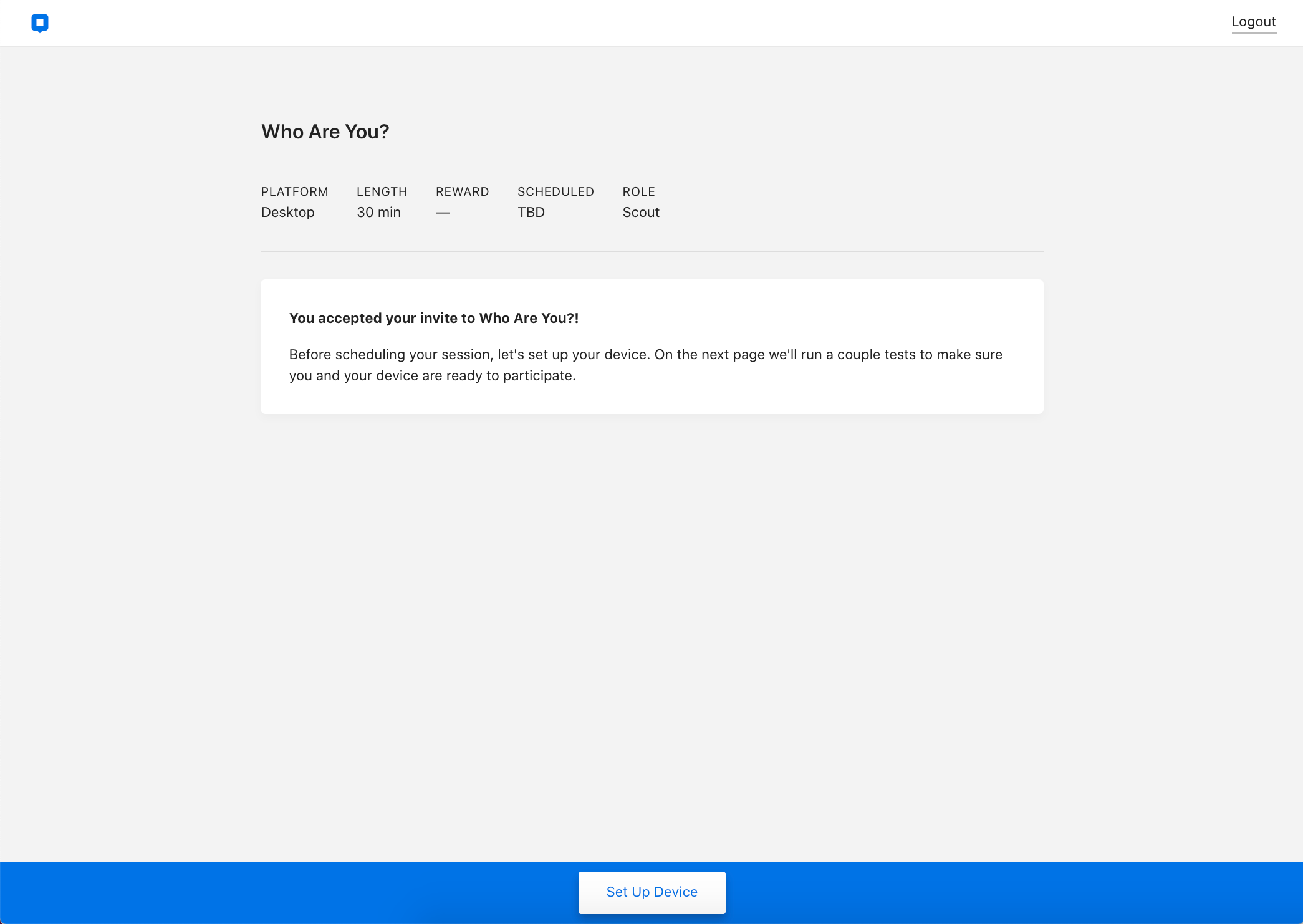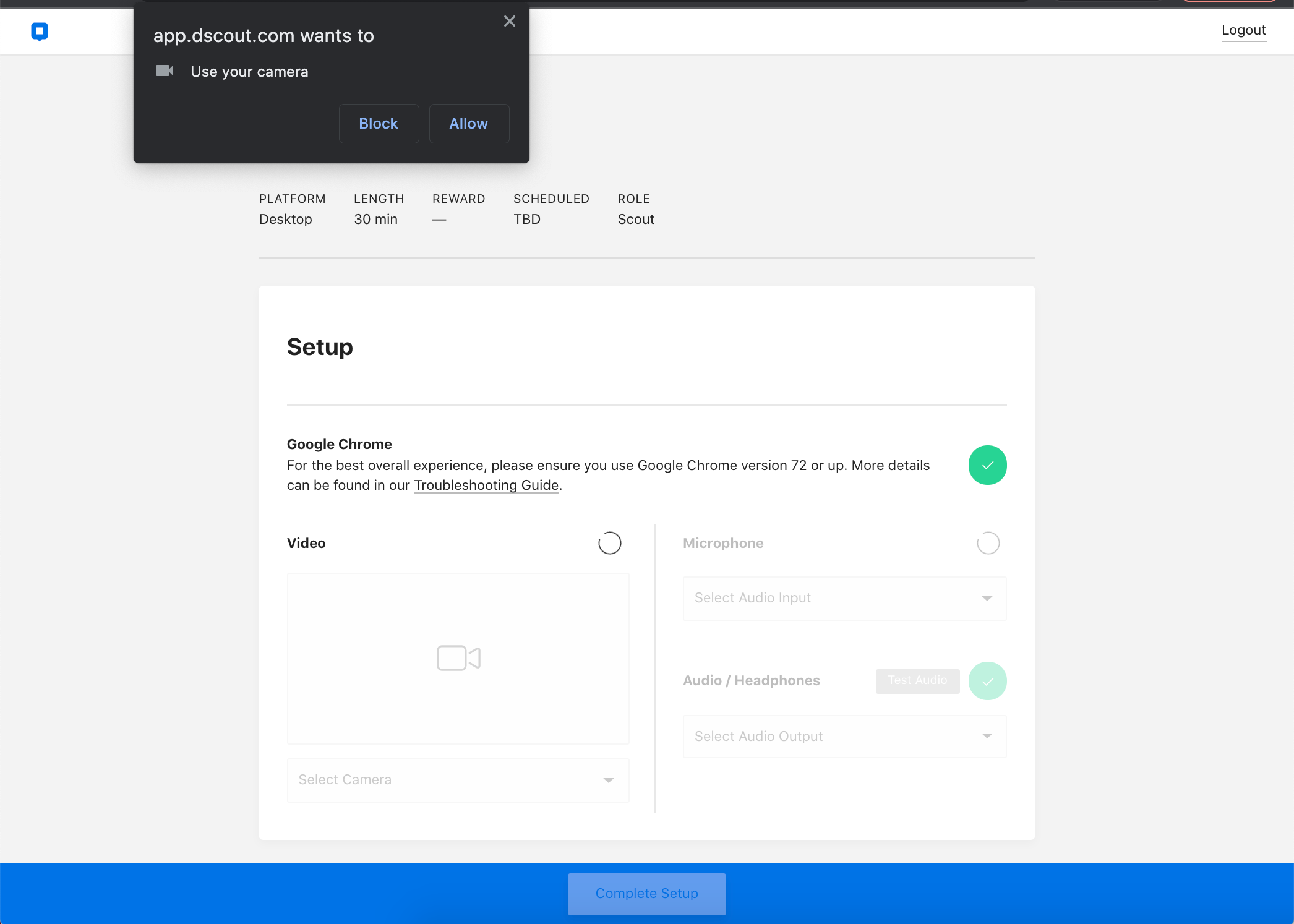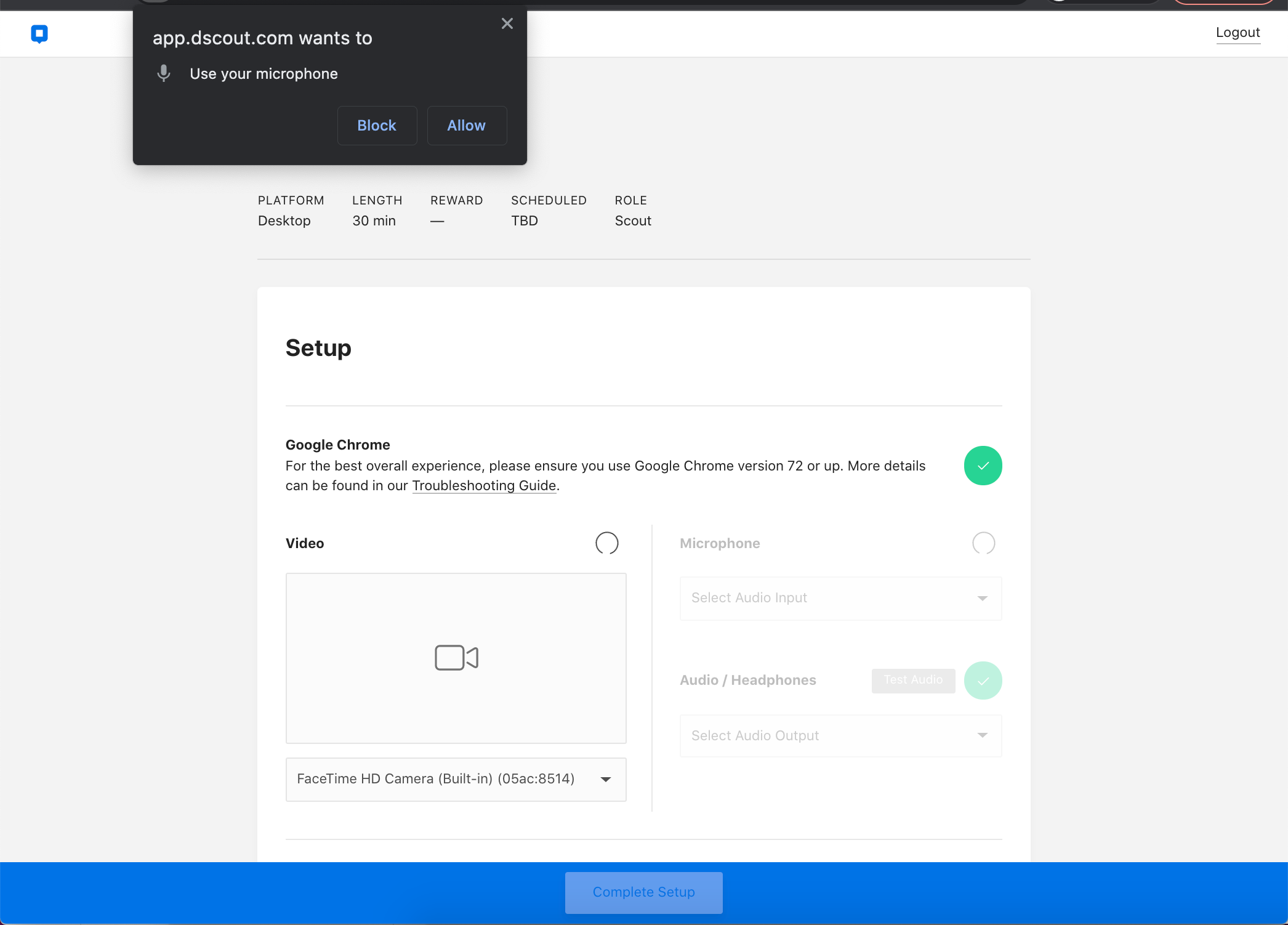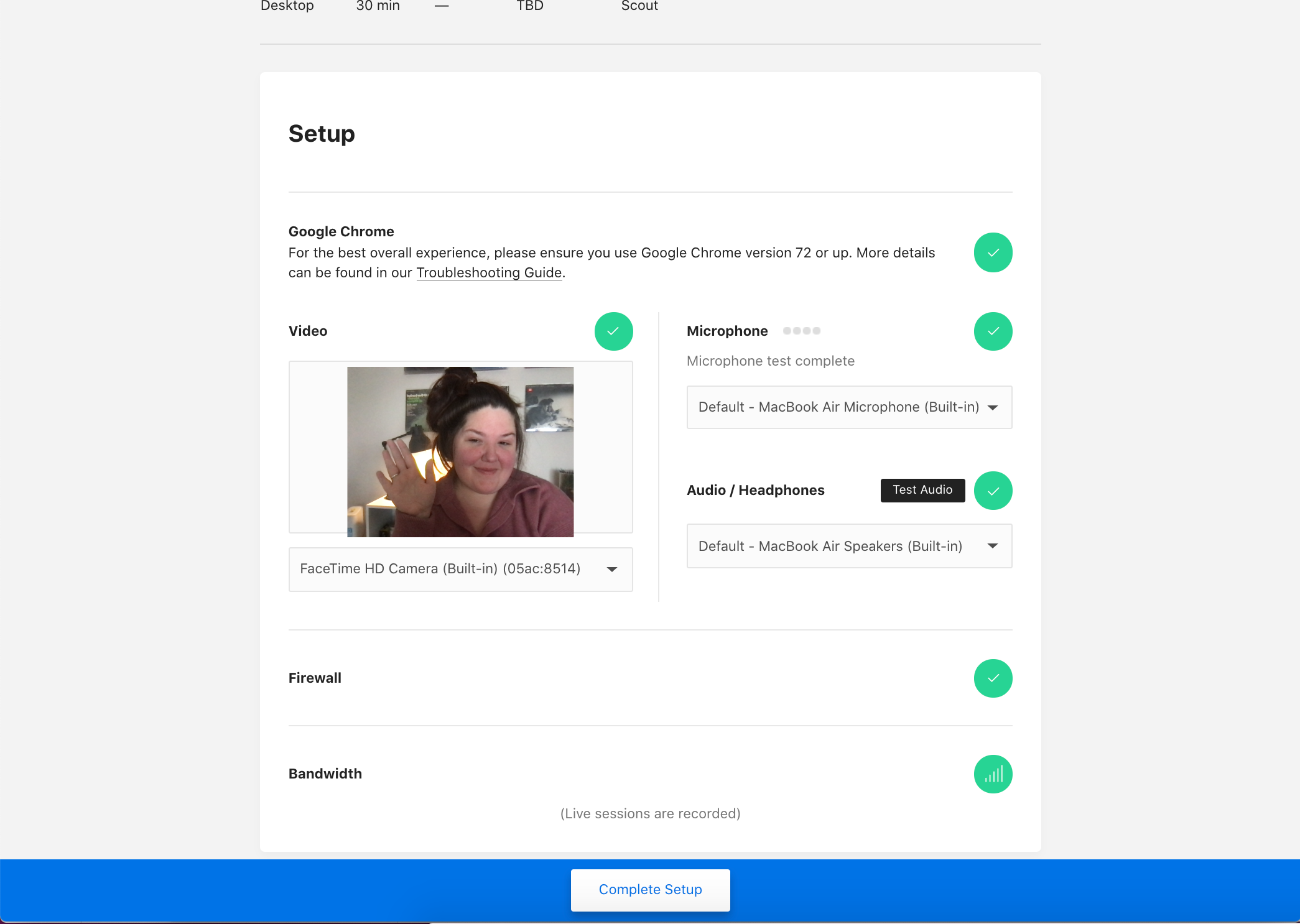 Browser compatibility
Google Chrome is the only browser that is compatible with dscout Live, so you'll need to install it in order to have your video conversation.
If you've downloaded Google Chrome, be sure to open your session link/pre-test in a Chrome browser. Otherwise, you'll continue to see the Chrome pre-test error.
Download the latest version of the Google Chrome browser here.
Video/Audio troubleshooting
Live is a video research tool, so you'll need a laptop/desktop with a working camera and microphone in order to complete a Live desktop session.
For general camera, microphone, and sound/headphone troubleshooting, click here.
See how to grant audio & video permissions here.
Bandwidth

Bandwidth is how we test the strength of your internet connection! You'll need a strong internet connection in order to complete a Live session, which is why it's important to test using the wifi network you will use for your session. Here are some recommendations for improving your internet connection:
Close out of all other programs and browsing sessions on your computer
Move closer to your router
Connect to your internet via ethernet cable
Firewall
If you're using an antivirus or firewall software, you'll need to ensure Chrome and dscout are trusted/allowed by these programs.
See how to troubleshoot firewall issues here.