dscout Scout app permissions
When you create an account on dscout and start applying to missions, dscout will automatically ask for your permission to access the following things as you use the dscout app:
Camera
Location
Media storage
Microphone
Notifications
You can deny dscout access to any of these permissions, but the majority of them are necessary when participating in dscout opportunities. The mobile app will continue to request your permission depending on what task you're trying to complete within the dscout mobile app. You can also manage your app permissions manually within your mobile device's native
Settings
app. Learn more below:
Managing app permissions on Android devices
The following steps are a generalized approach to managing dscout permissions on your mobile device:
Tap on your mobile device's native Settings app.
Find Apps & Notifications (please note: the name of this section might not be the same for every Android device, but it should be similar).
Find the dscout mobile app and tap on it.
You should be able to find Permissions and / or Notifications. Tap on it.
Tap allow or toggle the button for all the fields you want to give dscout permission to. Check it out below.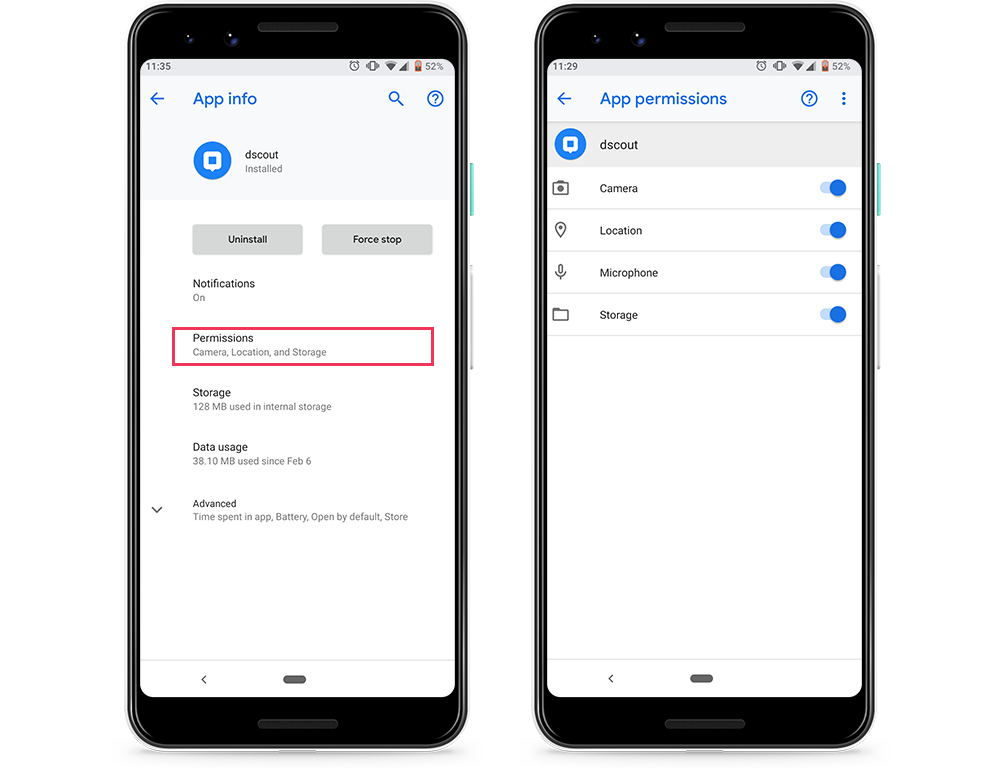 Managing app permissions on iOS devices
If you want to add or remove permissions for the dscout app, you can do so by following these steps on your iPhone (or iPad tablet):
Click on your iPhone's Settings app.
Scroll down until you reach the Apps section.
Find and tap on dscout.
You can click on each individual permission and change permissions for dscout (i.e., click on Camera and click on the button to enable or disable permissions.