Applying to missions
To be eligible to participate in a mission, you'll first need to submit an application to see if you're a good fit. In this article you'll learn about:
How do I get selected for missions?
When applying for missions, there are a few things you can do to improve your chances of getting selected.
Answer the questions thoughtfully and creatively.

Follow the directions. Each opportunity is different! Double check that you're staying on target.

Be a good camera operator. When taking video, make sure we can see & hear you well, and keep your phone as steady as you can. Be yourself, put your best foot forward, and let your excitement shine through!

Relax! You won't be a good fit for every mission. Instead of completing every single opportunity that pops up, go for ones that really speak to your interests and knock those applications out of the park.
How to apply to applications
Browse the Explore tab on your mobile app to see what missions are available. Once you find an opportunity that looks interesting to you, tap on the opportunity to read more about the application and incentive!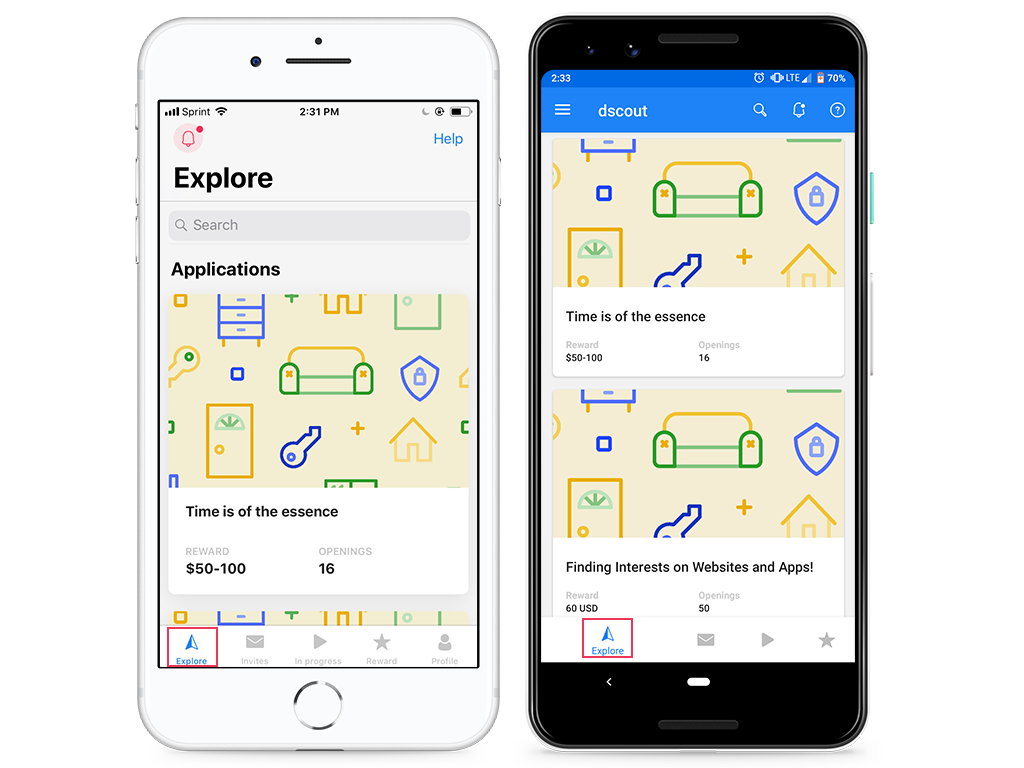 To submit an application to a mission, complete the following steps:
Tap on each individual mission card to read through the details.

If you're interested and think you'll be a good fit for the mission, tap Start Application at the bottom of the screen.
Read and answer each question thoughtfully and truthfully before hitting the Next Question button.
Note: once you answer a question in your application, you will not be able to go back. Please make sure you answer your question thoughtfully and that everything is correct before hitting Next Question!

When you come across a picture or video question, you can choose to use dscout's camera to answer the question or upload a file from your phone's media storage.

Once you've answered all the questions, you'll see a screen that tells you that you've completed your application (check out this screen below).


Note: At this time, you aren't able to view your past applications within the app. No worries, though - we can see it on our side!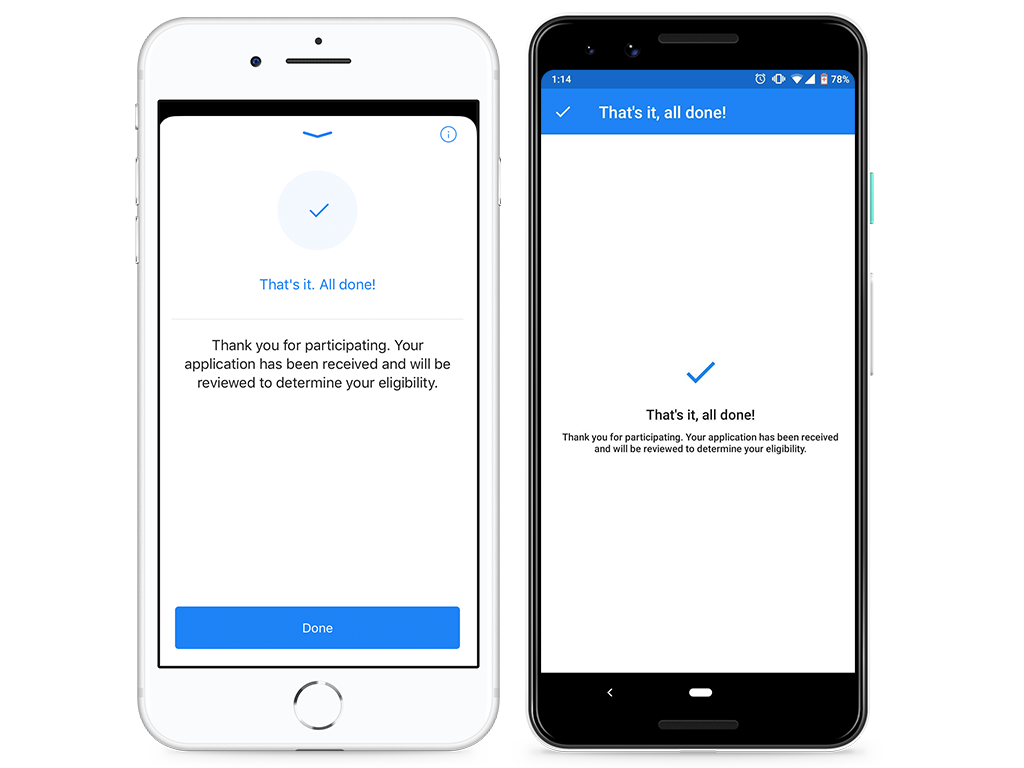 Why do I have to apply to missions?
Each mission is looking to research and understand a very specific topic, which often requires scouts that meet very specific criteria. Applying to a mission helps us ensure that we're finding the best scouts for each mission.
Please remember that if you don't get selected this time around, it doesn't necessarily mean your application was lacking. It just means that we were looking for something else.
The application review process + timeline
The person in charge of the mission (or mission leader) reviews every application that comes through. Since every application is reviewed manually, the review process can take anywhere from a few days to a few weeks.
Each mission has its own timeline. As a result, we can't truly say how long the application review process is for each mission because it is never the same.
The selection process
Once the review process is complete, scouts are selected to participate in the mission and notified. If you are selected to participate in a mission, your mission leader will send you an invitation in the app. You'll receive an email from dscout as well as a push notification (if you have them enabled!) letting you know that you've been invited.
At this time we do not notify you if you haven't been selected, so if it's been a week or two and you haven't heard back, chances are you weren't picked this time around!
Who chooses if I get into missions?
It depends! Sometimes a mission leader from dscout reviews your application, and other times a mission leader from a company working with dscout reviews it. But in either case, the person who reviews your application is looking for authenticity, creativity, attention to detail, and good camera work.
Click to learn more about what to expect after you've been invited to a Diary mission or Live mission!