Creating a dscout project
Click the links below to read more about setting up and managing your dscout project:
Creating a dscout project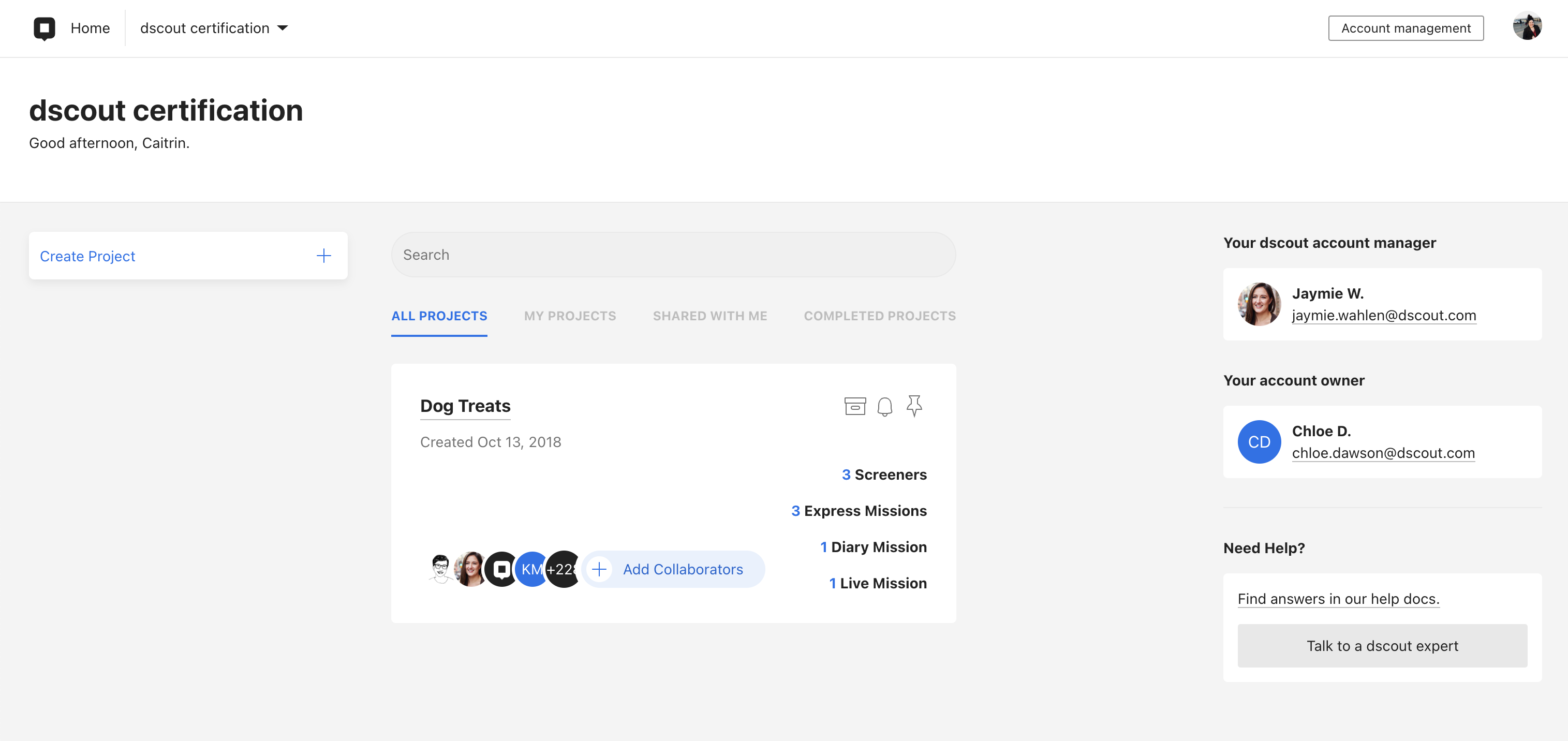 From your home page, click "Create Project" on the lefthand side to create your project and get started.
To return to your project page later:
Click on the project name in the top left from a mission or screener within the project, OR
Click on the project card from your dscout home page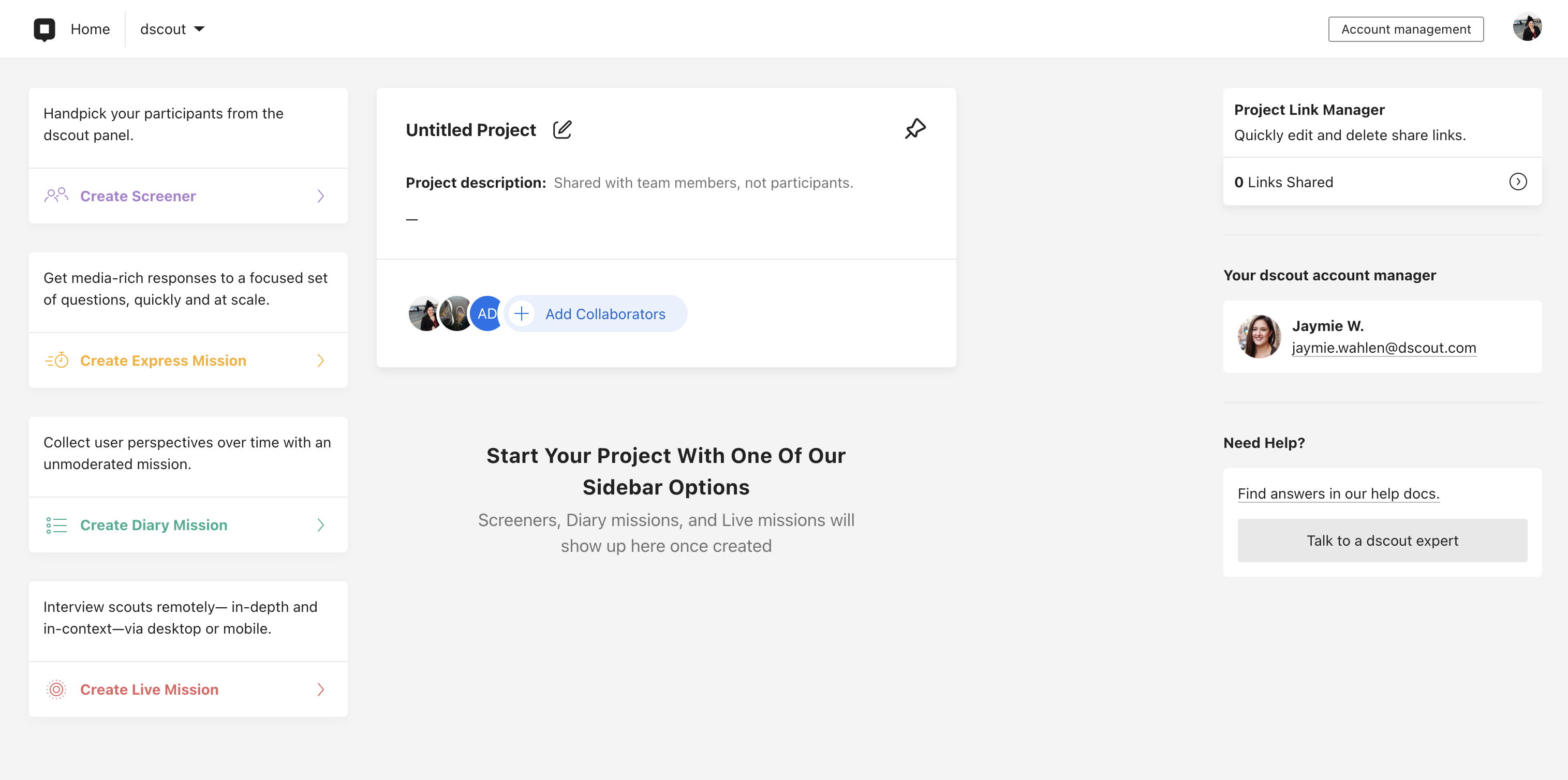 Be sure to title your project by clicking on the pencil icon in the center modal.
Use the Project Description section to share a quick overview of your project with colleagues.(Scouts don't see the project name or description, so be sure to use project names and descriptions that will be meaningful for your colleagues).
Add collaborators to your project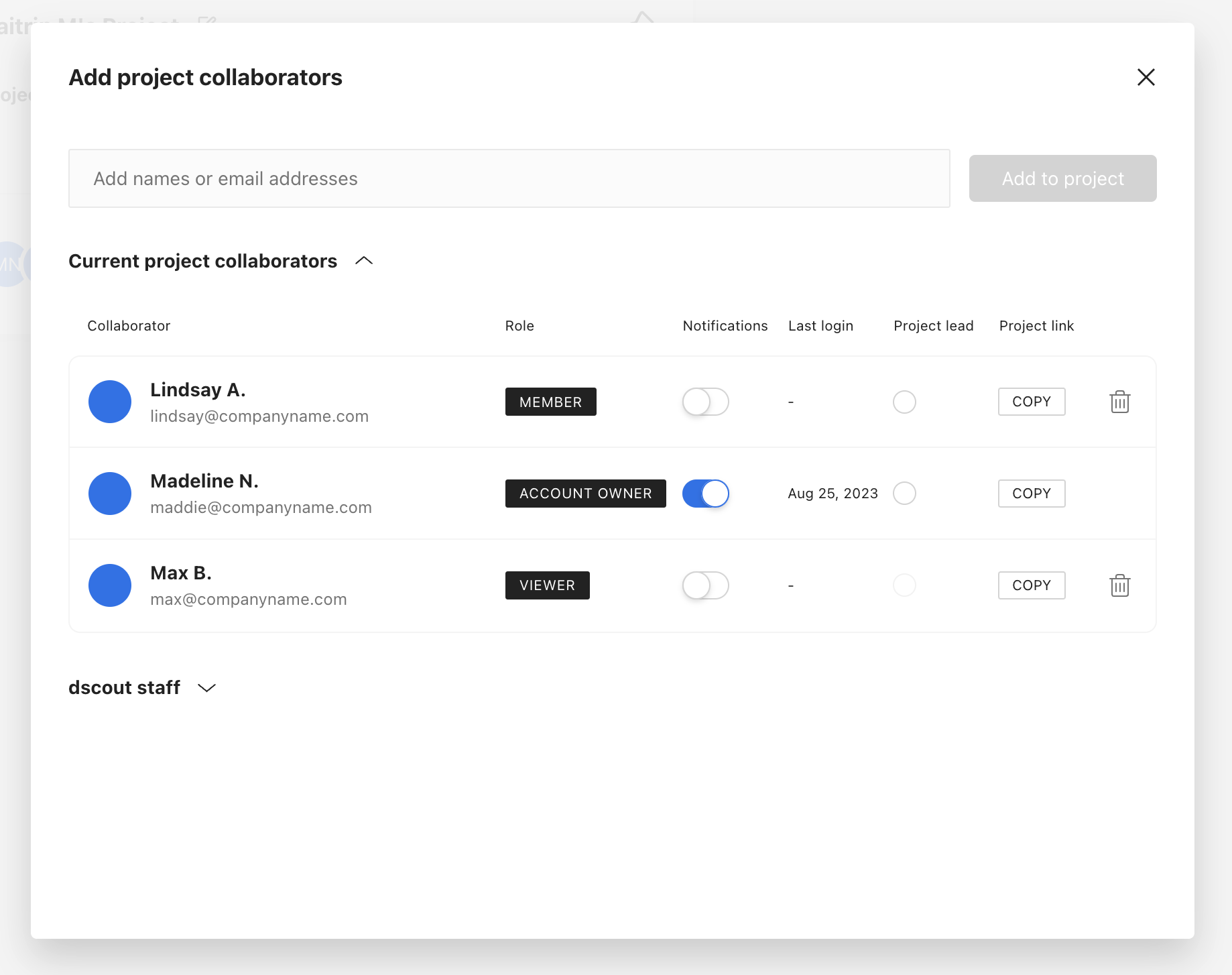 Use the Add Collaborators button (the blue pill icon with a plus sign in it, under your project title and description) to add or remove teammates to/from the project.
Type in their name (if your colleague is already on your dscout account) or email address (if your colleague does not yet have a dscout profile) to add them to your project.

You'll also be able to change each collaborator's notification settings, indicate a project lead, and copy a link to the project to send to each collaborator.
Change notification settings: Per person on the project, you're able to toggle whether or not they receive email notifications when a message is sent within the project.
Indicate a project lead: Select the person who is managing this dscout project, to give other teammates a point of contact should they have questions about the project.
Project link: When you add a teammate to a project, they'll receive an email inviting them to check it out! Send them this link if they have trouble finding that email (or if you're impatient and don't want to wait for them to check their email).
The Add Collaborators dialogue will not allow you to change collaborators' account roles. Account Managers and Owners must use the Account page to change account roles.
Create a mission or screener
Once you've set your project up, use the lefthand side to create a screener, Diary mission, or Live mission in your project.
Create screener: Copy a previous screener you have access to or create a new screener from scratch.
Create Express Mission: Copy a previous Express mission you have access to or create a new one from scratch.
Create Diary mission: Copy a previous Diary mission you have access to, use one of our five templates, or create a new Diary mission from scratch.
Create Live mission: Create a new Live mission.
Once you've created your screener and/or mission(s), your project page will show all missions and screeners contained in the project.