Getting around the dscout researcher platform
First, it'll be important to use the right browser! dscout is optimized for use with Chrome and Safari, and works best with the latest version of both browsers.
Take a tour of the home page.
Navigating a project
Within dscout, all research is organized into projects. A project usually consists of a screener and a Live and/or Diary mission, each visible as a card in your project page (see the screencast below).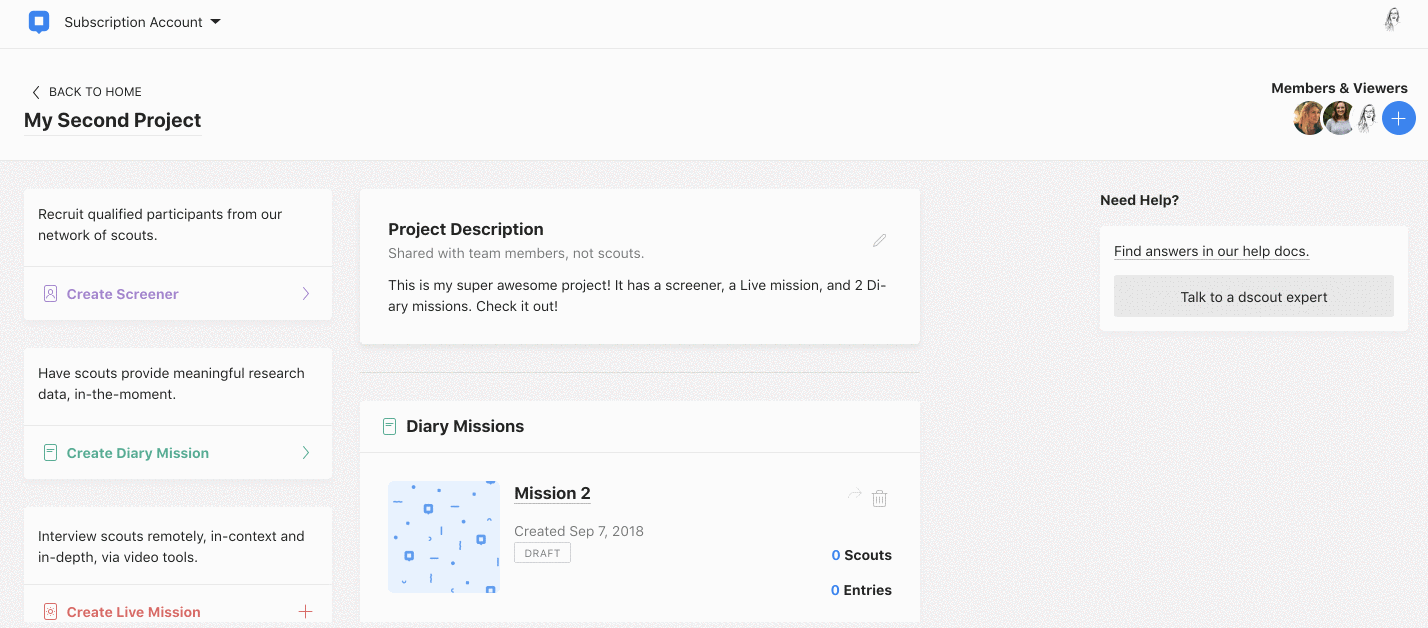 Use the left hand side to create new screeners or missions in your project.
Click on existing screener or mission cards to be taken directly into the research.
See more about the project page.
Navigating a screener
Within a screener, you can view all applications as scout cards using the Grid view, or use the Summary view for closed-ended counts.
Click on a scout card to view their application in detail, and utilize the "potential fit" toggles to rate applicants' potential fit for your mission based on their qualifications and responses.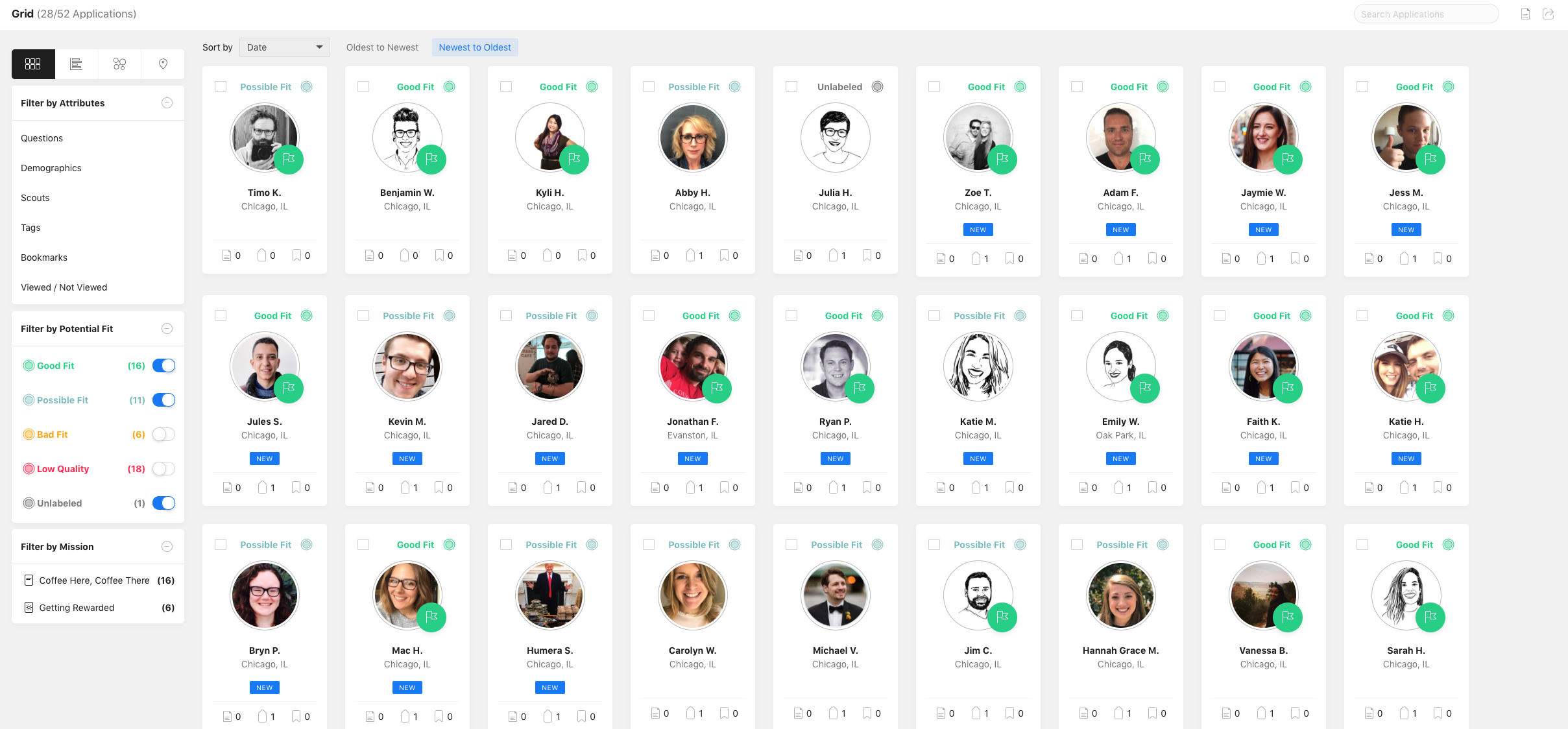 Learn more about viewing applications.
Navigating a Diary mission
Within a Diary mission, use the Entries page to see scouts' submitted data.
You can view your entries in four different ways (Grid, Summary, Analysis, and Map views), sort entries in four different ways (by scout, by date, by group, or by part), and investigate and organize what scouts are sending you using bookmarks and filters.
Browse entries in Grid view
The default Grid view shows you all entries in order of scout name, but you can sort entries a variety of ways using the "Sort By" dropdown above the entries— for example, sorting by date is useful if you are interested in viewing new entries as soon as they are submitted.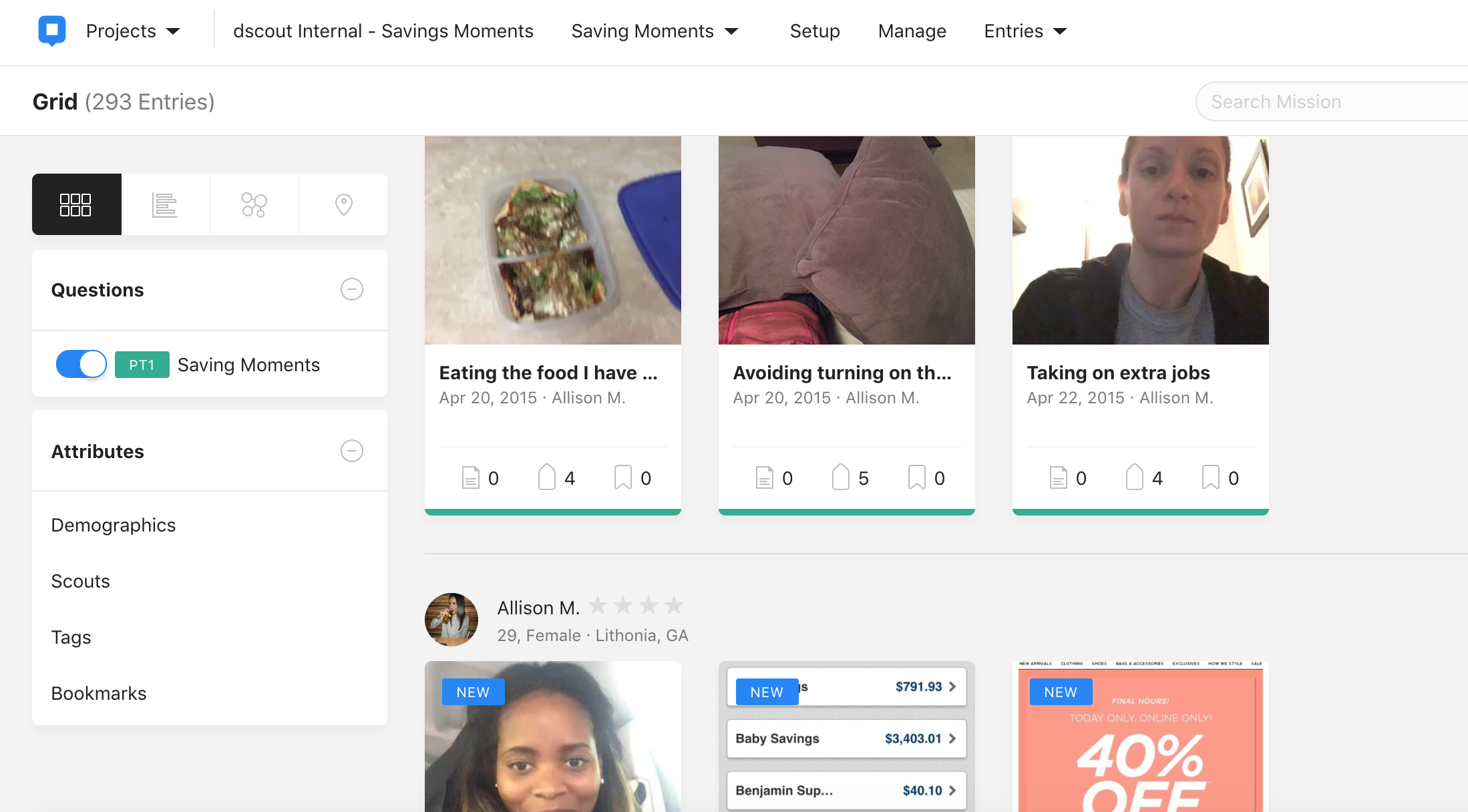 Get a quick read with Summary view
Click the Summary icon tab on the top left tabs of the Entries page (or in the Entries page dropdown) to see chart visualizations and counts of your entries' closed-ended data.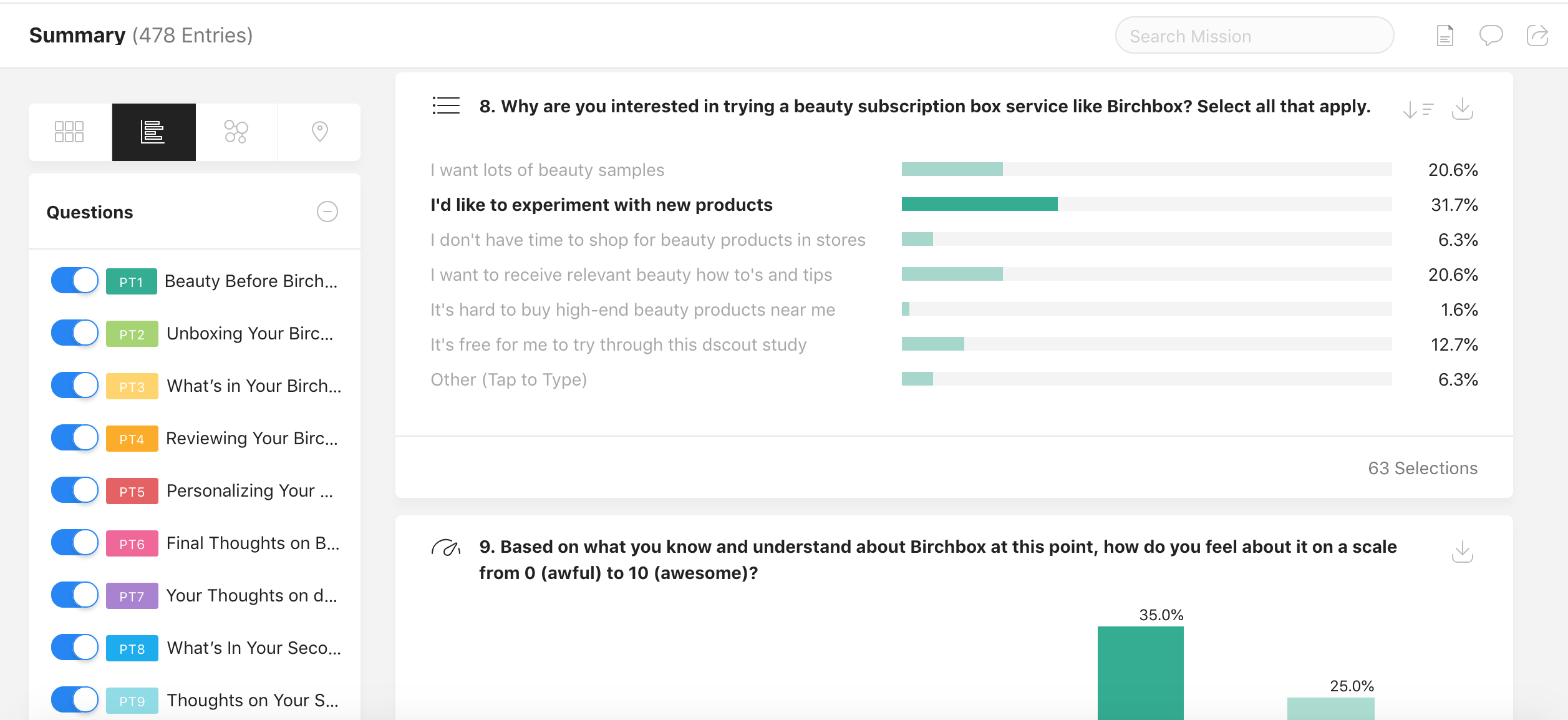 Filter entries
Click the filters menu on the left sidebar of the Entries page (any tab) to isolate data and identify trends. Apply filters with regard to your closed-ended questions, demographic info, scout groups or rankings, tags you and colleagues apply, or bookmarks.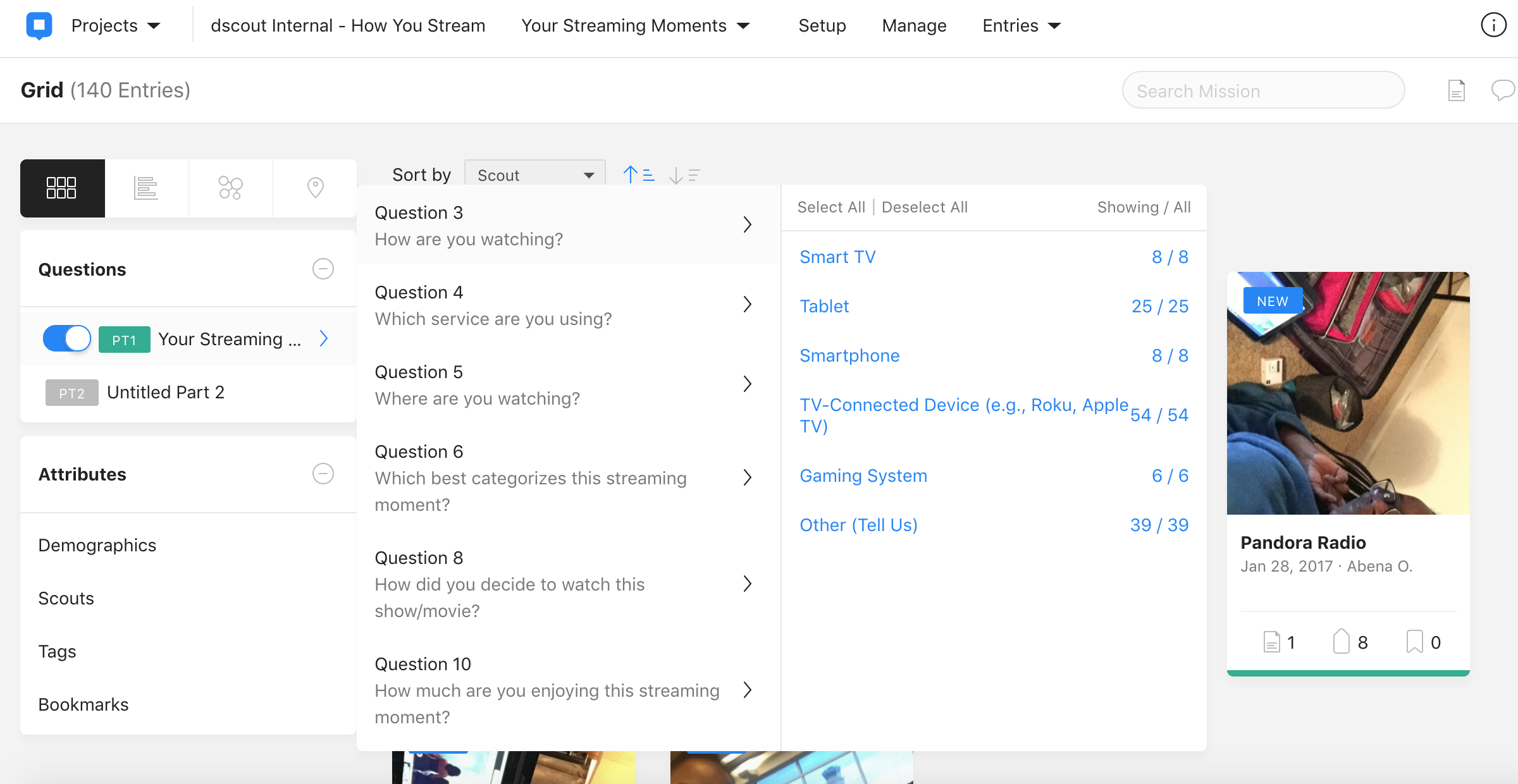 Interact with specific entries
From the Entries grid view, click a specific entry card to open the entry. Review all the scout's responses and demographic information. Flag an individual entry with a single click using the bookmark icon at the top right corner of the entry. Click the "Notes" tab on the scout sidebar to write a note about a specific scout's entry for the benefit of your colleagues (Scouts do not see notes).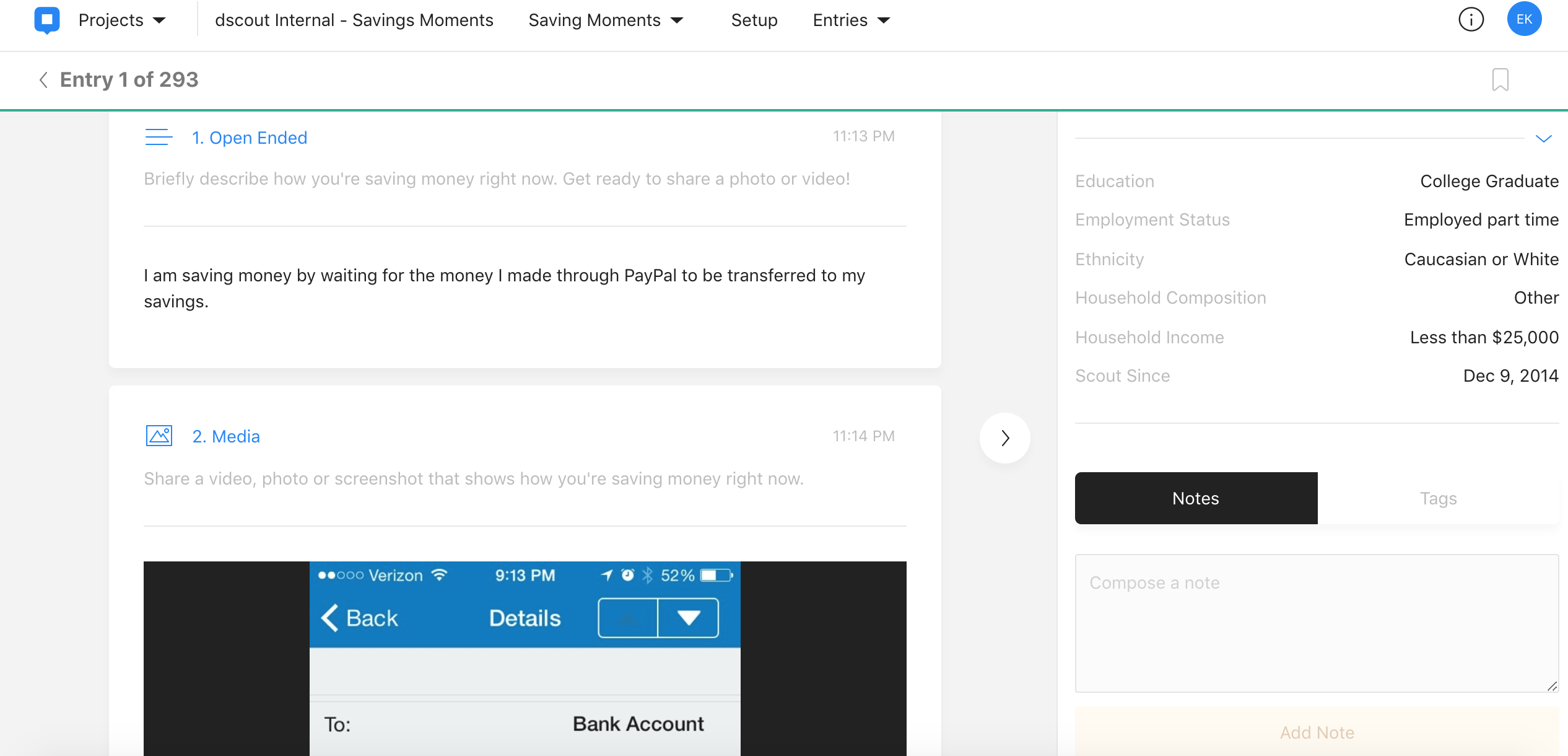 Learn more about viewing mission data.
Navigating a Live mission
Within a Live mission, use the Sessions page to view completed sessions.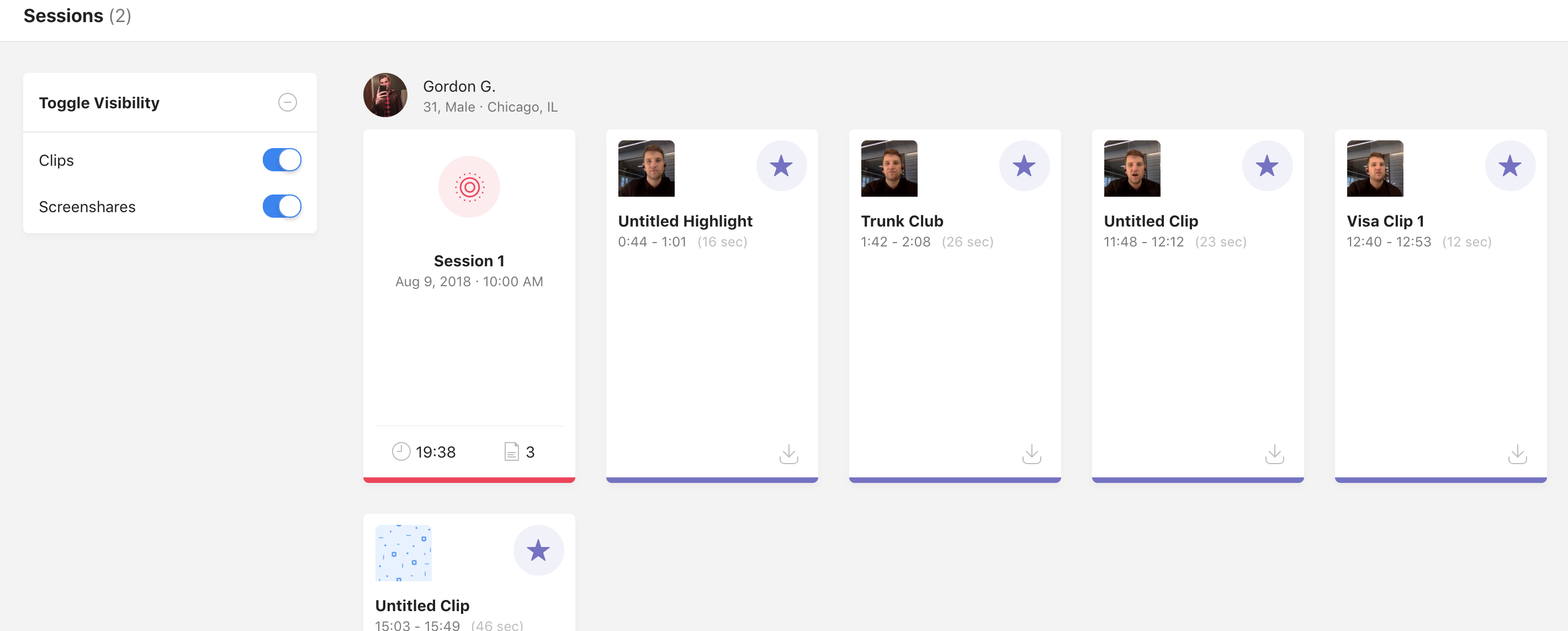 View full sessions by clicking on the red card. You can watch the full recorded session, read the transcript, and add clips and notes as you watch. You're also able to export the entire session.
View and export clips you or teammates have made by clicking on the purple cards.
View and export scouts' screen shares by clicking on the blue cards.
Learn more about viewing Live sessions.