Using the dscout Sandbox
The dscout "sandbox" is the best place for you to begin exploring the research you can do within the dscout platform.
If you create a free account for research, you can start creating missions in your sandbox project. Your sandbox is the best place to become familiar with platform capabilities, learn what research is possible through dscout, and invite collaborators as either researchers or test participants to share what you're working on.
What can I do in the sandbox?
To begin building research after creating your account (or logging in), click "My Sandbox Project," which takes you inside the test environment. From here, you'll be able to create as many test projects in the Diary and Live tools as you like. What are those?
Diary is our tool for in-context, diary-style research. See the moments and events that are important to your research with rich media submissions.
Live lets you interview people remotely, in context and in depth, with a video tool designed expressly for researchers.
You can test the full version of both of these tools in the sandbox—just click "Test Diary" or "Test Live".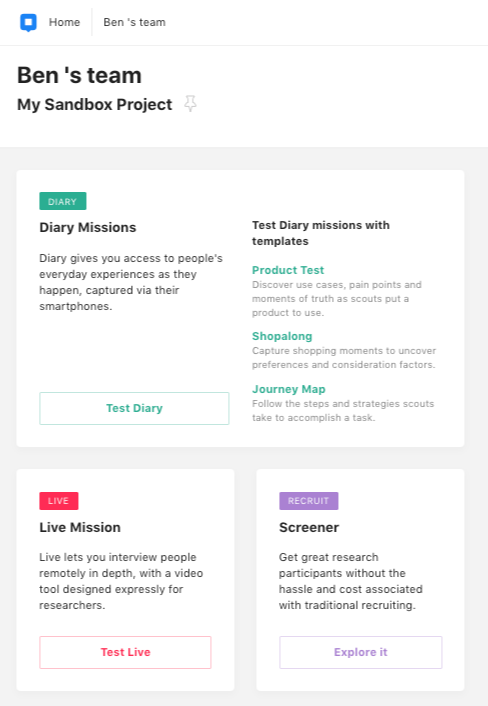 In each tool, you can build and customize your project just like an actual mission.
For Diary, this means creating your own questions. Question types allow you to ask for responses with photos, videos, text and more.
Then, add some context in the Details section and invite participants using "Test Mission." Here's a video showing how to use the Diary builder in the sandbox.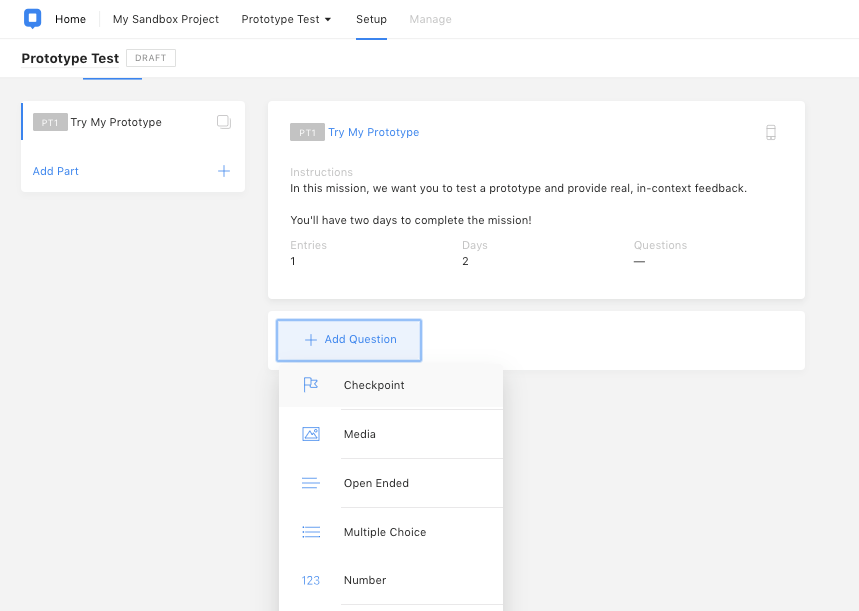 For Live, you can set up and test a 1:1 video call with a colleague. This is a great opportunity to experiment with our scheduling and stimuli features. More details on what you can do with dscout Live are here.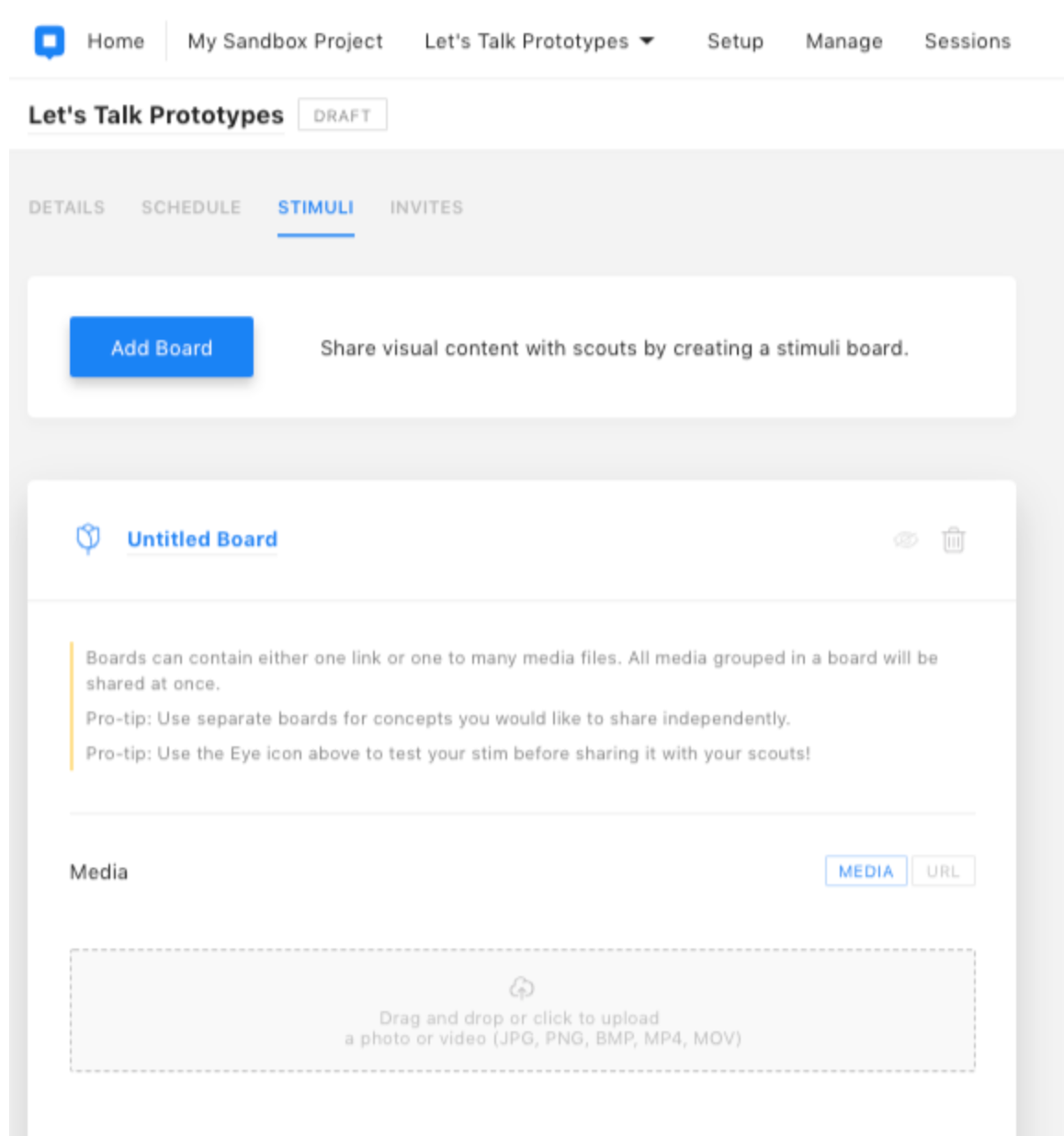 Here's a video showing how to use the Live builder in the sandbox.
Can I invite others to build with me?
Of course! Not only can you invite people to participate in your project as a "scout," but you also can invite them to help you build your research. Within the sandbox, click the blue circle icon with your initials on the top right of your screen, then Account. From this page, select Users. Here, you can add colleagues to your account using "Add a member," inviting them to build right along with you.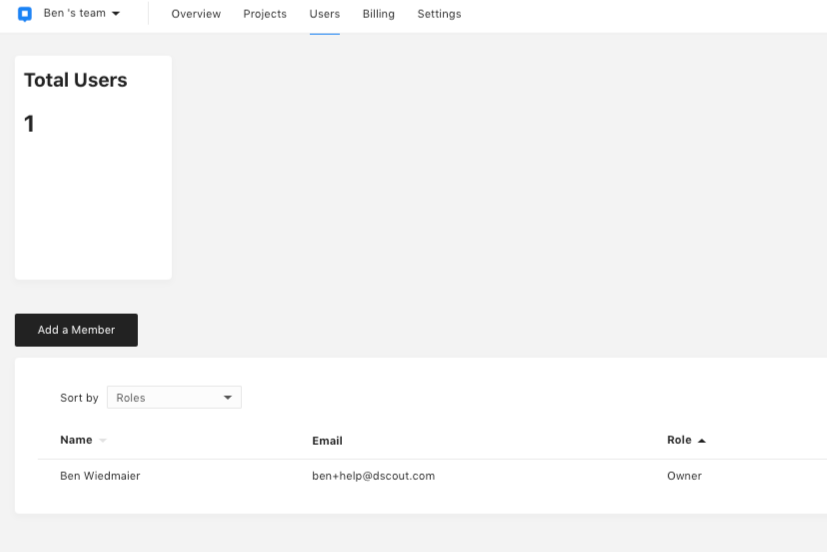 Now, you and your team can try dscout from both sides of the research.
Next Steps
If you've tried out the platform and want to learn more about getting started, click the blue "Talk to our team" button in the sandbox to get in touch with an account executive—or, start the conversation from here.
The sandbox is designed to be easy to use and test, but if any questions arise, we're happy to help. Feel free to search our Help Center for an answer, or email support@dscout.com and we'll assist however we can.