Understanding your company dscout account
dscout allows for four different levels of user roles/permissions to help you control who has access to your dscout account and projects within it.
Adding users + account roles
To give other team members access to your company's dscout account and assign those team members appropriate permissions, the account owner or manager must navigate to the profile menu at the top right of the dashboard and click "Account" > "Users" > "Add a researcher."
Read more below to learn about each of the access/seat types:
Account Viewer: has not been granted a seat on the account but has permission to view specific project(s), cannot create or edit missions or screeners independently or contact scouts.
Account Member: has member access to projects they're added to, and can create and edit new projects, missions, and screeners. Members may add viewers to projects, but not members to the account. Members cannot add credit cards to the account.
Account Manager: has member access to projects they're added to, permissions, and can add a credit card for billing purposes. Managers may add members to the account.
Account Owner: has access to all projects, permissions and billing information (only one per account).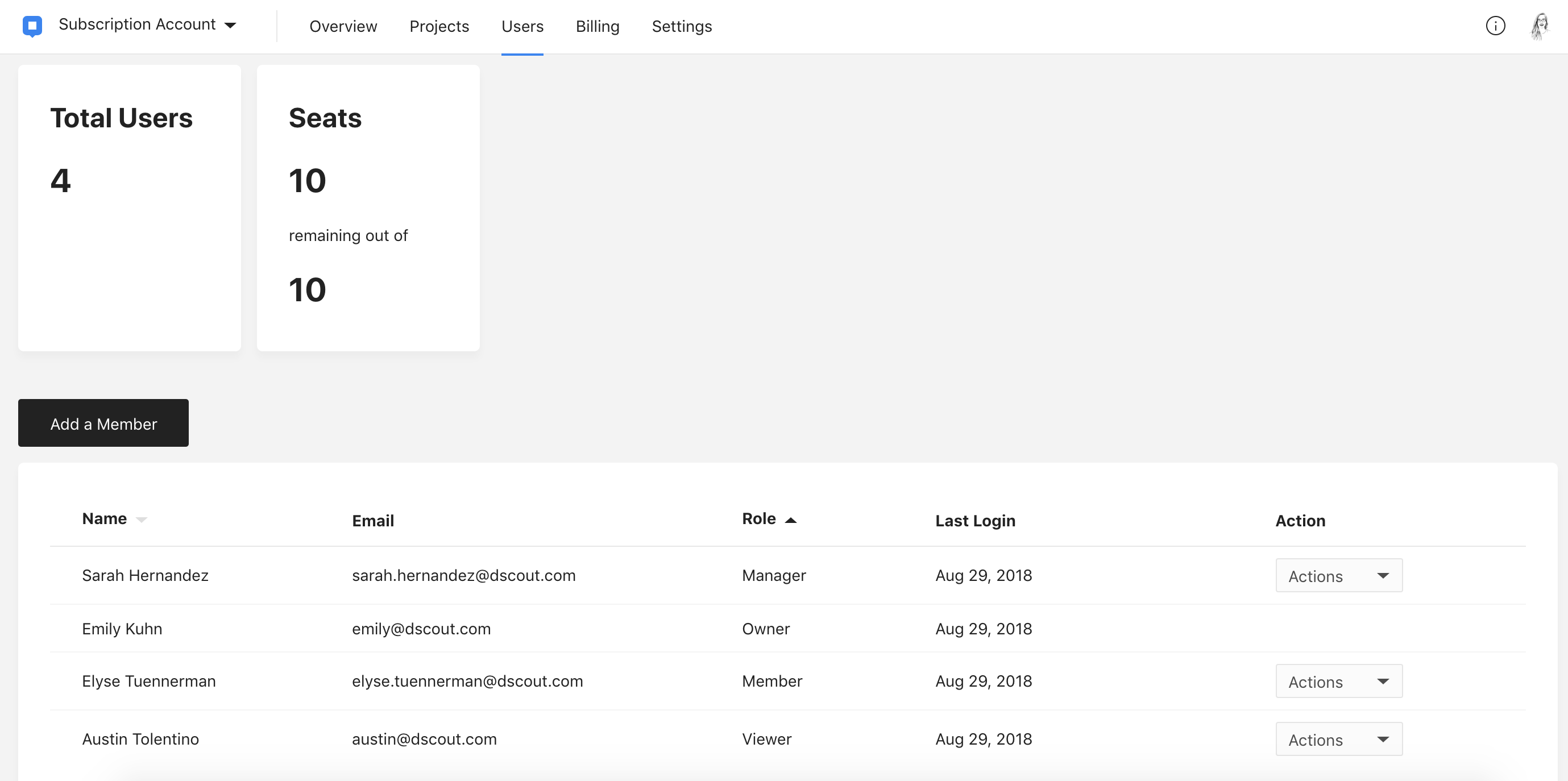 Adding collaborators to a project
On the project page, use the Add Collaborators button (the blue oval with a plus sign next to "Add Collaborators") to add or remove teammates to/from the project. Please note: the "Add Collaborators" button is not visible to Viewers.
Type in their name (if your colleague is already on your dscout account) or email address (if your colleague does not yet have a dscout profile) to add them to your project.

You'll also be able to change each collaborator's notification settings, indicate a project lead, and copy a link to the project to send to each collaborator.
Change notification settings: Per person on the project, you're able to toggle whether or not they receive email notifications when a message is sent within the project.
Indicate a project lead: Select the person who is managing this dscout project, to give other teammates a point of contact should they have questions about the project.
Project link: When you add a teammate to a project, they'll receive an email inviting them to check it out! Send them this link if they have trouble finding that email, or if you're impatient and don't want to wait for them to check their email ;)
The Add Collaborators dialogue will not allow you to change collaborators' account roles. Use the Account page to change account roles.