How much should I pay scouts in a Live mission?
Live Reward Incentives
While not a golden rule, we recommend considering paying scouts ~$50 for a 30-minute Live session, and closer to ~$75 for a 1-hour Live session. Since dscout Live is a 1:1 interview, many scouts have to take extra time out of their day to coordinate scheduling and participate. This can be a heavier lift for scouts, so we recommend incentivizing accordingly!
Pro tip: Recruiting scouts with very specific experience or within a tight turnaround period is typically easier with a higher incentive.
We typically kick off payments once all sessions in a Live mission are complete. (No action in the platform automatically triggers payments, so don't forget to close out your mission under the Setup tab, and ping your dedicated research advisor with a list of scouts who are ready to be paid out).
Will I have to pay out scouts I over-recruited for my Live mission?
Short answer: No. However, we do expect you to provide enough time slots for all invited scouts; you can read about this in our Scout Experience Standards. It's good to note as well that over-recruiting from the start isn't always necessary; if you have one or a few unresponsive scouts, you can always close them out of the mission and invite new scouts in their place—even after you've launched your mission.
If you anticipate needing to over-recruit participants due to timing constraints, we'd recommend only starting with a few extra scouts and including copy such as this in your Live mission instructions to help ensure a smooth scout experience: "We have a limited number of session slots in this Live mission, so some invited scouts may not be able to participate. Accept your session as soon as you can to save your seat!"
Once your Live mission wraps up, consider sending a message to any unscheduled scouts thanking them for their interest before closing it out.
No-shows & cancellations
If a moderator is a no-show, or is at least 10 minutes late to a session and a scout is no longer able to participate, we'd recommend compensating your scout partial compensation for their time.
Need to make some last minute changes and cancel an upcoming session? Be sure to send a message to your scout letting them know in advance. To cancel their session (as demonstrated below!) under the Manage or Schedule tabs. In the case that you have to change plans within 24 hours of a scheduled session, we'd recommend paying them partial compensation for their time.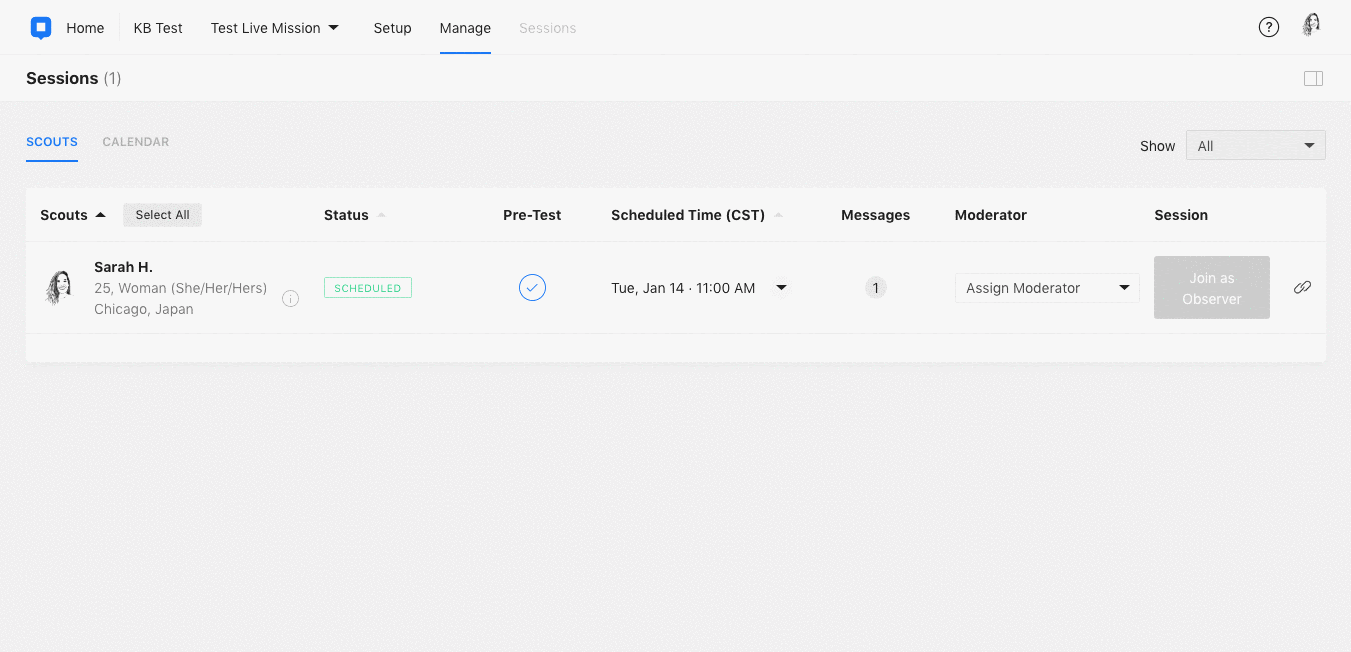 If a scout is a no-show, or is at least 10 minutes late to a session and a moderator is no longer able to participate, you will not be responsible for compensating the scout.