Setting up an Express mission
Ready to get the ball rolling on your Express mission? Read more below or click the link to navigate through our guide for getting started:
Creating an Express mission
Details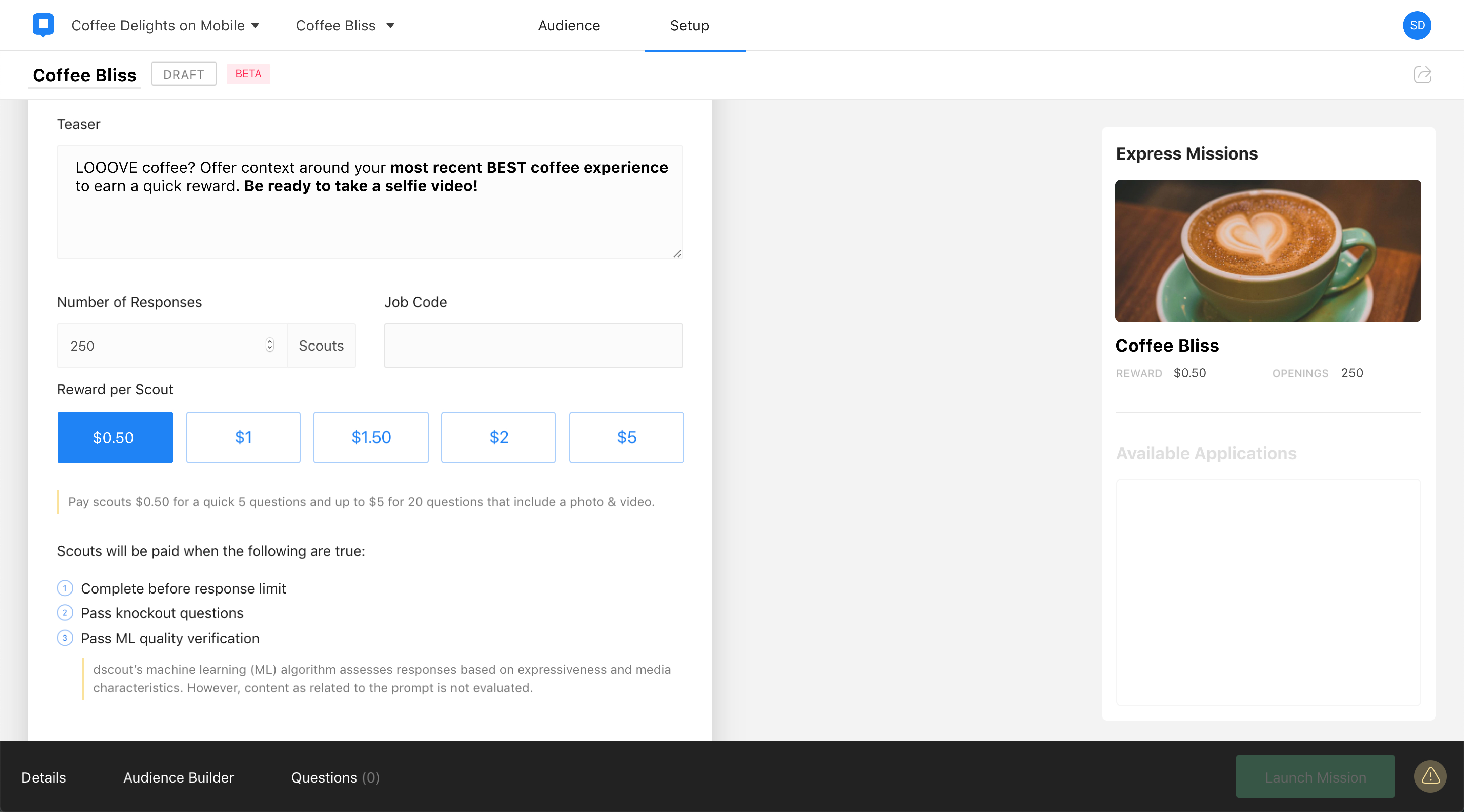 Incentives

Choose from a range of incentive amounts between $0.50 to $5.00. You can pay scouts $0.50 for a quick 5 questions and up to $5.00 for 20 questions that include a photo & video. Keep in mind, though: incentives should be determined by the types of questions and level of effort required to complete your Express mission. If you have questions about determining incentive amounts, reach out to your point of contact on the Success team!

Submission limit

Set a limit to the number of paid entries you would like. Once the count of paid entries is reached, the dscout system will automatically close the mission. Note that you will only see these paid entries in the viewer.

Teaser

Describe the general objective of your Express mission and what the scout will have to complete in the mission. This would also be a good place to communicate if there's a possibility of research beyond this Express mission. Pro tip: keep your teaser general and do your best to not reveal any of your knockout logic here to encourage unbiased and honest responses.
Decide if there are any demographic or activity filters relevant to your Express mission.

Upon launch, the Express mission will only be seen by scouts who met this criteria.
Writing question scripts
Express missions have a limit of 20 questions maximum; there is also a limit of 1 photo prompt and 1 video prompt (standard video or screen recording) per Express Mission. Since payments are automated, you will need to carefully craft knockout questions in order to ensure that only scouts fitted to your criteria are spending time and effort on your Express mission.

Read more about knockout questions here.
Scoring
dscout completes an automated quality assessment and scoring of every entry submitted to your Express mission. The results of a scout's quality will determine whether or not they get paid for completing the Express mission. You will only see paid entries in the viewer and all unapproved or knocked-out entries are discarded from the viewer. Scoring includes the following:
Assessing expressiveness (i.e.grammar and response length) of open-ended questions not assigned a 140 char limit as well as transcripts.

Assessing length of video responses in addition to metrics like audibility, luminosity, shakiness, and more.
Note: only "approved" scouts can submit entries to your Express missions. These scouts have proved a minimum level of quality through their work on screeners or other missions.
Submit for Review
Before launching the Express mission, you will have to Submit for Review to your Research Advisor. The RA will be reviewing your research design for question clarity, knockout and skip logic, and scoring issues. You will also need to verify that your form of payment is in the dscout system since payments are automated for Express missions.
When you've finished drafting your Express mission, simply tap the "submit" button on the bottom right hand corner of the Setup page. Our team will be notified that you're ready for a review, and your point of contact on the Success team will reach out to you within two business days with next steps!