[BETA] Paying Scouts: New Scout Payment Process
Note: this feature is currently in beta testing and is not available for all accounts. Stay tuned for news on our general release! For information on how to process payments if you're not in the payments beta, check out this article.
Incenting your participants for their time and hard work can be done directly in dscout from the Manage Table in both Diary and Live missions. Requesting payments will ping your dscout Research Advisor who will then initiate the payment process for scouts in 24-48 hours. Express Missions, however, pay scouts automatically upon acceptance of their entry. If you've opted to pay scouts independently, this feature will not appear in your mission.
How much should I pay scouts?
Generally speaking, you should pay scouts an equivalent amount to the work and time they'll be spending on your mission. If you're not sure how much to pay scouts, check out our suggestions for Diary and Live!
When should I pay scouts?
For the majority of Diary and Live missions, we recommend incenting your scouts in bulk once the mission has fully concluded. However, if your mission has multiple waves of participants or spans a long period of time, you may consider incenting scouts in waves before the mission has fully closed.
How do I initiate payments for scouts?
In the Manage table, you'll see a Payment Status column on the far right of the Manage table for both Diary and Live. Before any scouts are paid, the status for each scout in that column will say Request Payment:
Diary
Live

Requesting in Bulk
Requesting payments in bulk helps dscout pay scouts more efficiently. Once your mission has concluded, use the methods outlined below to select all of the scouts you would like to incent, then click Request Payment from the bulk action toolbar:
Diary
Use the checkboxes on the left side of the manage table to select all of the scouts you would like to incent: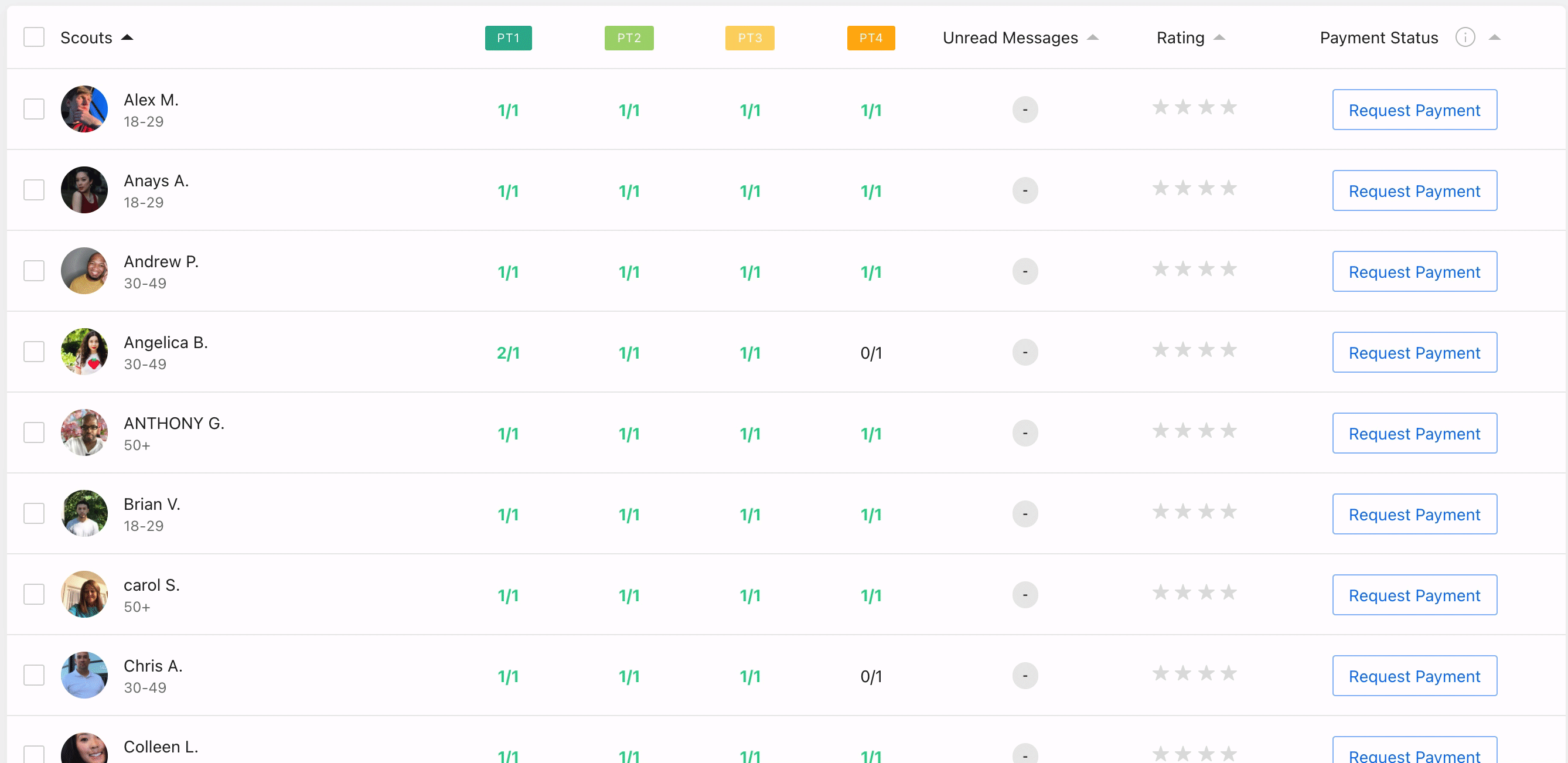 Live
Click on a row for each scout you want to incent - the row will turn grey to indicate it has been selected:

Once you click Request Payment, a modal will open that will contain a summary of selected scouts and the incentive amount to be paid. This incentive amount is pre-populated with the incentive that you entered during the mission setup. However, you're welcome to adjust the incentive for scouts in bulk for everyone listed in the modal, or for individual scouts.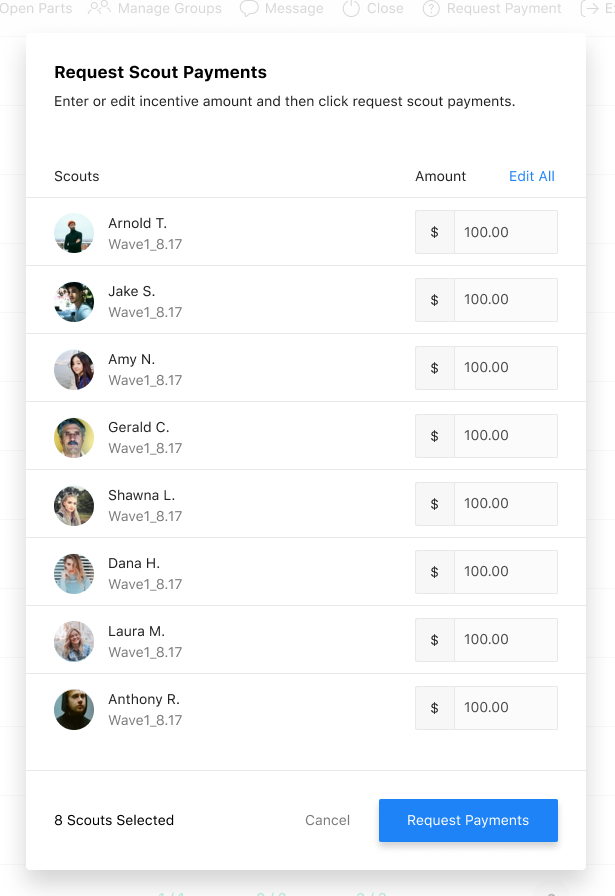 Be sure to review the requested payments in this modal carefully - once you request payments there will only be a short window of time to make adjustments before your Research Advisor approves payments and they become uneditable.
Once you click the Request Payments button at the bottom of the modal, an email will be sent to the Research Advisor working with you on your project, notifying that payments have been requested and are ready for review and approval.
Your page will refresh and you'll be brought to the Payments tab on the Manage page. Keep an eye out for the confirmation banner at the top of the page: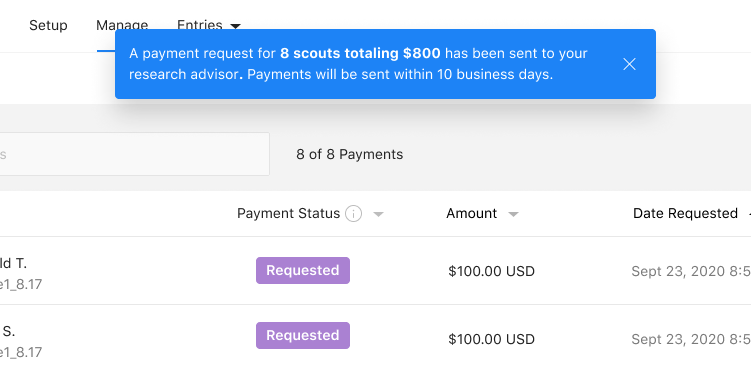 The Payments tab will now be updated with the following information:
Total incentives for listed scouts will be in the upper right corner. A 10% PayPal processing fee will be added to this total
Newly requested payments will have a Payment Status of Requested
Amount of incentive requested
Date Requested
Date Sent [when applicable]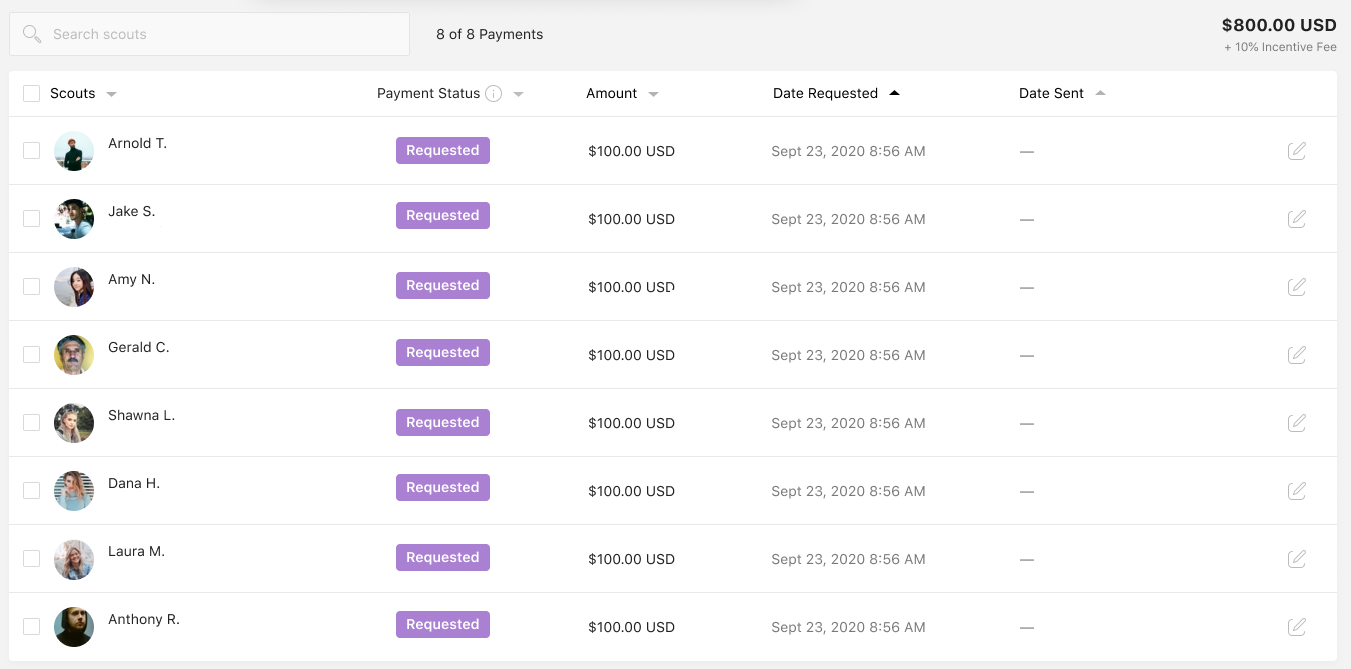 Nice job, you have just requested payments for scouts!
How do I edit or delete payments for scouts?
If you have requested a payment for a scout incorrectly, you have a limited amount of time to make edits to your request. Please note, once the Research Advisor working with you on your project approves these payments, they will be locked for editing.
To edit a requested payment, select the pencil icon on the far right of the Payments tab and select Edit Amount or Delete Payment:

How do I check on payments for scouts?
Once payments have been requested in a mission, Payment Status will update based on what step of the payment process the scout is in:


Requested indicates that an individual with a Member seat has requested payments for scouts. An email has been sent to a Research Advisor to review and approve. Once a payment has this status, it is still available to edit or delete.




Approved indicates that a Research Advisor has reviewed payments and approved them, kicking off the payment process. Once a payment has this status, it has been locked for editing.


Payment Sent indicates that the payment has been issued to the scout via PayPal.
When are scouts paid?
Once a payment is requested for a scout, they can expect payment to hit their PayPal account in 7-10 business days. If scouts are having trouble or have payment questions, please refer them to payments@dscout.com.