Omnichannel research with desktop parts for Diary missions
dscout's Diary tool now supports omnichannel research designs with the introduction of desktop-based research activities. With this feature, program research activities for both mobile and desktop modalities in the same mission.
In desktop parts of Diary missions, scouts (research participants) will respond to a set of questions and capture videos, photos, or screen recordings from their computer, via a Chrome extension, instead of their mobile phone.
How can I include desktop parts in my Diary mission?
When creating a part in your Diary mission, you'll see an option to designate how scouts will complete the part: on the dscout mobile app, or on desktop web, via a Chrome extension. Your choice for each part will be reflected in the part menu, with a mobile phone or computer icon.
You can build a Diary mission with all mobile parts, a mix of mobile and desktop parts, or all desktop parts, as relevant for your study.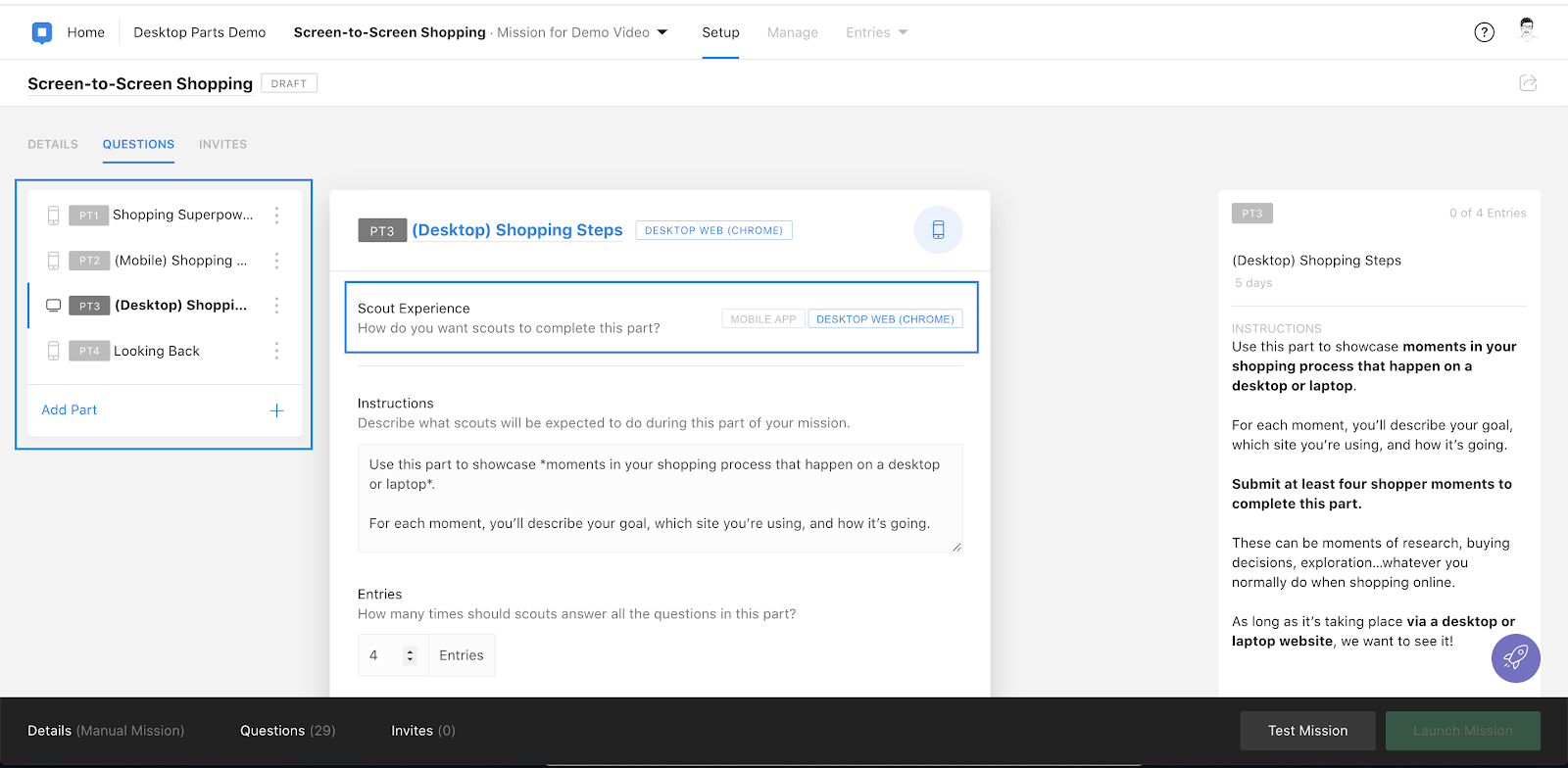 The same set of features and question types are available for both mobile and desktop parts, so if you change your mind about how a part should be completed while designing your study, you can simply switch the setting before launching your mission.
How do scouts experience desktop parts?
When a scout is invited to a Diary mission with one or more desktop parts, the mission will appear in their invite queue in the mobile app or on desktop, marked with a "desktop parts" flag. Before accepting the mission, they'll go through a brief walkthrough that sets expectations for how to participate on desktop.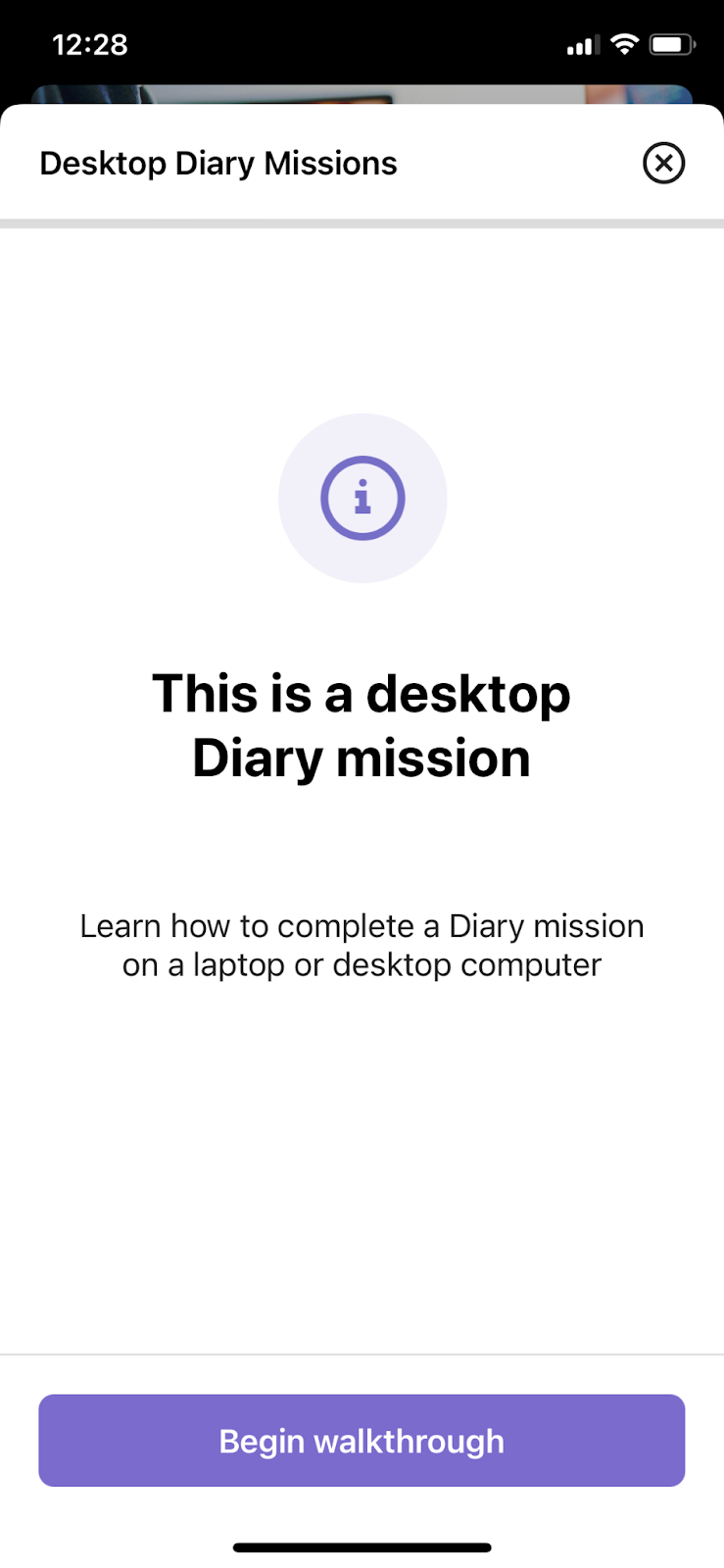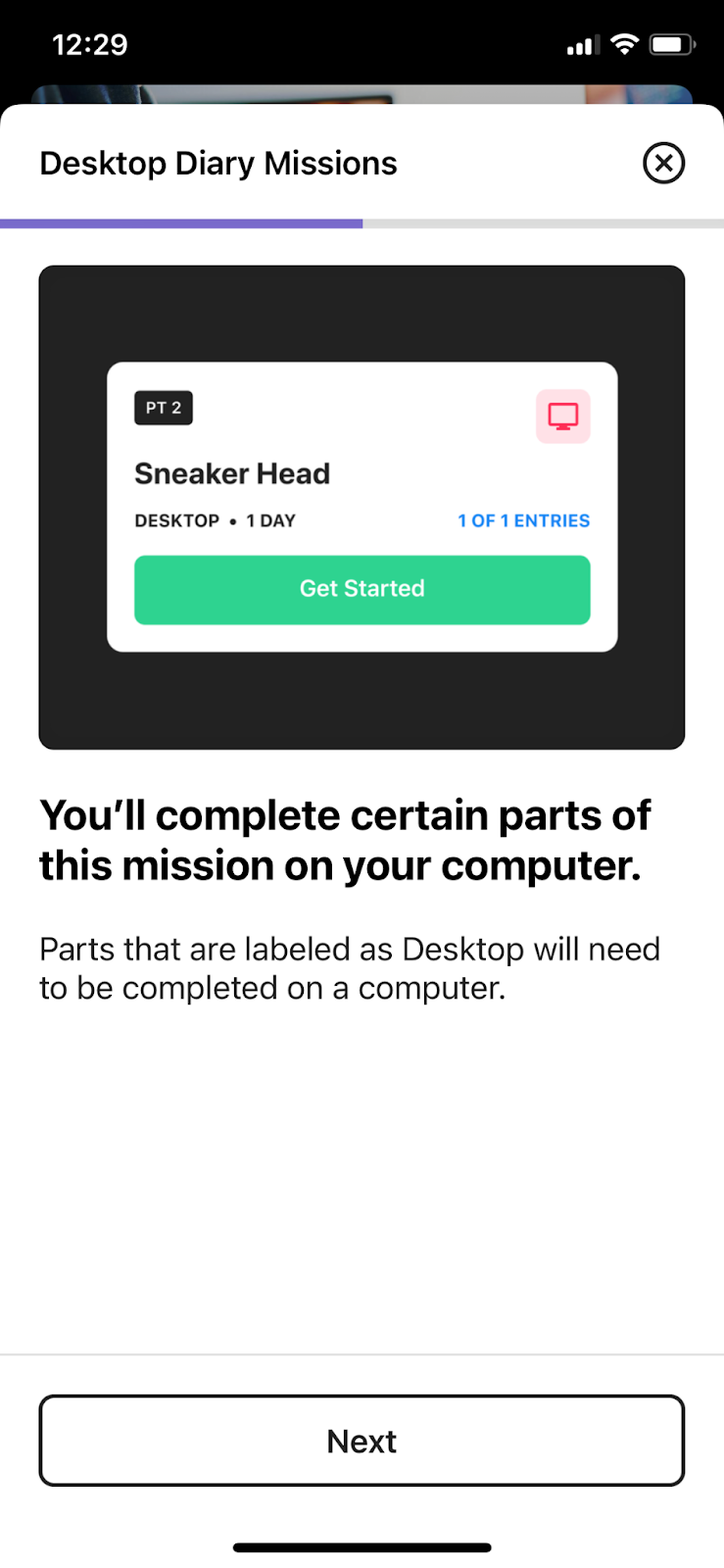 .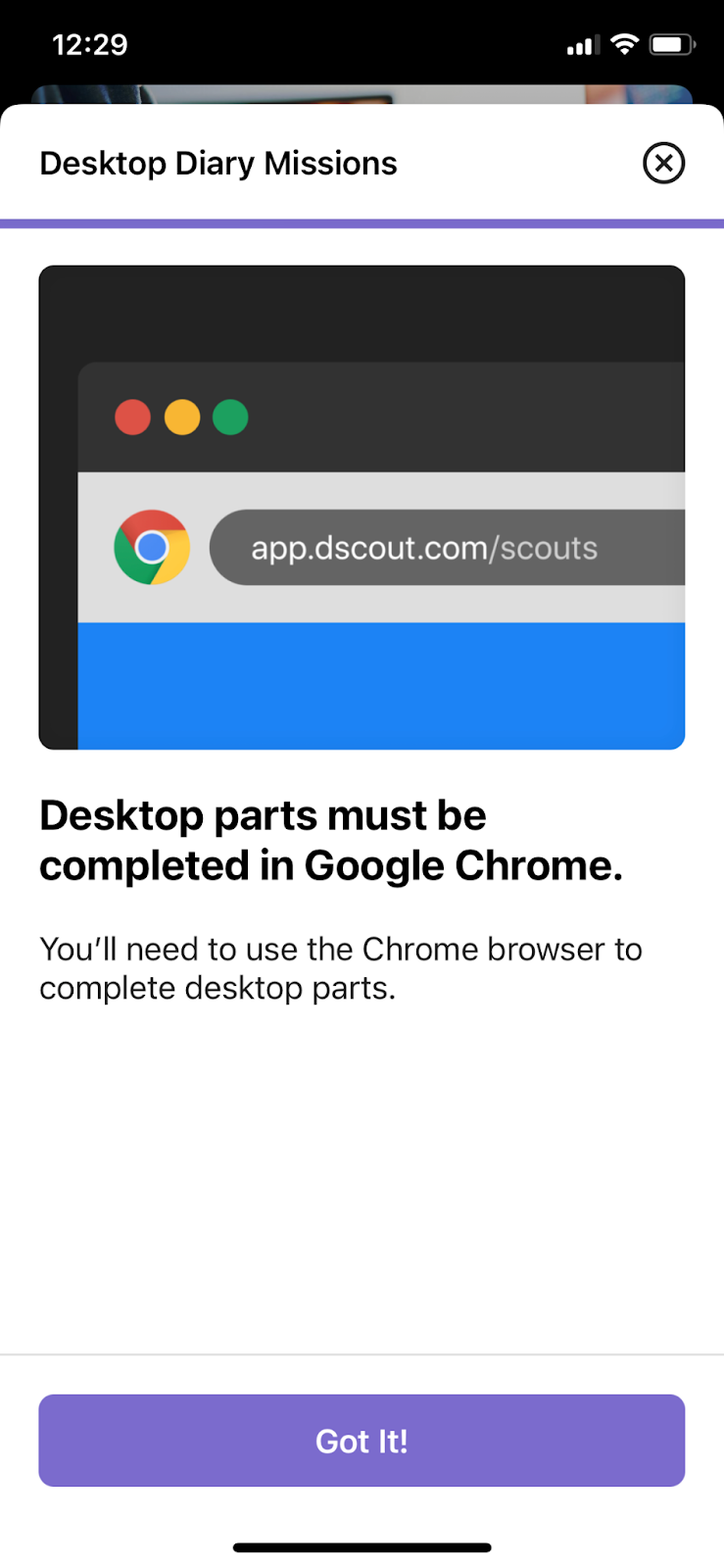 Once the mission invite has been accepted, scouts can begin creating entries to desktop parts. In the mobile app, each part is labeled with a mobile or desktop icon, indicating how the part will be completed.
To begin creating entries to a desktop part, scouts can email themselves a magic link from the mobile app, or they can log into dscout on a computer.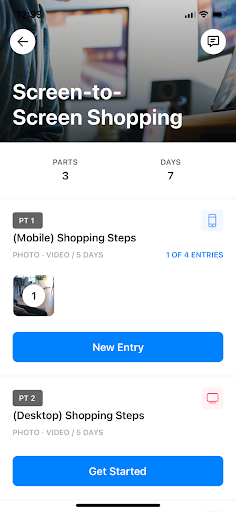 .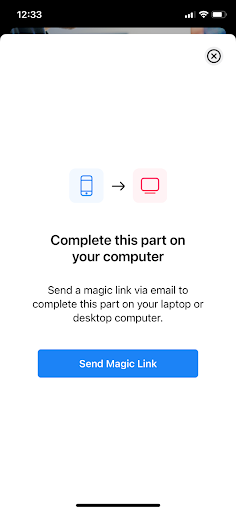 .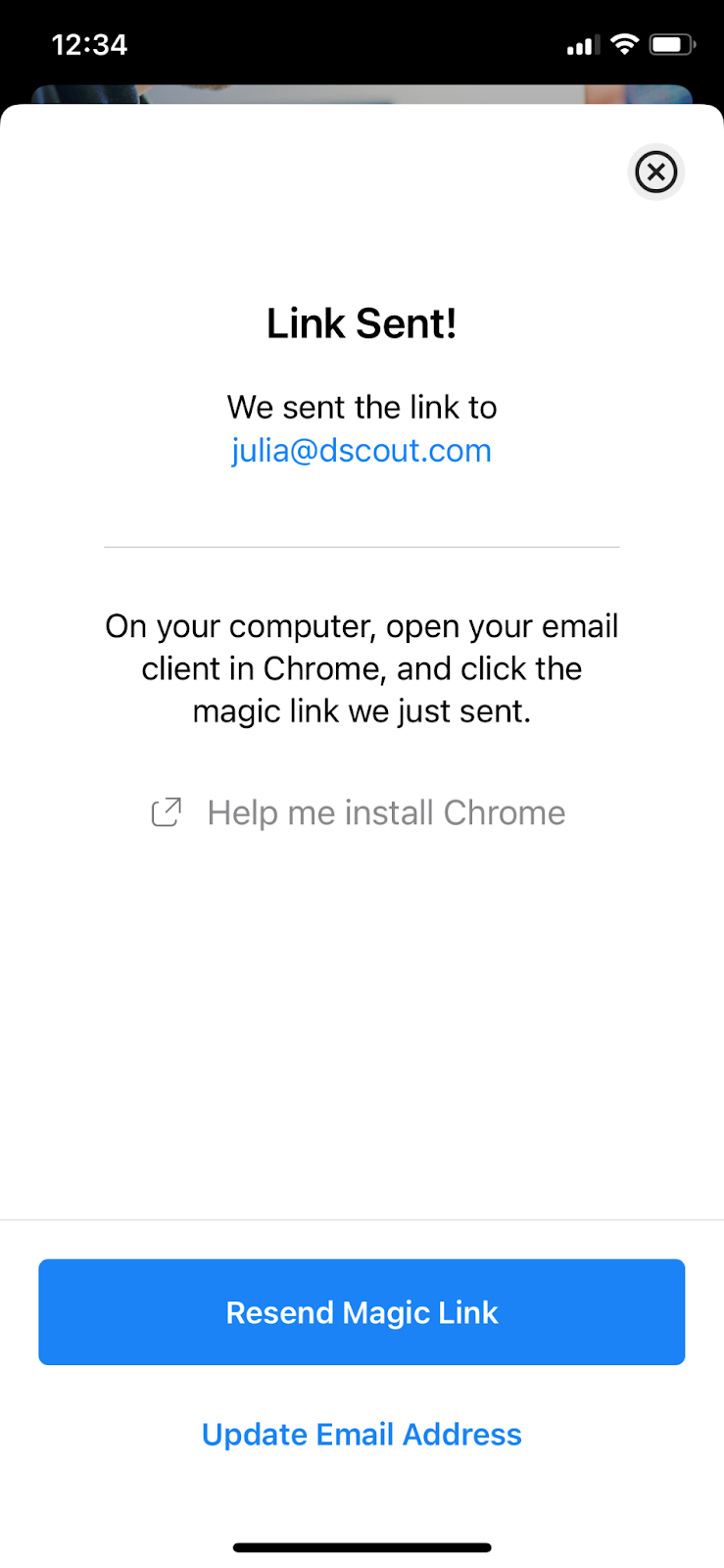 Once on desktop, scouts will go through an onboarding flow that guides them through installing the dscout Diary Chrome extension, if they don't already have it, and perform hardware checks for their camera, microphone, and screen recording capability.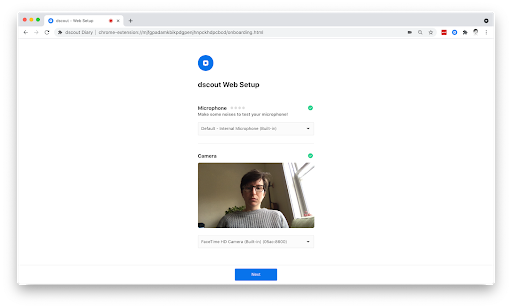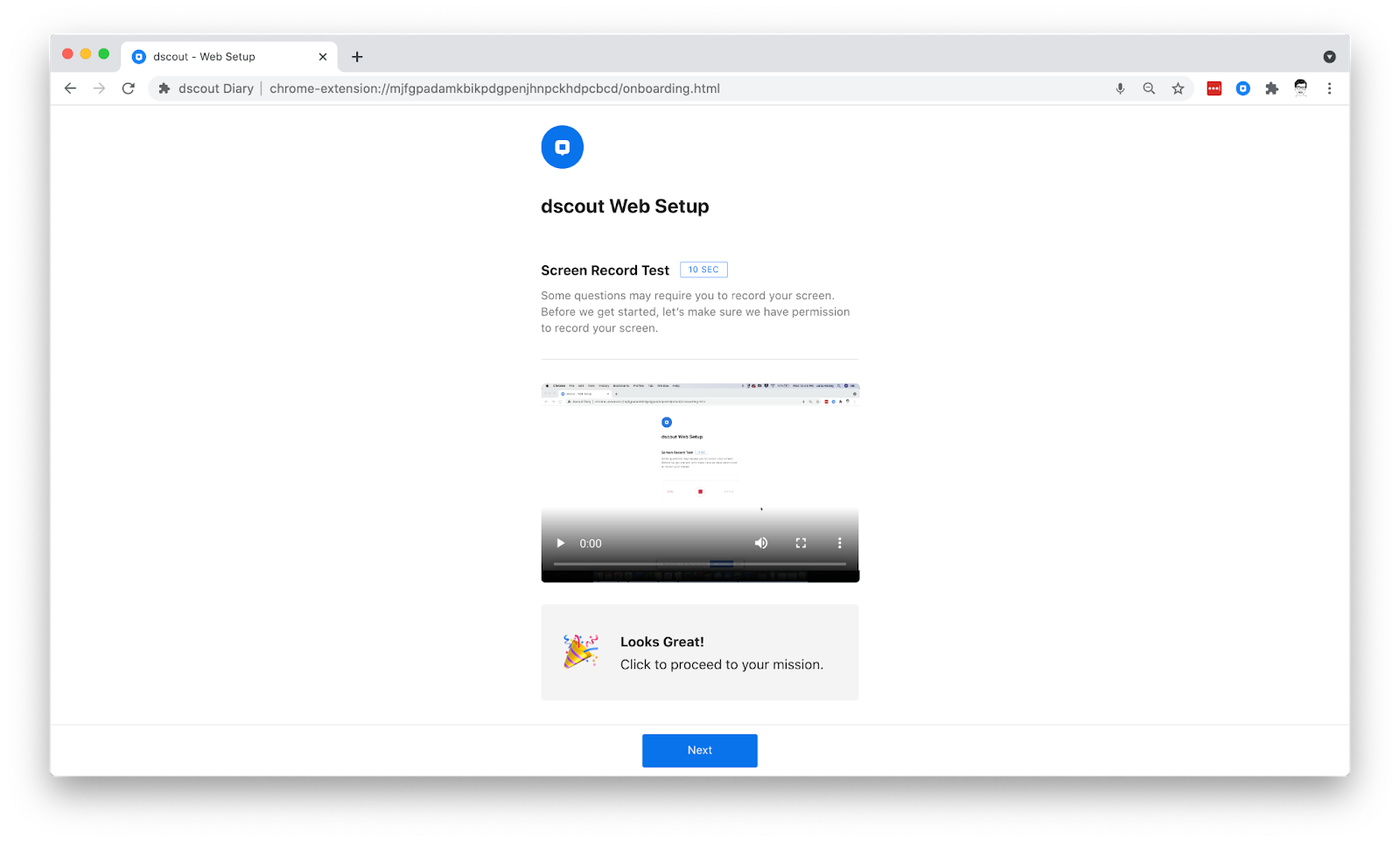 After all hardware checks are passed, scouts will view the part instructions, move through a question flow, and submit entries on desktop much like they do in the mobile app today.
Upon successful upload of an entry, scouts can navigate back to the mission details page to submit additional entries on desktop, or to see that subsequent parts need to be completed on mobile.
Watch the desktop parts video below for a full walkthrough of the scout experience.
How does screen recording work in desktop parts?
If your desktop part includes a screen recording question, scouts will either follow a link to your designated starting URL to begin recording, or if there's no starting URL, will read the question prompt and then start recording.
While a scout is recording and navigating, the question prompt will appear in a small "widget" for easy reference. Scouts can drag and drop to reposition the widget on the page as needed. The widget will automatically collapse when a scout begins recording their screen, but can be re-expanded to show the question prompt.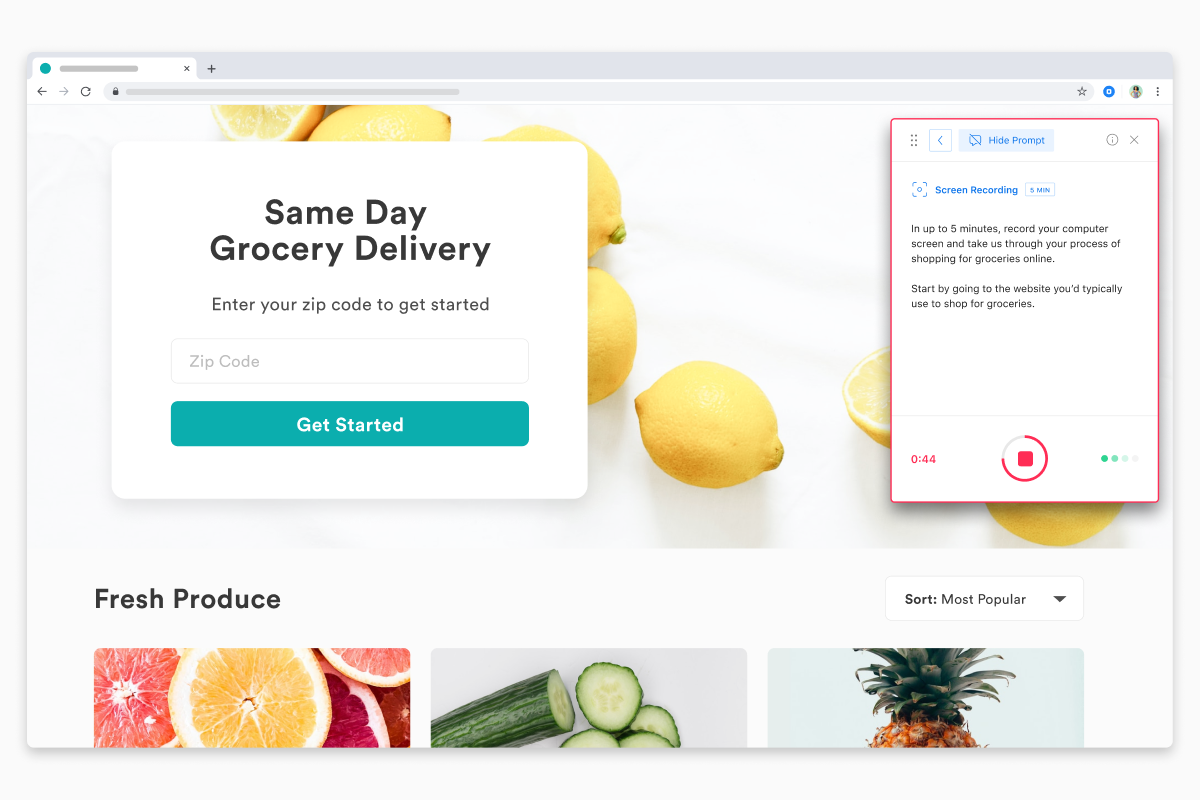 Any questions that follow a screen recording question will also appear in the widget, in case the scout needs to reference the web experience while responding.
The screen recording will capture the scout's entire desktop, so they can freely switch between tabs while recording. You can also ask scouts to record activity in desktop applications outside of the Chrome browser, if that's relevant to your study.
Keep in mind that the widget will only be visible on Chrome browser tabs, so it may be harder for scouts to reference your question prompt if they are recording activity outside of Chrome.
What do scouts need to participate in desktop parts?
To participate in a Diary mission with desktop parts, scouts will need:
A laptop or desktop computer with a working camera and microphone

Google Chrome browser version 80 or higher
Scouts will be guided through installing both the Google Chrome browser and the dscout Diary Chrome extension when they begin a desktop part, if they do not already have these installed on their computer.
We recommend including the following questions in your screener if you are recruiting scouts to participate in a dscout study that will involve a Diary mission with desktop parts, to make sure scouts have what they need to participate:
Q [multiple select] Which of the following devices do you own and currently use at least once a week?
Desktop [

may select

]

Tablet

Laptop [

may select

]

None of the above [

terminate

]
Q [single select] Which of the following best describes your desktop or laptop computer?
My computer has microphone and camera capabilities that are fully functional. [

must select

]

My computer has microphone and camera capabilities, but one or both sometimes malfunction. [

terminate

]

My computer has microphone and camera capabilities, but one or both are not functional at all. [

terminate

]

My computer does not have microphone and/or camera capabilities. [

terminate

]
Q [single select] Great! This Diary mission has desktop parts. Desktop parts require a desktop or laptop computer with a working webcam and microphone. It also requires use of Chrome (the internet web browser) and downloading a Chrome Extension. Are you willing and able to participate in a Diary mission with desktop parts?