September 2023 - Product News
dscout's latest innovations and new features help empower teams to capture high-quality human insights from in-context moments. Focus on what matters - conducting meaningful and trustworthy research.
What's new?
RECRUIT
Manual recruiting for Express. Hand-pick your participants to choose who will participate in your mission with manual recruiting, now available in Express Media-Survey and Usability Testing.
FIELD
Express
Usability testing is now available! Understand your users, test concepts, validate prototypes, and optimize products on your timeline. dscout now supports the cornerstones of usability testing in the platform within an Express mission: continuous recording, Task questions, Talk Out Loud prompts, click tracking, analysis and sharing tools, and more.
New video analysis view in Express: In the Analyze tab, you can more easily navigate between video responses using either your keyboard's arrow keys or the back and next arrows on screen from directly within the video response.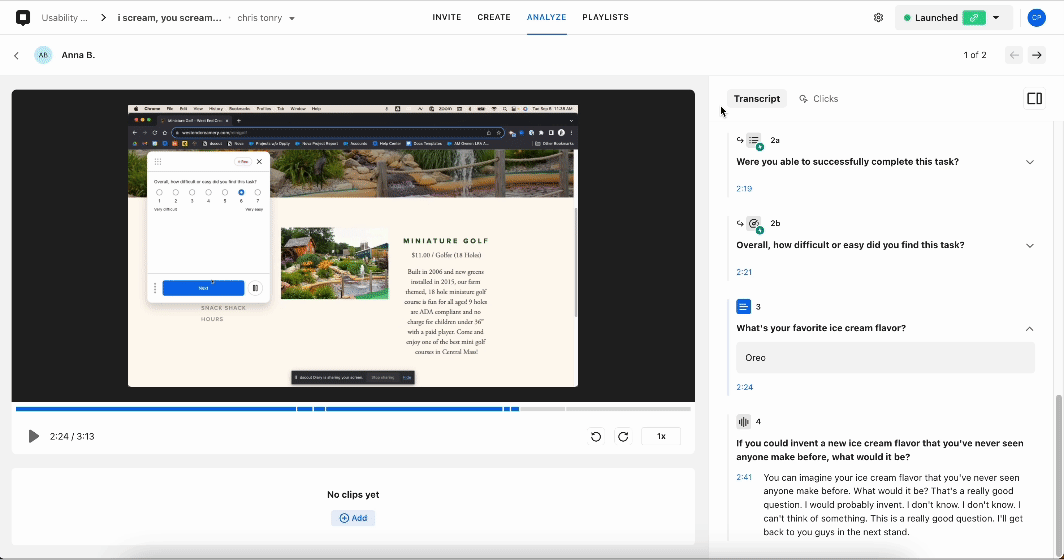 Express & Live
Admin Center
Introducing the Contributor seat. Bring your cross-team collaborators into your research with a Contributor seat. Our new user type lets you invite others into the platform in a way you can trust. The Contributor seat allows PMs, Designers, and other team members to run research with guardrails to ensure quality and meet best practice standards.
Project deletion scheduling.

After the completion of a research project, your organization may require scheduling the deletion of project data, including research design and all submitted research content from scouts.