Question Stimuli
You can now add visual stimuli at the question level in your screeners, Diary missions and Express missions. Attach images to questions to quickly receive feedback from scouts on new concepts or designs. Stim can be attached to all question types, except for the Screen Recording prompt.
About Stim
You can attach up to 5 images to a question.

Stim cannot be randomized, and is presented in the order you specify. If you have multiple images attached, scouts will swipe through them one at a time.

Scouts

must view

all images associated with a question before they are able to provide a response and advance to the next question
How to Attach Stim
When drafting your screener, Diary mission, or Express mission, navigate to the question you would like scouts to view images with. Open the question draft, and select "+Add Stimuli".

Begin to single or bulk add stim to your Upload Library. You can access your Upload Library for all questions in

that screener or mission

. The recommended file sizes per image are 1MB or smaller!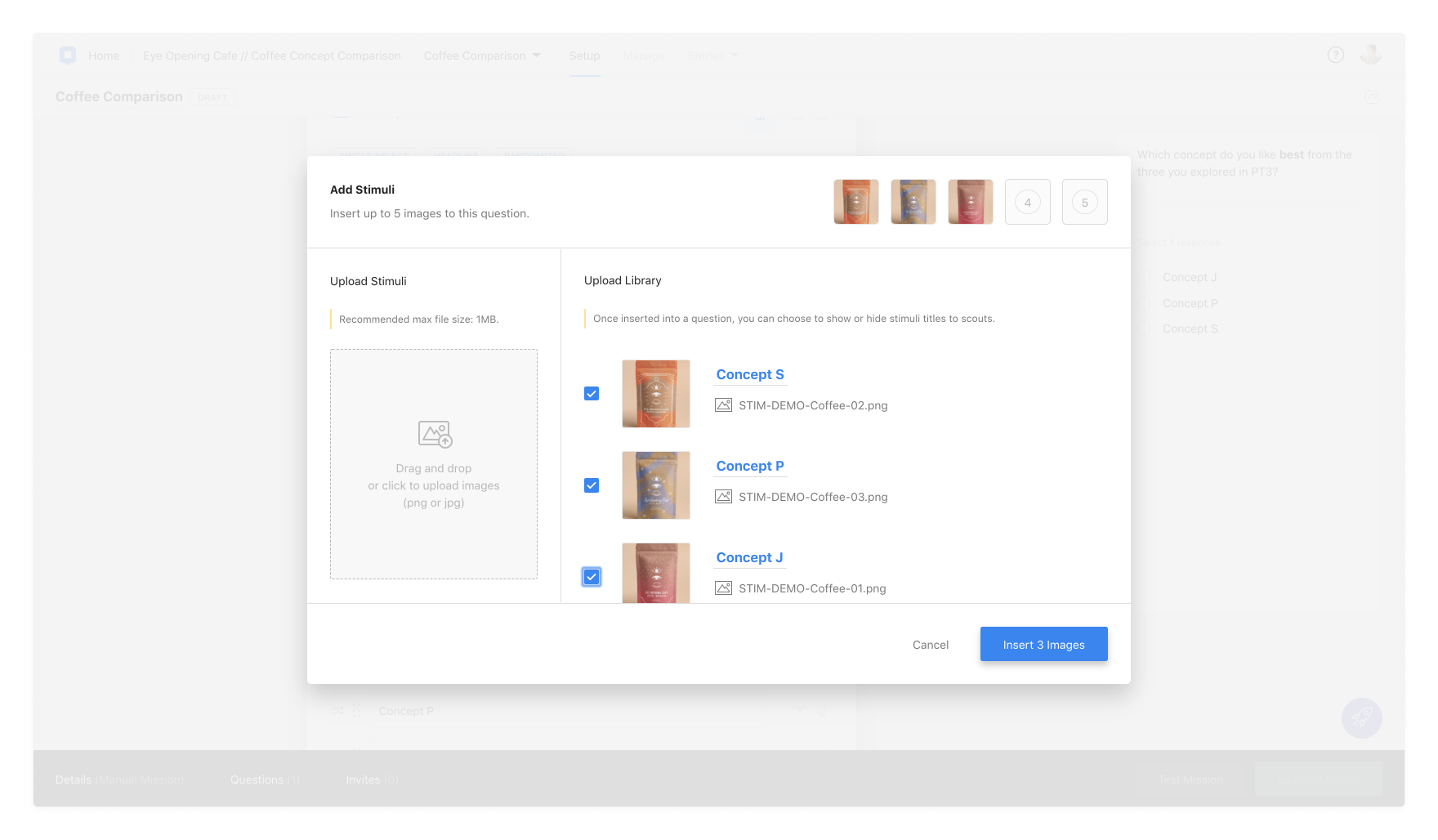 From your Upload Library, select the images you would like to attach to the question for scouts to view. You can choose the order images are presented as you select them from the Upload Library, or you can rearrange this order by clicking and dragging them once the images are inserted.

Image titles are shown to scouts by default - once you have inserted your images, you can choose to either hide or show image titles to scouts.

The question preview will let you know how many images are attached, and provide you with a video to get a refresher on what stim looks like from the scout experience. Make sure to

test your mission

to see what your unique stim will look like from the scout perspective!

Check out the video below to see the scout experience with stim: