Communicating with scouts
There are two ways to communicate with your scouts via dscout: messages and comments.
Messages vs. comments
Messages are best for logistical communication with scouts, like sending due dates, reminders, and and general information. You may also receive messages from scouts with questions about the mission. You'll know you have a new scout message when you see a blue bubble on the Manage page:

You can send messages in bulk by selecting multiple scouts at once. Filter by scout group or progress on the lefthand side of the Manage page to expedite this process.
Comments are tied to specific entries, and are best for research-related communications and questions for scouts – especially follow-ups. See how to comment on an entry below.
Note: Both comments and messages are exportable, so you'll be able to save and analyze them outside of the platform.
How to send a message
To send a message, start on the Manage page of your mission. To message more than one scout at a time, select the checkmark next to the scouts' names and click "Message" from the blue menu bar that appears. A message box will open on the righthand side of the page.
Note: this will send an individual message to each scout you've selected, as opposed to creating a group message.
To message just one scout, take a shortcut by clicking on the scout's grey circle in the Unread Messages column.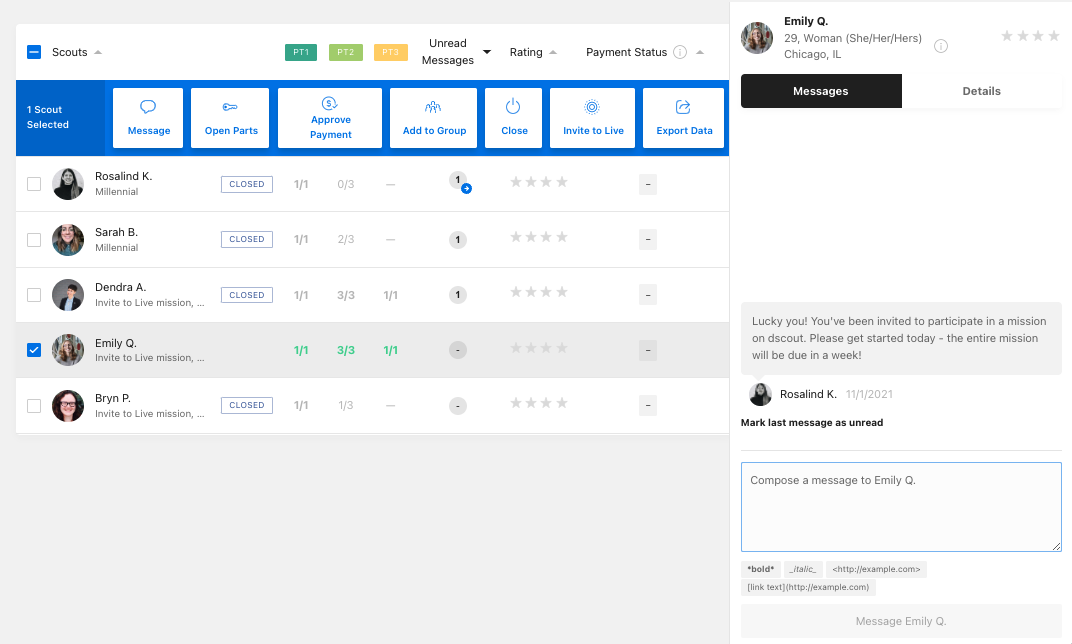 Sample messages
Introduction messages
When scouts are first invited to your mission, they will receive the invite message that you included in your mission design. Once they accept the mission, it's always a good idea to send a quick message introducing yourself and giving some context for the mission.
Examples:
Hi there! My name is Elyse, and I'll be your mission leader! As a reminder, your first entry is due TONIGHT in order to secure your spot in the mission :) In this mission activity, we want to see a variety of entries showing us your life as a student at Hogwarts School of Witchcraft and Wizardry. Let me know if you have any questions – I'm here to help! You can also reach out to help@dscout.com to address any technical problems.
Hello, scouts! Thanks for accepting this mission – we are so excited to get started. Over the next two weeks, you'll be testing out some new products in our line. To ensure that your products arrive in time, we need you to complete Activity 1 ASAP! Let me know if you have any questions, and feel free to email help@dscout.com if you encounter any technical problems.
Reminders
To encourage active participation throughout the mission, it's important to send scouts reminder messages. Keep these messages friendly and supportive!
Example:
Good morning, scouts! Remember, BOTH entries for Activity 2 are due TOMORROW at midnight! We're so excited to hear about your underwater basket weaving experiences. Please feel free to reach out with any questions, and email help@dscout.com if you encounter any technical difficulties! Thanks :)
Invited scout messages
If a scout's status is still "Invited" after a day or two, you may want to send a quick message to encourage them to accept.
Example:
Hi there, Katie! We loved your application to this mission and sent you an invite, but we haven't heard from you yet. If you're still interested in participating in this project to earn $60, please hit "Accept" no later than TONIGHT at 11:59pm! If you're no longer interested in this mission, please decline the mission so that we know to offer your spot to someone who would like to participate!
Coaching/redirection messages
Sometimes, a scout might misunderstand a question prompt or submit an entry that doesn't quite hit the mark. Send a positive but firm message to get the scout back on track.
Examples:
Hi, Austin! Thanks for getting started on this mission. I noticed that in your video for Activity 1, you showed us where you were, but didn't narrate what makes it a "hidden gem" in your neighborhood. In future entries, we need you to talk us through the whole experience. Be sure to read the question prompt carefully! Thanks, and let me know if you have any questions about this.
Thanks for submitting 5 entries for this mission, Emma! While it's great to hear about how you care for your dog in general, this mission is primarily about pet food, and we weren't able to see your shopping journey. Can you submit 2+ more entries in Activity 2? We'll give you until TOMORROW MORNING at 9:00am EST to get these extra entries in. Let me know if you have any questions. Thank you!
New activity reminders
When a new mission activity opens, it's a good idea to send scouts a quick update.
Example:
Happy Friday, scouts! Activity 4 of this mission is now open. In this activity, we want to hear your funniest knock-knock jokes! You'll need to submit 3 entries by 10/18 at 11:59pm CT.
Upload error messages
Sometimes, a scout's photo or video will not upload properly due to wifi connectivity issues. dscout has settings and help articles in place for scouts when this happens, but occasionally those emails are lost in the shuffle and you'll need to ping the scout.
Example:
Thanks for submitting an entry to Activity 2! Unfortunately, it looks like your video failed to upload. Please follow these instructions to retry the upload: https://help.dscout.com/hc/en-us/articles/360036911592-Why-aren-t-my-entries-and-media-files-uploading-?

Note: if the error persists, talk to your Research Advisor. The scout can email the media file to help@dscout.com with the subject line "Attn: [research advisor's name]," and we will be able to upload the file manually.
Payment questions
Scouts may reach out with questions about payments. Again, there is in-platform messaging for the scouts, but sometimes that can be missed. If dscout is handling payment processing for your project, you can always direct them to email payments@dscout.com with questions.
Example:
Thanks for reaching out! Sometimes we need a few days to review entries before processing payments to make sure we have everything we need. Once we've had a chance to review your entries and process reward payments, you'll get an email from PayPal within two weeks (10 business days) indicating that your payment is ready. Make sure to claim this payment within 30 days! You can read more about getting paid for scouting here:https://help.dscout.com/hc/en-us/articles/360038544271-Receiving-your-reward.
Missing scout messages
If a scout is unresponsive, you'll want to close them out of the mission and send a quick message letting them know.
Example:
Hi, Charles! We know that sometimes life gets in the way, but we haven't received the required entries you need to complete this mission. We've closed this mission for you, but we hope to see you in another dscout mission soon!
"Last chance" reminders
Before your mission closes, send a group message to all the scouts who haven't finished yet giving them a heads up that time is running out! Be firm but cordial. Scouts are busy folks, but they want to do good work!
Example:
Good morning, scouts! This is just a reminder that all 3 entries for Activity 7 are due today to earn your $150 reward! To make sure you have a chance to get your entries in, we're extending the deadline to 11:59PM Central tonight. We're excited to hear about your experience as a circus performer! Please let me know if you have any questions.
How to comment on an entry
To comment on a scout's entry, click into the entry from the Entry Grid page. Then, scroll all the way to the bottom on the entry.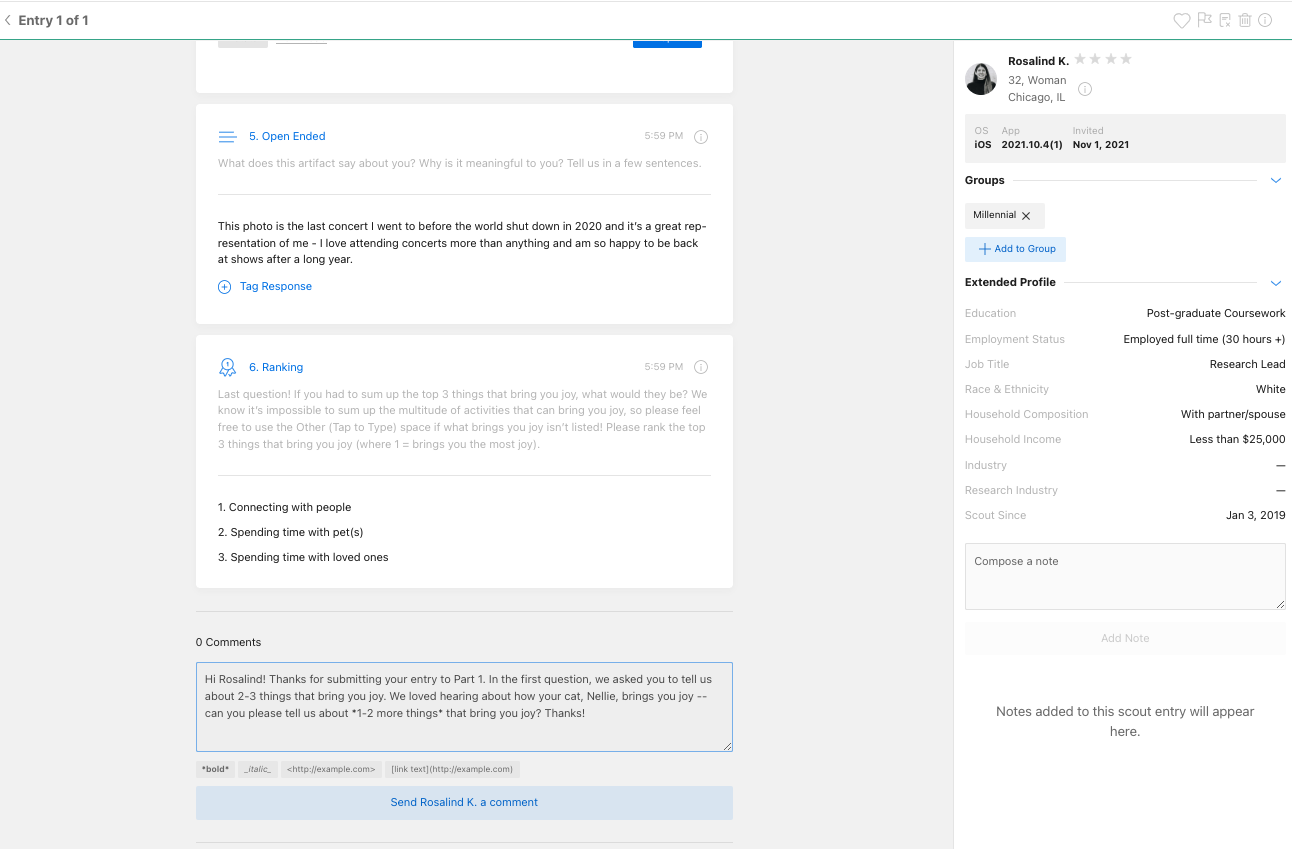 Sample comment
With multi-question prompts (i.e. "barreling"), it can be easy to miss a question or two. You can always follow up with a scout to answer any questions they may have missed.
Example
Hi Zoe! Thanks for submitting your entry to Activity 2. In the last question, we asked you to describe *two things that bring you joy* but only heard about one. Before we move onto Activity 3, please leave a comment here on your entry to describe one more thing that brings you joy. Thank you!