Viewing and sharing your completed Live session
After each session occurs, the system needs time to process the session and package everything up for you! When the session recording is ready, you will be able to access and analyze the recording along with a transcript on the Sessions page.
Viewing your session
Video transcripts
The transcript will highlight words as the video plays. You can jump to a specific point in the video by clicking directly on a word in the transcript.

The transcript is automatically generated and comes with some visibility options:

Control which speakers' text to display. To hide a specific speaker's transcript, simply switch the toggle off next to that speaker's name at the top of the page.

Control the ability to auto-scroll the transcript as the video plays.




You may edit the transcript by selecting the pencil icon located to the left of the text you hover over.

You can also create new clips from the transcript by selecting text from the transcript. The selection of the text will denote the start/end time of the clips. Once the text has been selected, select the clip option to create.
Timeline
The timeline below the video allows you to jump across the video, speed up playback and control the events you can see. You can choose to hide or show screenshare events, clips, and markers.
Analysis
Within the session view, you can use markers, notes, and clips to analyze your sessions. Click here for more information about Live notes and here for more information about these features.
Exporting your session
After a session is complete, you will be able to export the session recording in a mp4 format.
Simply click on the blue export icon located on the right side of the interview header. Then, select the download button next to the stream you would like to access.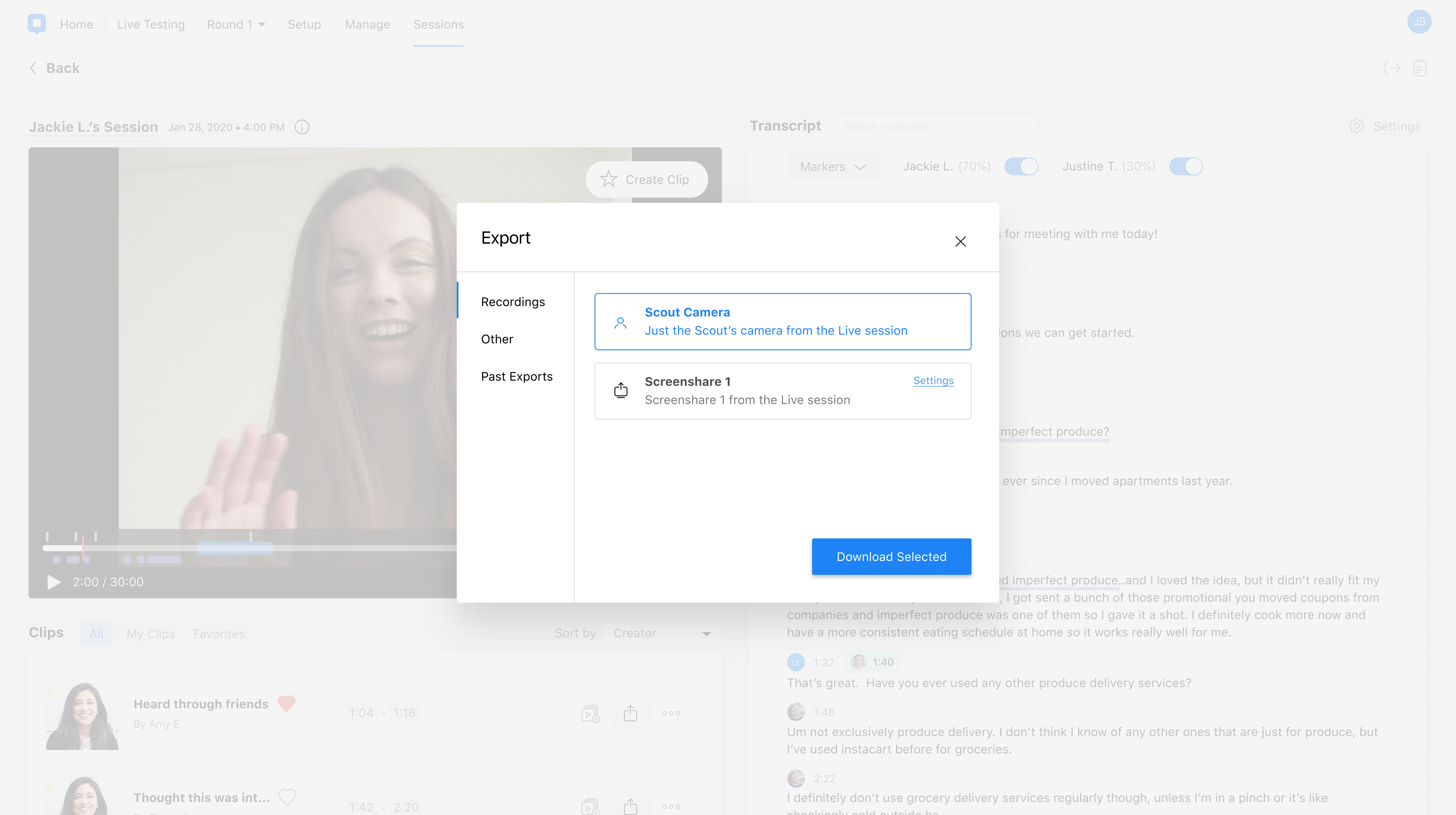 Currently, you can download the scout's face recording with audio and then download each screen capture separately.
You'll also have the ability to generate and export the transcript as a .tsv, and any notes you took as a .csv.
You can also export the full sessions, clips, and screen shares directly from the Sessions page.