Example screener teasers
The best teasers include:
Details about your project's goals
The amount of time and number of parts your project entails
The reward scouts who complete your project can expect
Any specific requests you'll make during your screener. For example, if your mission is about how scouts play with their pets, and you require them to take a picture of their pet in your screener, let scouts know they need to be around their pet when they apply.
Good teaser examples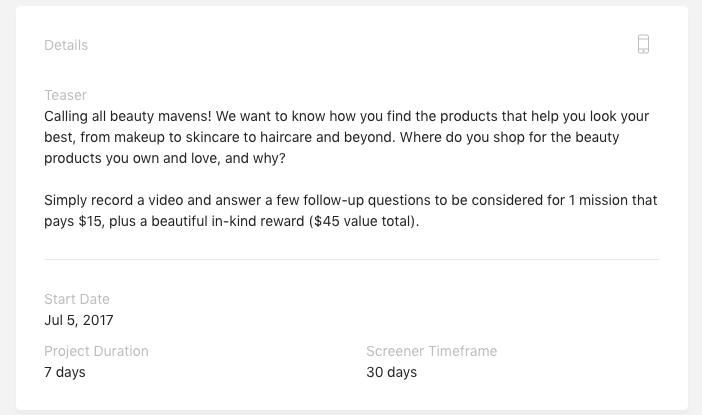 "We'd love you to take us on a tour of your refrigerator in an upcoming mission that pays $20. Make sure you're at home before starting this application, because we'll ask you to answer a few questions and take a quick video of your fridge!"
"It's getting to be that festive time of year again, and we're planning a special project that will last from Thanksgiving to New Years. Apply now for the chance to participate! If selected for this project, you'll share a little about what life is like for you over the holidays in a series of 6 Parts over the next 8 weeks. Scouts who complete this project will earn $300!"
"Have you ever looked at something you use, own or wear and thought of a neat way to improve it? Now is your chance to share these ideas with product designers! Apply now for the chance to make $15 by completing a 1-Part mission all about making better stuff. You will need to record a 30-second video as part of this application."