Managing your Diary mission
Now that you've launched your mission, you're ready to manage it! There are a few important steps to managing a launched Diary mission:
You'll use the Entries page to see the data scouts are sending you, and the Manage page to track their progress.
1. Monitor Incoming Entries on the Entries page
Monitor scouts' entries so you know that the data they're providing will be useful for your research.
The default Entries grid view shows you all entries by each scout, but you can sort entries a variety of ways using the "Sort By" dropdown above the entries—for example, sorting by date is useful if you are interested in viewing new entries as soon as they are submitted.
​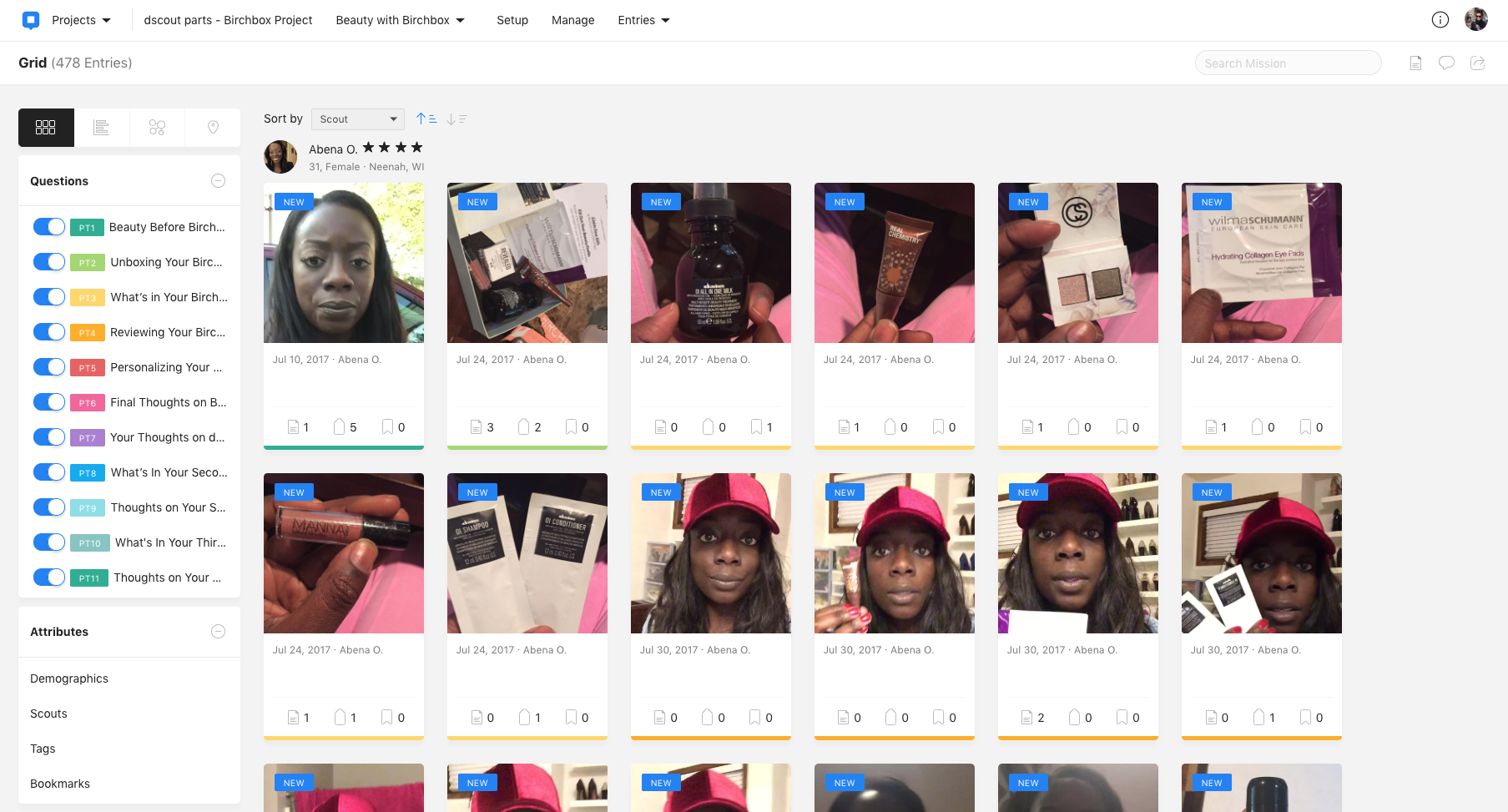 ​
2. Track scouts' progress through the Manage page
Use the Manage page to see where scouts are in your mission, send them targeted reminder messages, and move them through your mission (if necessary).
​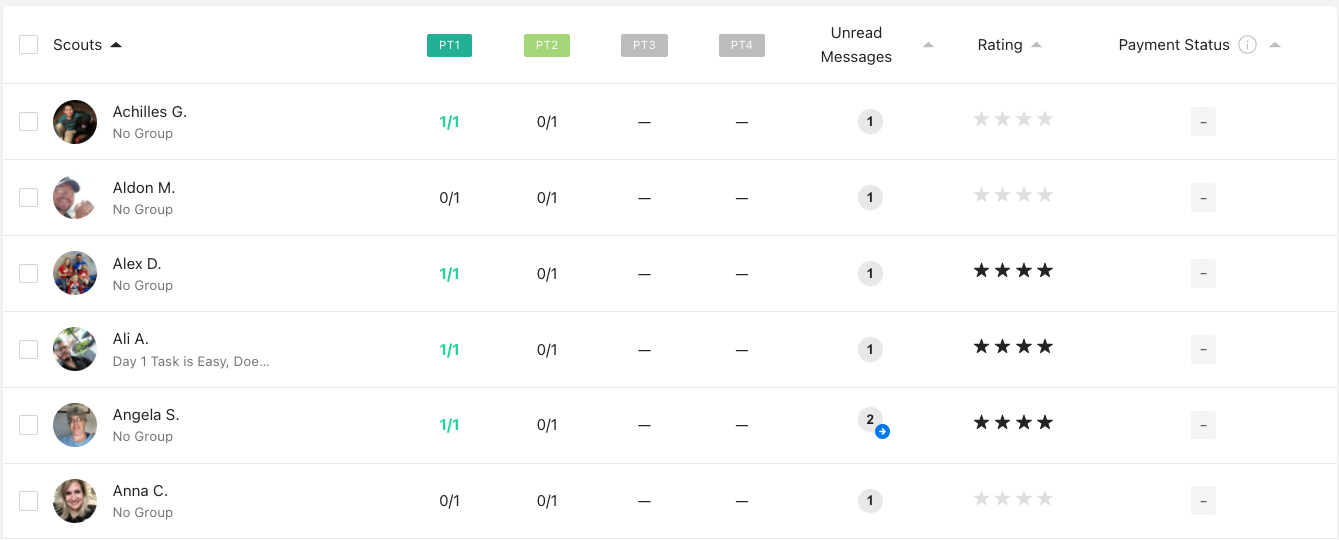 ​
You'll see the number of entries they've submitted to each part, as well as the number of entries each part requires.
You can see part due dates for an individual scout by hovering over an entry count on the Manage page. You'll also see the scout's part due dates by expanding the scout messaging sidebar.
​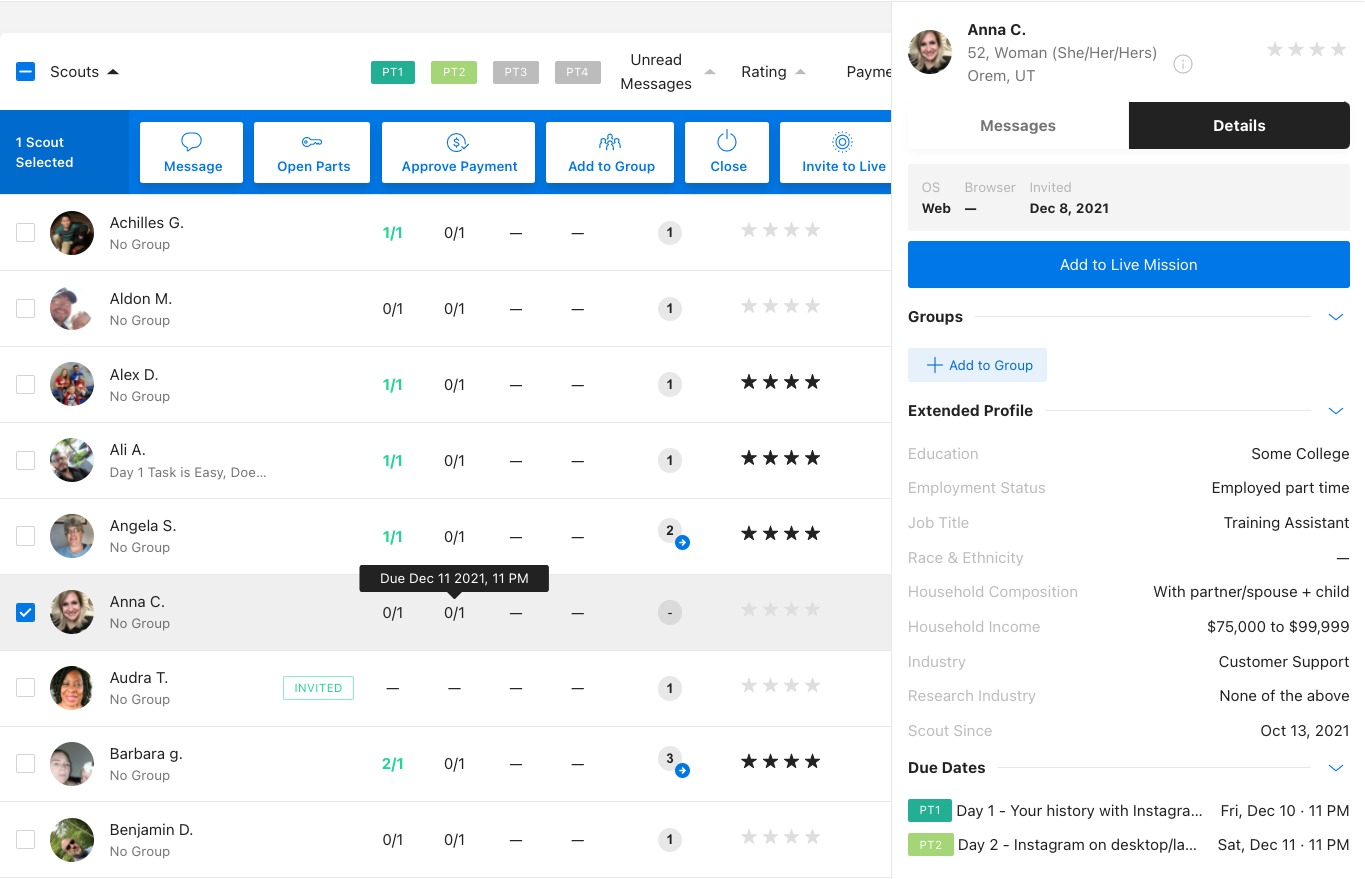 ​
Filtering Scouts By Their Progress
​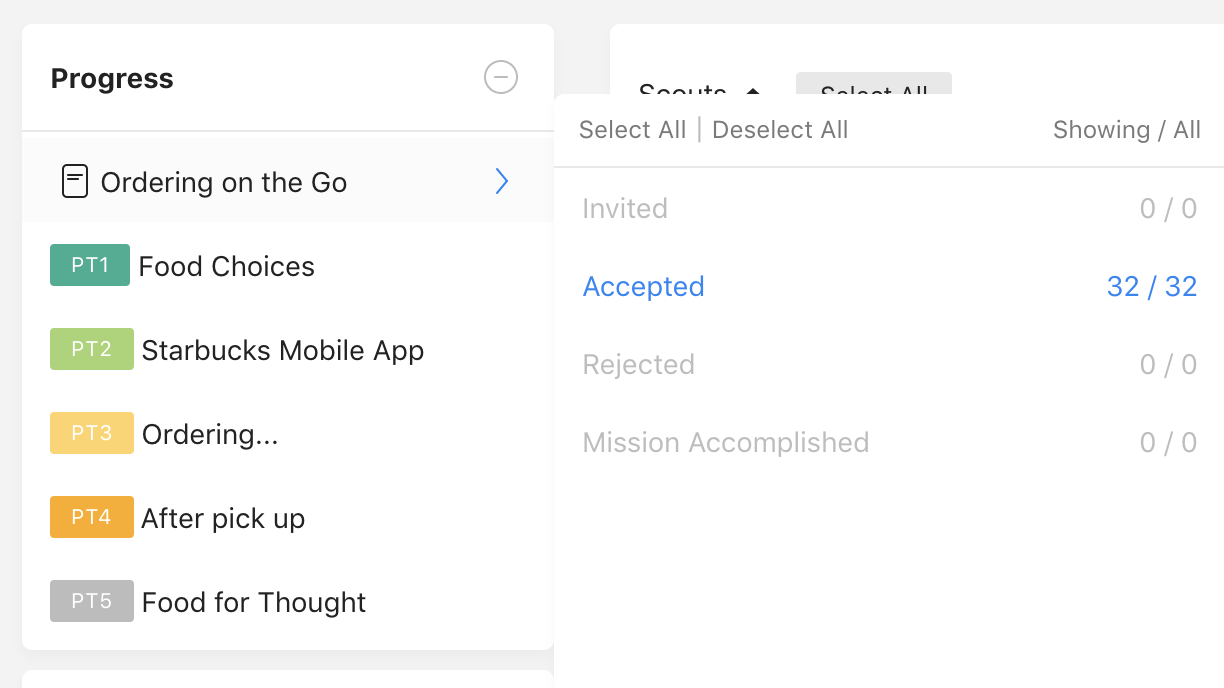 ​
Use mission and part progress filters to select scouts to whom you want to send targeted messages, or for whom you'll be opening parts.
​
Each progress status is automatically applied.
Mission Statuses
Mission statuses reflect scouts' progress or status for the overall mission.
Invited scouts have been sent an email invitation and been given access to your mission via the dscout iOS or Android mobile app.
Accepted scouts have logged into the dscout app, viewed your mission, then tapped "accept" to indicate they are game to participate!
Mission accomplished is the only progress status that is NOT automatically applied. It means a scout has submitted the min. # of entries required for each part, and a researcher has reviewed their data and deemed it accurate and thoughtful. Once scouts are marked as "mission accomplished" you can go ahead and pay them for completing your project successfully.
Rejected scouts viewed your mission in the dscout app, but tapped "not interested."
Part Statuses
Part statuses indicate a scouts' progress within that individual part.
Unstarted means the scout has not yet begun working on this part
In Progress means the scout's entries are still in progress in the current part you're filtered on
Min. # of Entries means the scout has completed the minimum amount of entries required for the part you're filtered on
Filtering scouts by their due date
Click the "Filter By Due Dates" modal on the far left side of the Manage page to filter for your scouts by their due date. This can be useful for taking bulk actions on scouts with shared due dates, like sending a message or opening the next part.
​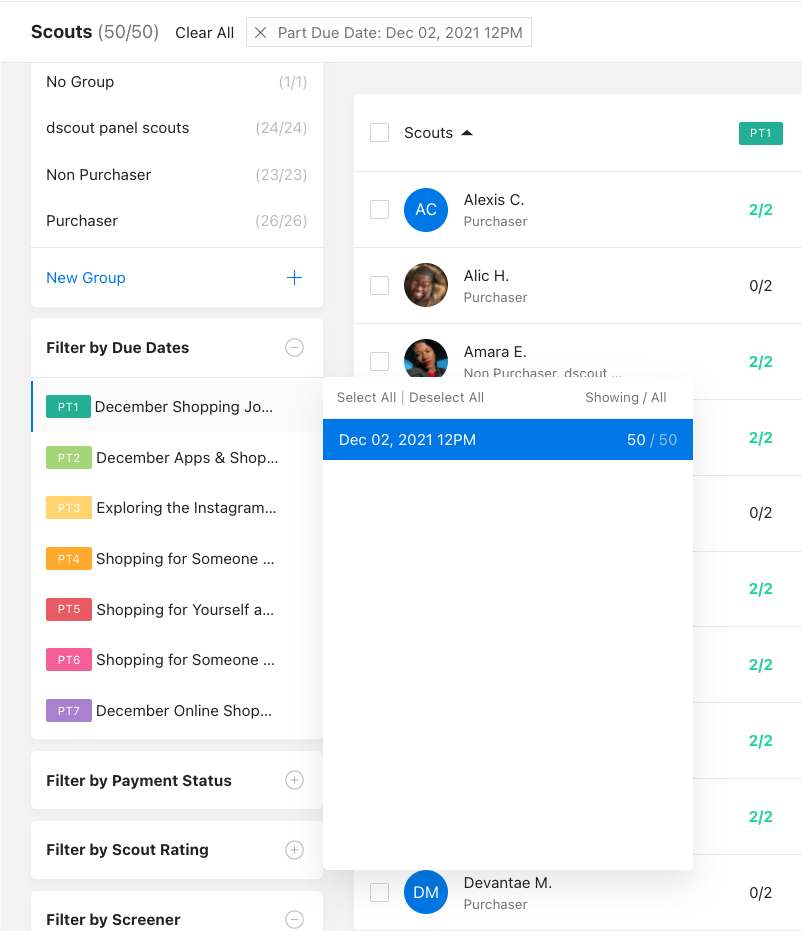 ​
Publishing and opening parts
When you built your mission, you chose whether to open parts automatically or manually to scouts. This setting cannot be changed now that your mission is launched.
If you chose to run an automatic mission, as soon as scouts complete the required number of minimum entries for a part, the next part will automatically open for them. In other words, as soon as you launch an automatic mission, all its parts are published & available to scouts.
If you chose to run a manual mission, you'll have control of when subsequent parts are opened for your scouts, so it's important to monitor the progress of your scouts in the Manage page, and open new parts for them when appropriate.
When you launch a manual mission, only the first part is published and opened. To publish subsequent parts:
Navigate to the Setup page
Select the Questions tab (and the part you'd like to publish)
Click the green Publish button on the top right corner of the screen
Navigate to the Manage page
Select the scouts for whom you'd like to open the part
Click "Open parts"
Select the part(s) you'd like to open for scouts
​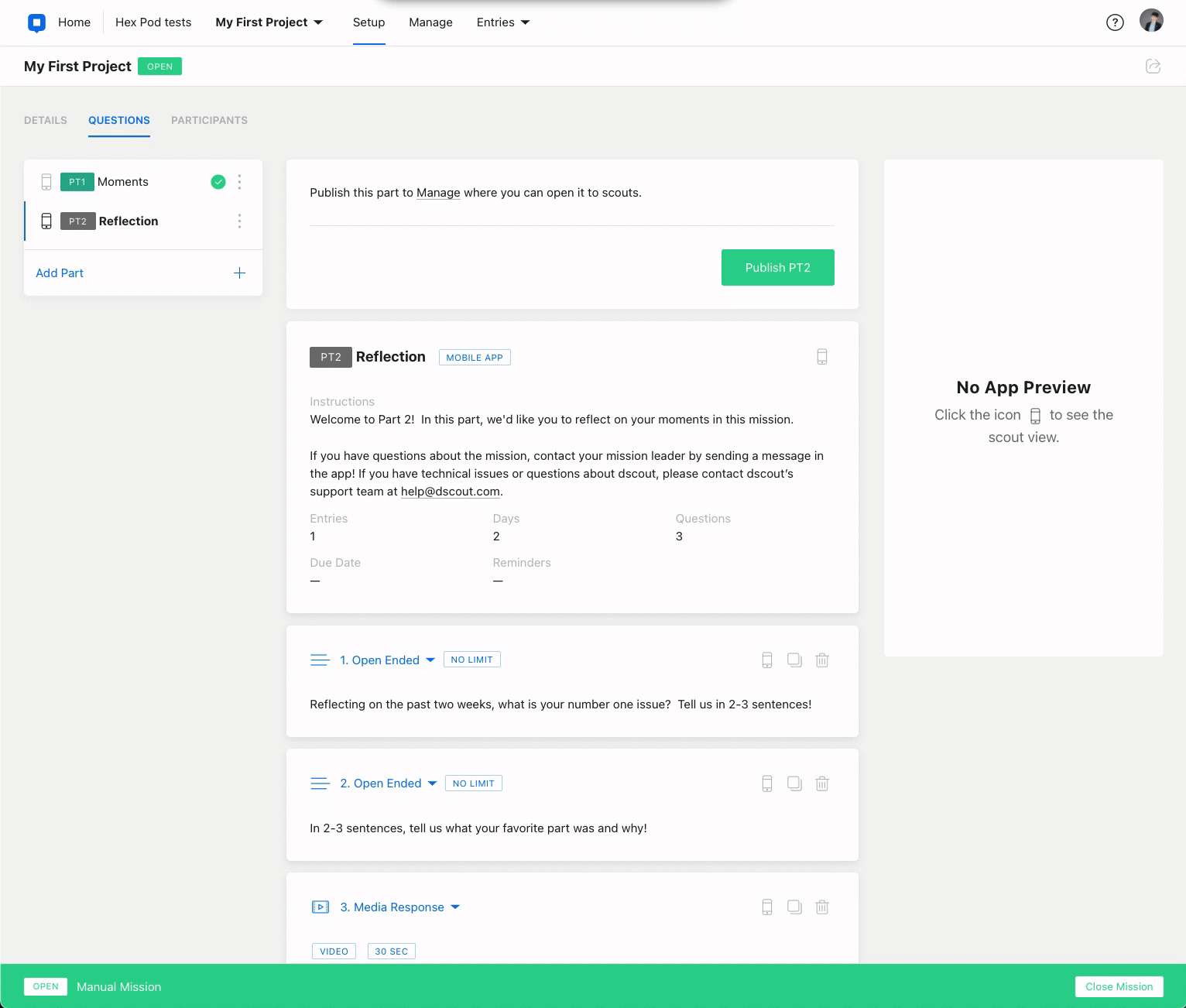 ​
You may edit parts that have been published, so long as they have not been opened to scouts yet. If you edit a part that has been published, you will simply need to publish it again to be able to open it to scouts. You cannot edit a part that has been opened to scouts.
3. Message Scouts with Requests and Reminders
Keeping in touch with scouts is vital to the success of your mission. As you monitor entries and track scouts' progress, you'll want to send scouts plenty of messages:
Redirection or constructive feedback for entries that weren't quite what you were hoping for
Positive feedback on entries that were really great
Deadline reminders, and reminders to submit entries on time
Confirmation that you've opened parts (if running a manual mission)
Confirmation that scouts have completed the mission
You may also want to ask follow-up or probing questions based on specific entries or responses
Each time you send a message to scouts, they'll receive an email and a notification (if they have notifications enabled.)
Direct Message
You can send a single scout a note by selecting a scout in the Manage table, then clicking Message from the banner that appears at the top of the table. A drawer will appear on the right side of the screen allowing you to see prior correspondence and compose a new message.
Group Message
You can also send a message to all of your scouts at once, to specific scouts that you can select on the table, to a specific group you've created, or to a segment of scouts based on their mission progress. Simply select the scouts you would like to group message on the table, then click Message from the banner that appears at the top of the table. A drawer will appear on the right side of the screen allowing you to see prior correspondence and compose a new message.
Scouts will still only see your message to them, and your message will populate in the individual message thread for each scout you've messaged. Scouts will not be aware of each other's presence in the mission.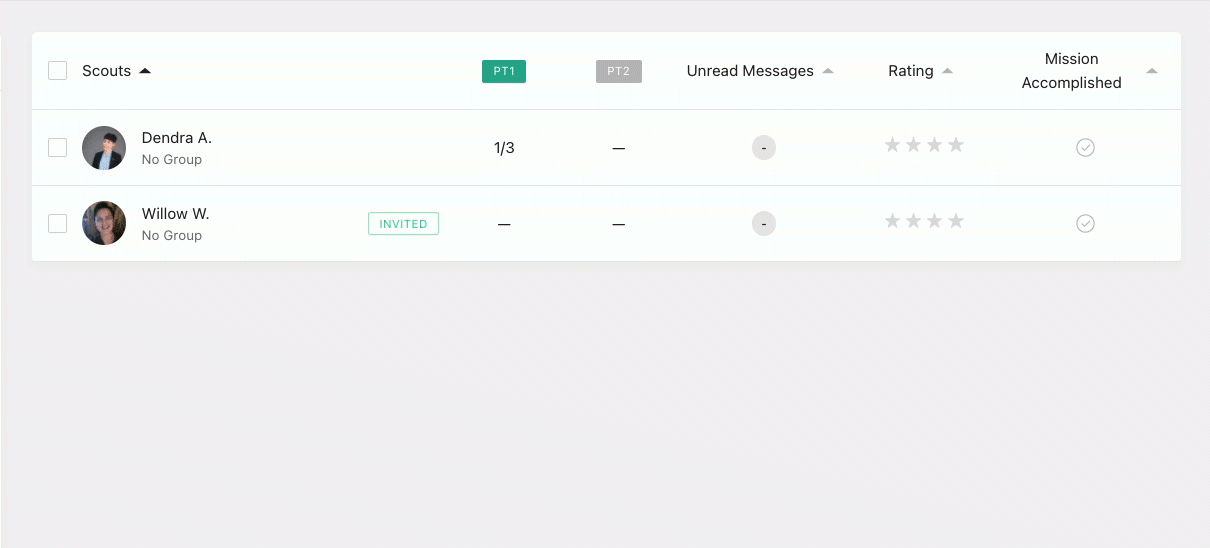 Comment on Entries
When viewing a scout's individual entry, scroll down to leave a comment on the entry.
​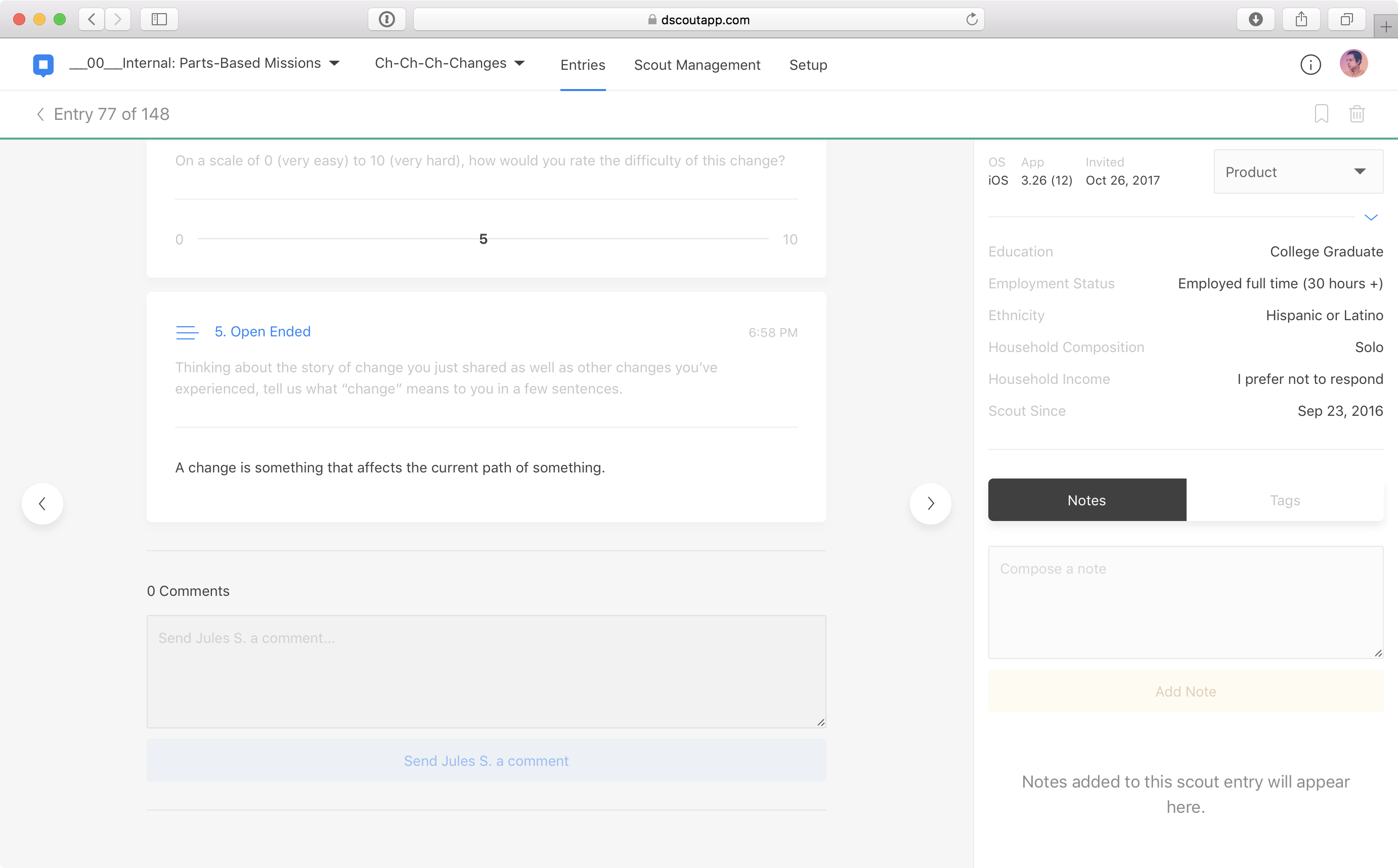 ​
Your and scouts' comments will show under the scouts' entry. You can also see all comments from the Entries grid view:
​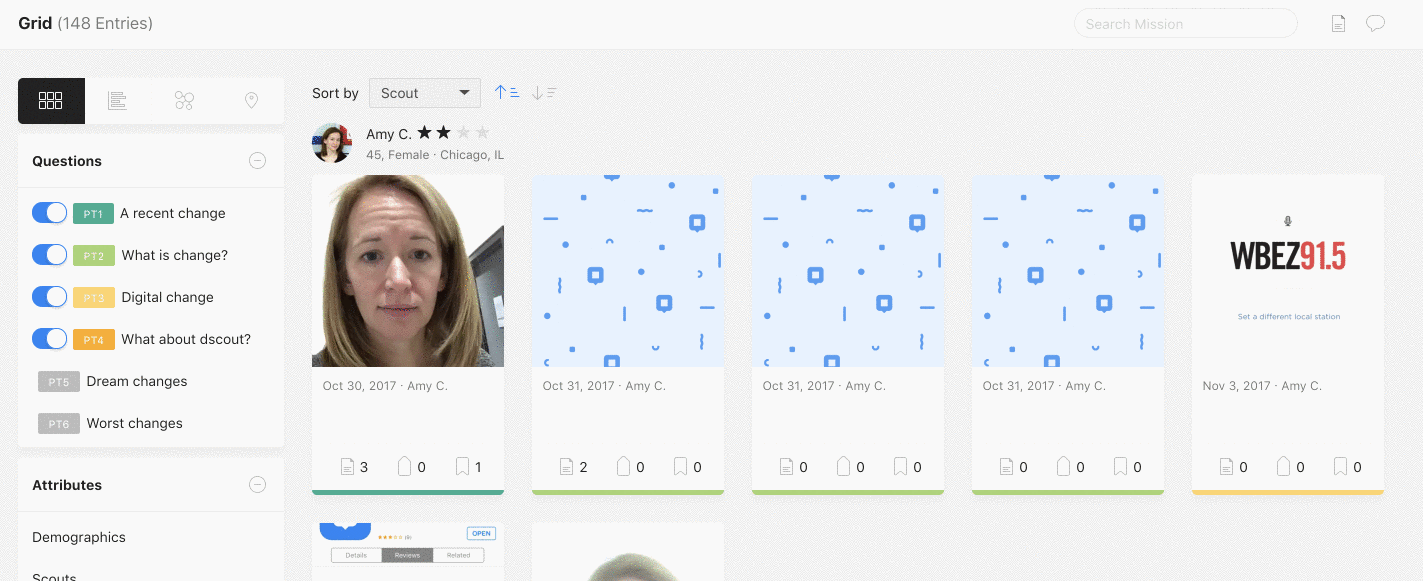 ​
See some sample messages, and best practices around messaging scouts, here.
4. Close Mission and Compensate Scouts
Finally, you'll close your mission and set scouts up to be compensated.
To close your mission, navigate to the Setup page, and click "Close mission" in the bottom right corner.
After a mission is closed, scouts can no longer submit entries, but you can still communicate with them.
You can also close a scout in the Manage page individually by clicking on an individual scout row then clicking "Close" on the toolbar that pops up.
Compensating Scouts
Read more here to get step-by-step instructions on how to compensate scouts.​


If you ran a screener and recruited your participants through dscout, we'll start the process of compensating your scouts for a 10% fee. If you brought your own participants, you'll be in charge of making sure they are compensated as promised.

Incenting your participants for their time and hard work can be done directly in dscout from the Manage Table in both Diary and Live missions. Requesting payments will ping your dscout Research Advisor who will then initiate the payment process for scouts in 24-48 hours. Express Missions, however, pay scouts automatically upon acceptance of their entry. If you've opted to pay scouts independently, this feature will not appear in your mission.