Inviting first-time scouts to a Live mission
Are you inviting externally-recruited participants (we call them scouts!) to a Live mission? Follow these steps to make sure that they have an exceptional experience.
Note: if you screened for scouts from dscout's own pool of users and are ready to start your project, take a look at Launching your Live mission.
1. Ask potential recruits to participate
It's important to ask potential recruits if they're interested in completing a dscout Live mission in the first place. If you're recruiting for a Live mobile mission, you'll also need to make sure they have an iPhone or an Android device. For Live desktop, they'll need access to a desktop or laptop computer with the Google Chrome browser. (Note: for Live desktop missions, scouts will not need to download the dscout mobile app.) If you've already screened your applicants to make sure they're interested and a good fit, you can skip this step. However, if you're starting off with a list of names and emails of potential participants, send them a note asking them to get involved that looks something like this:
Hi there! Thanks so much for being one of our most loyal and influential users. We're partnering with dscout mobile research to make our products and services better, and we'd love for you to participate in a research project. If you'd be willing to download the dscout mobile app for iPhone or Android and have an hour-long video interview with us, we'll pay you $100 for your time and effort. In addition to the app, you'll need to have access to a strong internet connection on a laptop or desktop computer running Google Chrome. If you're interested, just reply to this email to let me know we can count on you!
2. Let interested participants know what to expect
Once you've got a list of people who you know are interested in your project, send them a note mentioning your project's subject matter, time frame, and what kind of compensation participants can expect. It's also a good idea to point them towards this article on getting started with Live.
Hey! Thanks for agreeing to be a part of this project about life as a cat owner! In a few days, you can expect to receive a welcome email from me inviting you to an hour-long Live mission. This email will include a button for you to click to create your dscout account. If you already have a dscout account, you'll receive an email asking you to log in with your current dscout information. Once you log in, you'll be able to schedule your Live session. Can't wait to learn more about your experiences.
3. Invite participants
You can add participants to your Live mission manually by using the "Invites" tab on the Setup page. Here, you'll be able to write a custom invitation message to be sent to your scouts along with the instructions for accessing the mission on dscout.
Click "Add scouts," then choose "Manual" in the dialogue box that pops up. Adding scouts manually is simple. You'll enter them in the text area by the formula First Name, Last Name (or initial), and Email. Alternatively, you can upload a CSV document of your list of scouts following the same formula (don't use header rows).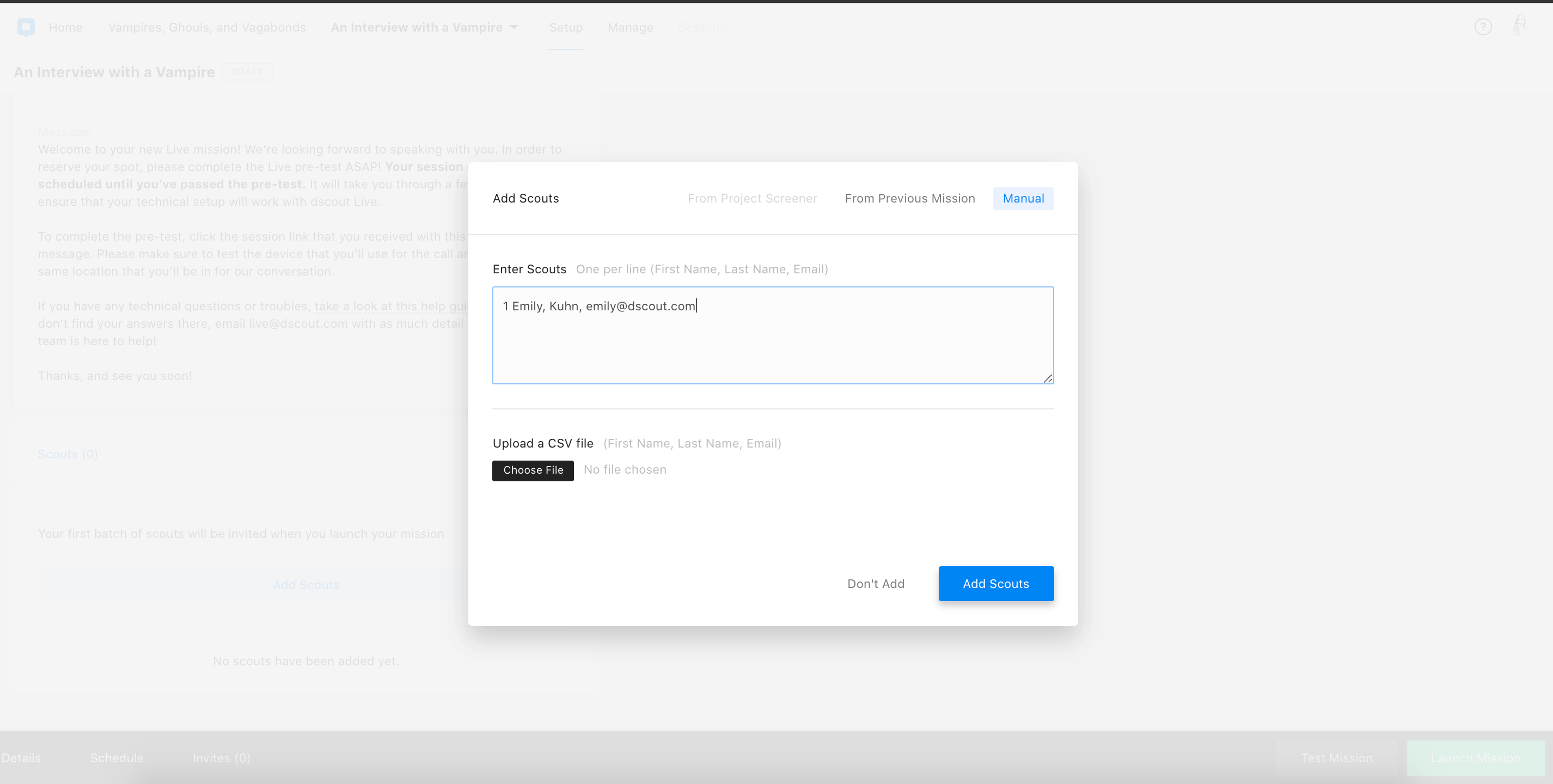 Click "Add Scouts" and then hit "Launch Mission" in the bottom right corner of the screen. You will arrive at a special modal where you can do a final review of your invitation message and list of scouts. At this point, you may click on "Launch," and then your mission will be open!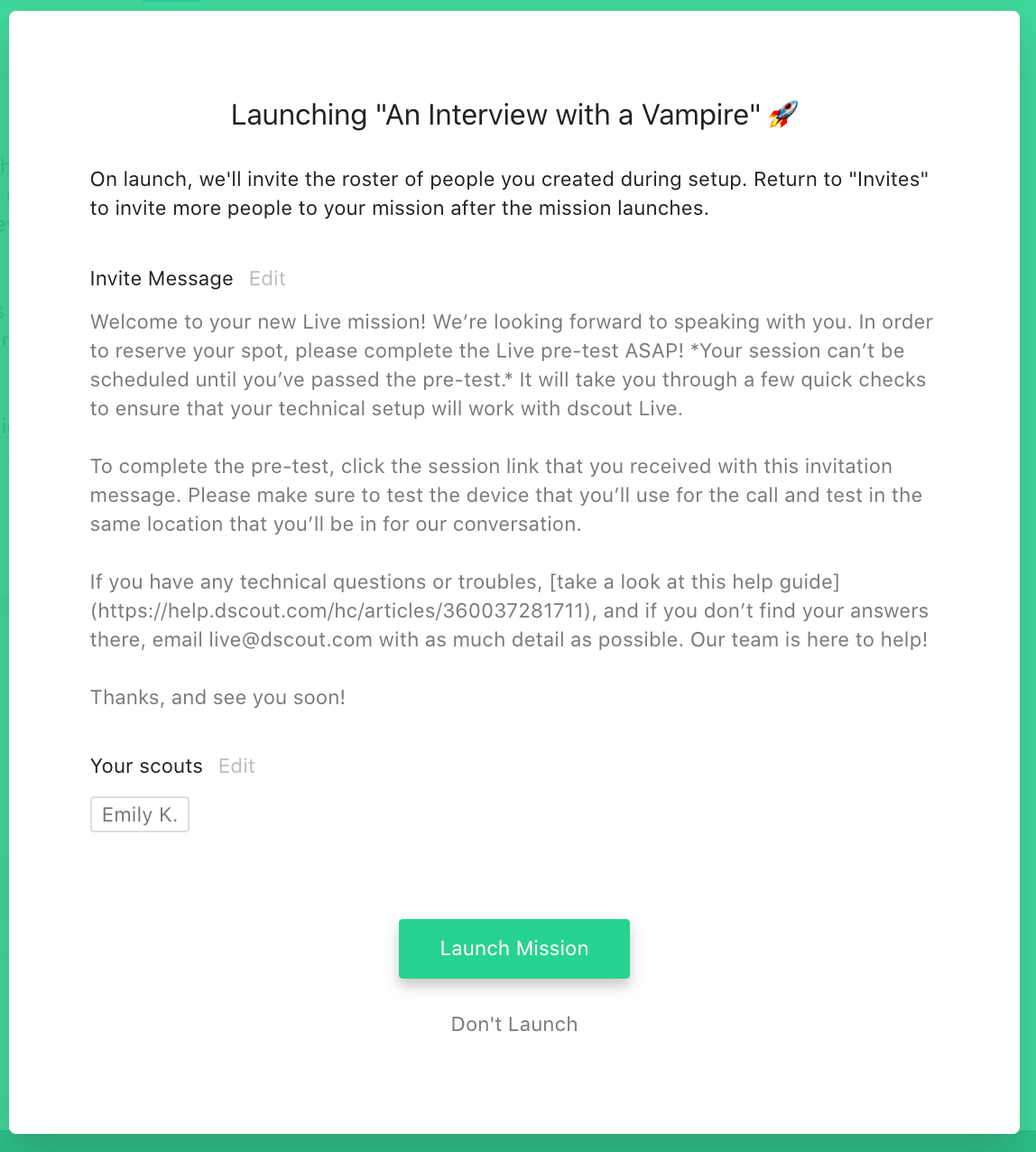 Once you click the "Launch" button, you'll see a list of the scouts you've invited, along with their invite status on the Scout Management page. Your scouts will also be sent an invite email from participate@scout.com that includes your custom invite message and a link to take them to a unique page where they can set their password, log in, and accept their mission.