From Session to Shareouts: Markers & Clip Playlists in dscout Live
Today's user-centered researcher is more reliant on remote methods to meet their increasingly distributed customer base. dscout Live—our moderated tool for 1:1 video research— is evolving its functionality to match this growing need.
We're making it easier to bookmark moments during sessions with markers and supercharging our longer snippet feature, clips, with favoriting and playlist creation (which are perfect for insight sharing across teams). Both features are available today for all dscout subscribers. Read on to learn more.
Markers
Note something in-call without breaking your focus by using markers. Simply press "ctrl+m" on your keyboard or click the "Mark Time" button from the interview video screen to create a marked moment. Markers are time-stamped, have editable titling, and can be added in-call or afterward during your analysis and review phase. Create as many markers as you like—there's no limit!
Markers make it easier to find the insight-worthy moments from your interviews. Best yet, markers aren't limited to moderators: on-call observers can also create markers, which gives you a sense of what stood out to stakeholders and collaborators as you dig into the transcript and post-call video.
After your session, markers appear throughout the transcript, both in-line with the marker's author initials and at the top in a filterable dropdown menu. Selecting a marker takes you to that moment in both the transcript and the video playback window.
Click here to learn more about Live markers, notes, and clips.
Once you've found a snippet from your session worth sharing or that supports your synthesis, Live's clip feature offers a more robust way to synthesize insights. We're making clips easier to organize and share with favoriting and editable playlists.
Favoriting and Clip Playlists
Create clips easily, from the transcript or the timeline, and use favoriting to surface your best clipped moments. Simply click the heart icon on any clip to favorite it; sort by your favorites from the "Clips & Playlists" tab to immediately view the most empathic or illustrative from your analysis.
When you're ready to share with a stakeholder or attach to a deliverable, select a few clips, add them to a playlist, and edit them together into a highlight reel that's eye opening and impossible to ignore. Trim by transcript, re-order, create a title, and you're ready to share.
Click here to learn more about using clips and playlists with your Live session data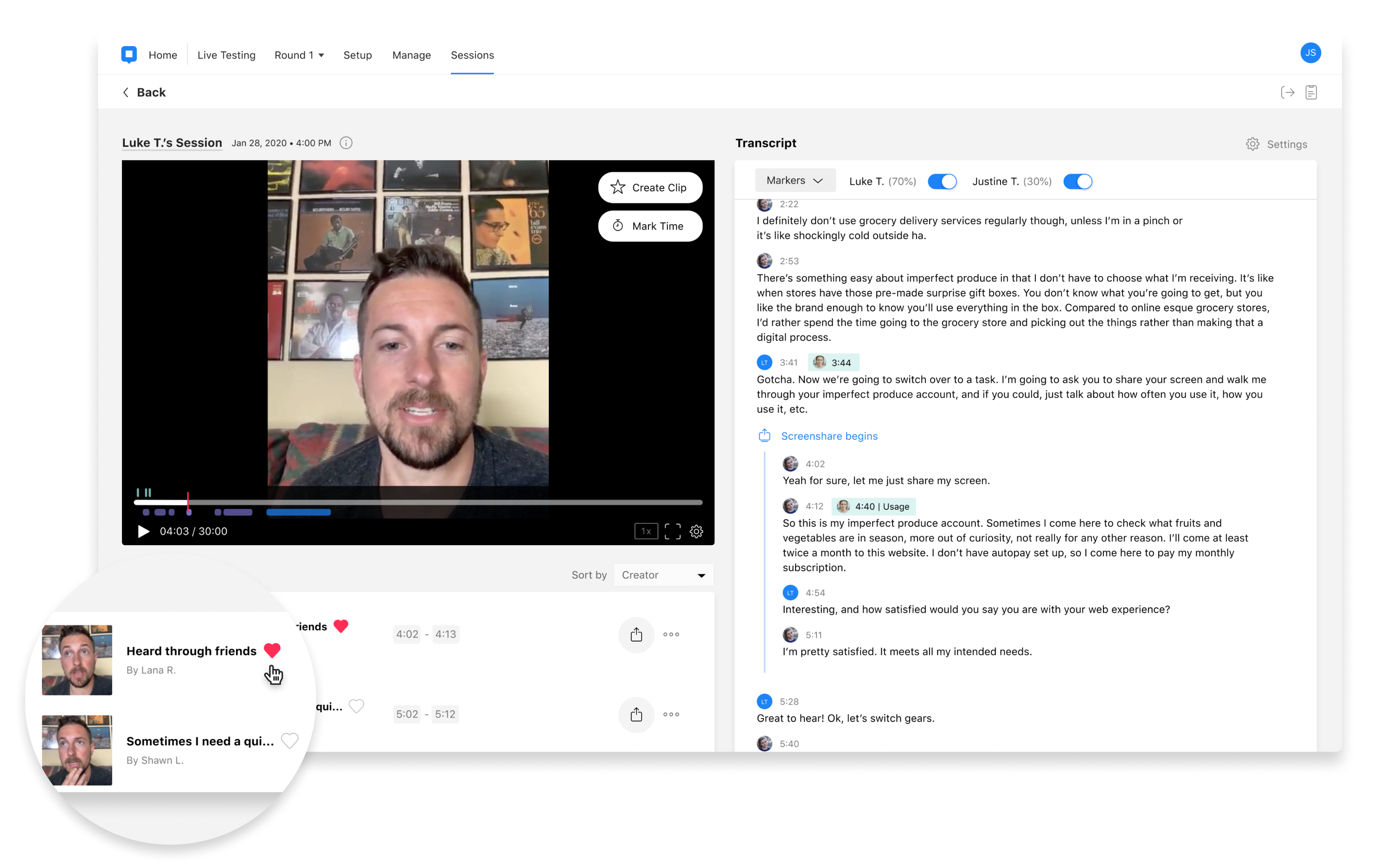 Together, these updates cement dscout Live as an end-to-end moderated research tool for a host of video work: from debriefs and customer interviews to in-home usability testing and ethnographic work…all remotely, fully transcribed, and from the comfort of a customer's home.